Discussion Starter
•
#1
•
So while rolling on the GA interstates I spyed it in the weeds. Went talked to the fella made a deal and bought it :thThumbsU
So how to get it in a short bed ford :dunno: Boom off bucket, front out riggers. Hydro lines about an hours worth of work
Jumped right in with a bigger back hoe ..... :fing32: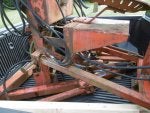 well the bad mounting brackets torched off
needs hoses and who knows what else. Sat for 10 or 15 years out side. Was working the day they parked it. They upgraded to a bota
Notes I didn't take pics of. Pump is there and spins. Seat is bent plus far left control.
Now im gonna :dancingpa