Discussion Starter
•
#1
•
(This may be applicable to other X4, X5, and X7 series too)
My fuel pump has been erratic for a while now. It actually did pump, but lost pressure
after stopping, which is the case during cranking to start, causing hard starts.
Here is the fix, and what is needed:
Airtex E11001 (bare) pump from Amazon, about $80.
Buy Airtex E11001 Electric Fuel Pump for John Deere 400 Series Lawn Tractor: Electric Fuel Pumps - Amazon.com ✓ FREE DELIVERY possible on eligible purchases
Gates 27093 - LP (Low Permeation) Submersible Fuel Line, from Amazon, about $15
Stainless fuel injection hose clamps, SAE #14, from ebay about $22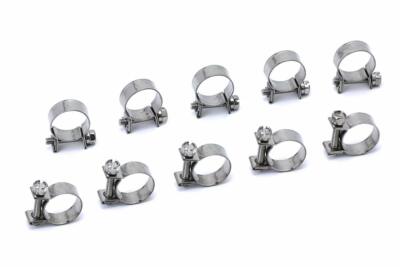 Made of 100 percent stainless steel. Sold in box of 10. Smooth interiors prevent the clamp cutting the hose.
Deere fuel sender gasket (see parts catalog, there are a few variations here with differing hole counts)
M157273 (replace when doing any work on sender, $8, has 8 holes)
M148981 (with 5 holes... likely for earlier versions, also included with the Airtex pump).
It is best not to cheap out on any of these parts or you will be back in there sooner than you need to.
Remove the tractor seat and the fender pan. Remove fuel sender harness, fuel lines and up to 8 screws holding the sender flange to the tank.
Remove old pump from sender bracket by cutting the short fuel line and feeding the filter sock through the bracket.
Remove old filter sock and scavenge the rubber isolation bushing from the bottom of the old pump (this will be reused).
Put isolation bushing on new pump and cut enough fuel line to be able to hold the pump firmly in place, yet be able to assemble.
Put the new sock on the new pump and feed through the sender bracket, alighning with pear shaped cutout.
Put band clamps on the hose and force the hose into place and tighten the clamps good.
Reassemble everything and you should be good to go!