I use my old Murray GT to plow the driveway in the winter. I bought it on the cheap for 200 bucks. Didn't run, missing the deck, etc. But the engine rotated by hand (and would stop up against it's compression) and the transmission shifted through all it's gear. The deck I didn't care about, I've got a separate ride on for mowing grass. This was meant to be a "yard donkey" and the peerless 820 was one of the "clinchers", seeing as it was rated as a "ground engaging" transmission. A couple bucks (needed a solenoid) and a little work (carb rebuild) had it running just fine again.
I have a walk behind snow blower (and it's power everything, including steering) and while it's easy to use, I broke my back many years ago doing a Medivac off a bulk carrier 250-odd miles out to sea (used to fly helicopter SAR). So walking is hit or miss for me. Before the tractor, there were a couple times where I actually had to use the snowblower to drag me back to the front door as my back would just completely go out.
The old Murray was bought to be built into a yard tool to do things I can no longer do (like dig, push a wheelbarrow, etc) and plowing snow is one of those things. Here's a pic of the bucket I built for it: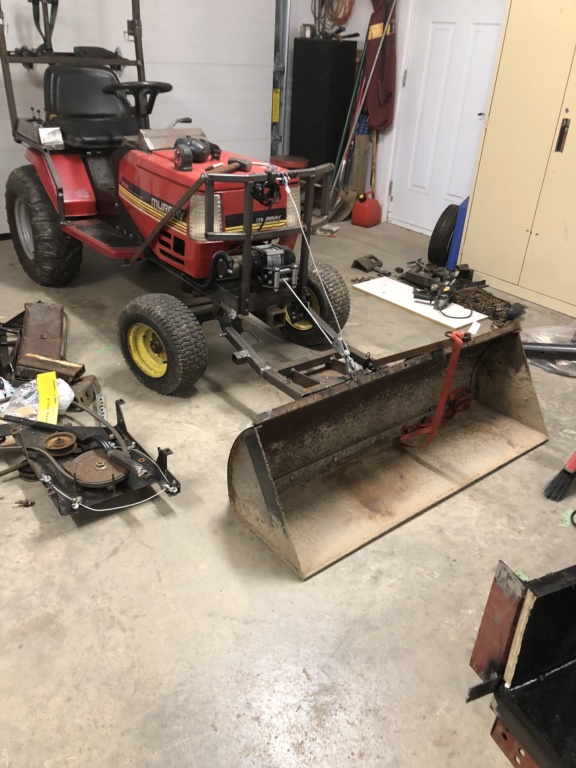 That was a "scrounge" build. Winch to lift it, manual dump latch, a couple electric joysticks and the back of the bucket is actually an old snow plow blade. Cost around a couple hundred bucks all said and done. Most of that was the cost of the winch. Here it is earning it's keep: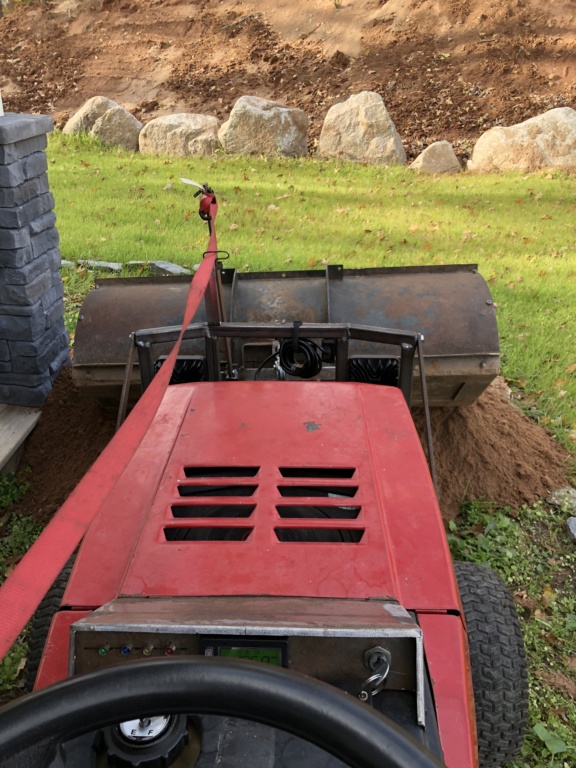 Yep, works just fine and probably not much of an exaggeration to say it's saved my life a couple times. Or at least saved me a boat load of money, since I didn't have to hire someone to do stuff for me.
Here is the same bucket in "plow mode":
Last year, when it came to snow plowing, I just bundled up and wore my old full face motorcycle helmet. Looked a bit strange maybe, but I was warm and didn't have to worry about shielding my eyes from driving wind and snow. But all bundled up, it made it even harder to move and twist to see around and behind the tractor.
So a cab is in order to make my life a little easier. Being retired (forced out due to medical issues) I don't have a ton of disposable cash laying around. Anything "ready made" is just silly priced. Even soft cabs (which look like cheap conduit and a big plastic bag) are overpriced (for what you get) in my opinion.
So, it's going to be a scrounge build".
Fall cleanup turns up and old weight bench, which provides plenty of steel for the frame. Now, glass.What am I going to do for glass?
Checking the price of plexi reveals it's stupid expensive compared to the last time I went shopping for some. Enough plexi to do the whole cab is going to run somewhere up into the 600-700-800 dollar range. Yeesh, that's ridiculous. Plus, a plexi windshield is going to haze, scratch and just generally not hold up very well.
I remember there's a guy down the road who sells old windows......cheap. I drop in and 25 bucks later I'm headed home with two aluminum screen doors and a couple single pane pieces of glass. I weld up the frame from the weight bench steel and take the screen doors apart.
I try cutting the single pane glass to fit. Well, long story short, it all ended up in a little box,in pieces no bigger than a few inches. I check the glass from the doors and it's tempered. No cutting that, so it has to fit "as is" or not at all. A little work and I've got the channels off the aluminum and bolted to the frame, then the glass slides right in: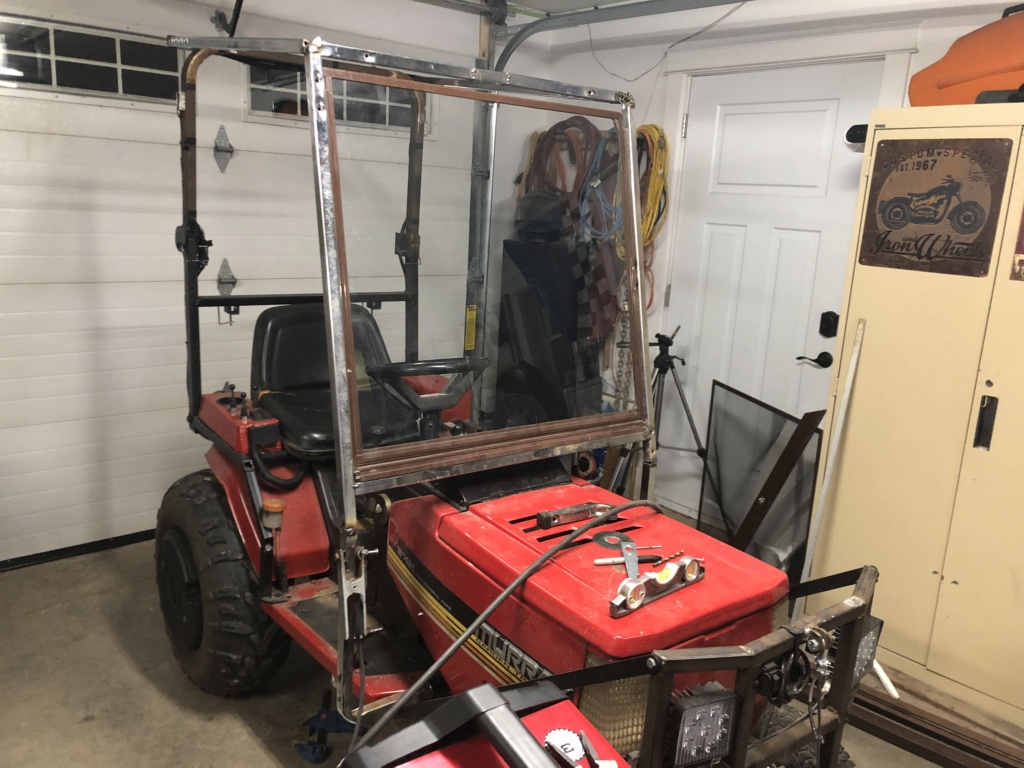 Ok, front is done and it's real glass!
On to the back: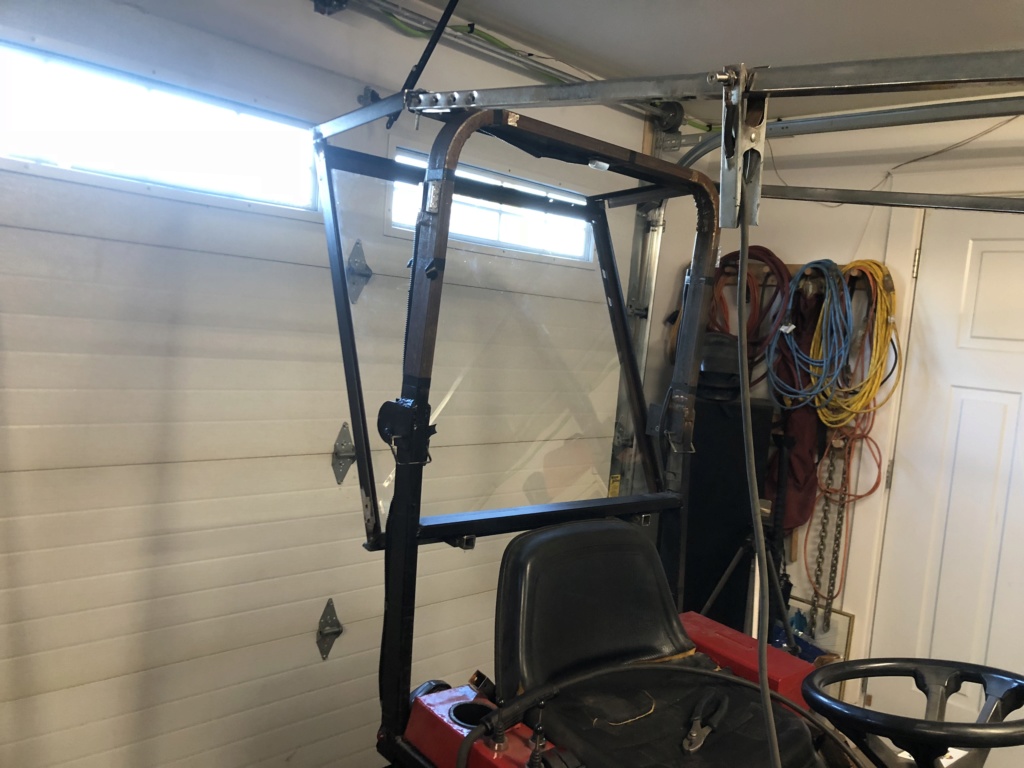 Same deal: weld up a frame and drop in a piece of tempered glass.
Doors, what to do for doors?
Well, hook up the spool gun to the MIG, cut some bits and: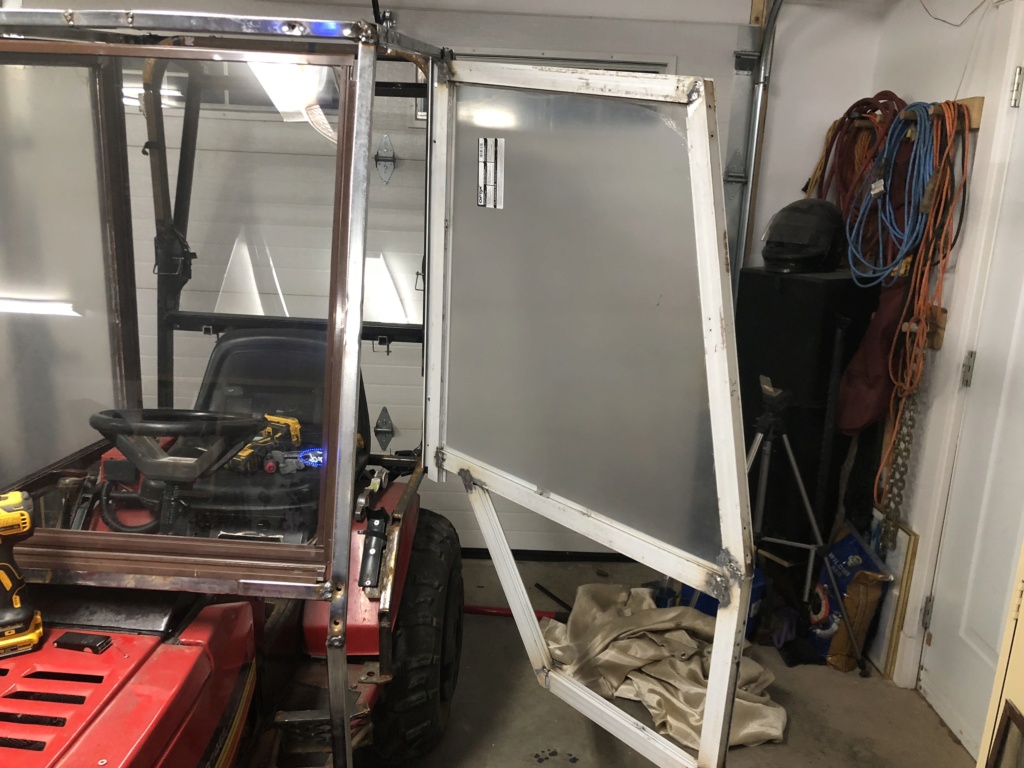 The doors provide the front and rear glass, the frames for the doors, the hinges and the latches. Not too bad for 25 bucks. The aluminum is a bit of a fight with the MIG. The Lincoln wants to either not weld it or blow right through. Would be soooo much easier if I had a TIG, but sometimes you have to work with what you've got.
Then I start filling in the rest of the openings: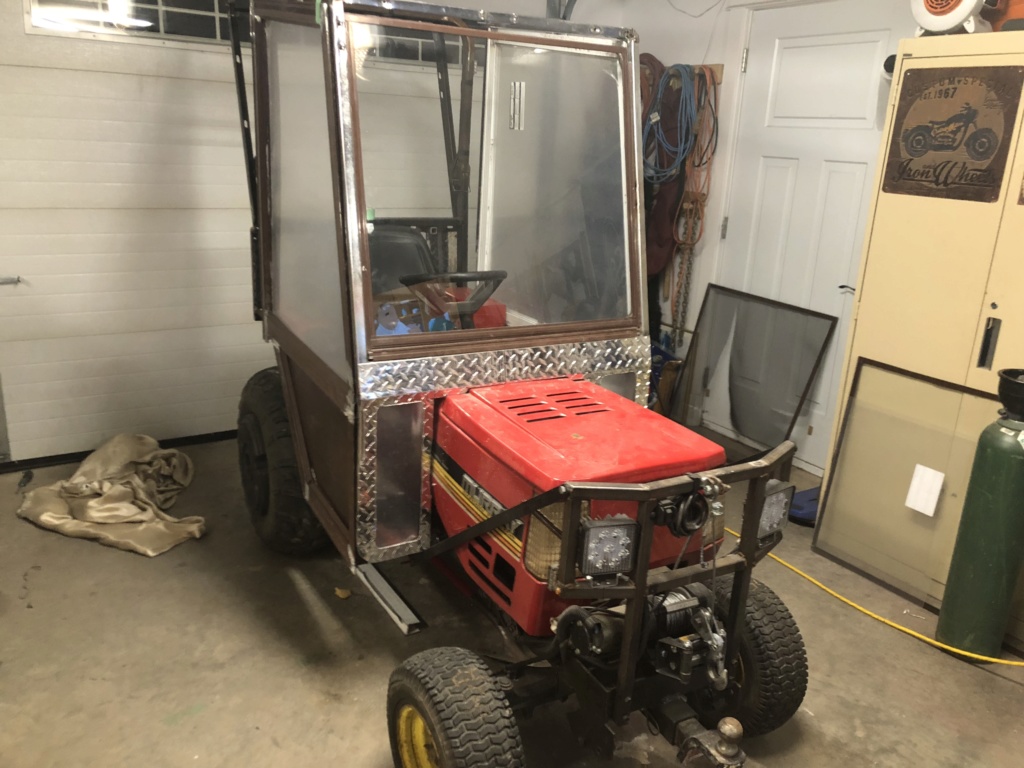 Coming along nicely. I'm in the home stretch now. All I have left is to make the rear 1/4 windows, the roof (just using plywood), and some small bits like the door latches, etc.
Once it's done, I'll probably hit it all with some Tremclad "fire red" (Canadian version of Rustolium) to tie it all together a bit better.
Unfortunately, the cost is up to just a tick over 400 bucks(before paint). I had no choice but to buy some plexi for the doors and other places. 375of that400is just the plexiglass. I decided that glass wasn't a good option for the doors since I didn't want something that might shatter if the door swings, slams or just generally bends/twists over rough ground.
Starting to plan for some cabin heat now. Being and old B&S opposed twin, there's no coolant to use in a heater core. I'm not a big fan of using an "exhaust heater" (known as a "Heater Muff" in light aircraft) due to the possibility of force feeding CO directly into the cab with me. I'm thinking I'll add a small "duct port" to the engine shroud around the LH cylinder. It should steal some of the air being used to cool the cylinder and since it's on the opposite side of the exhaust pipe and the engine cooling fan draws air in from the opening in the hood,I should be fairly safe from CO intrusion. I need to think a bit more on that one.
There will be a couple small 12V fans to help keep the windows clear and probably some type of manual wiper somewhere down the road....