I have a few photos to share of what gear end play looks like between good parts and 'worn' parts in Kohler High/Low planet carrier assembly.
Double click a photo for a close up.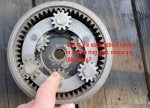 The rebuilt carrier has all new bushings, pins, and shoulder bolts but old used gears, the 'fair' looking ring gear; well, I do not think it is so fair at all.
But imagine if you will, "what if the bushings in the gears, the shoulder bolts and pins were also worn?'
Be very careful what you buy on eBay.
Roger,