Discussion Starter
·
#1
·
Hi all,
Some of you may remember my posts about trying to find a nice GX345 or even an older 345. (I really wanted that diff lock as I have a very steep hill in the front of my property and my LT155 that I just restored wasn't going to cut it for long!) See post:
Restored LT155
http://www.mytractorforum.com/showthread.php?t=130524
Help me pick
http://www.mytractorforum.com/showthread.php?t=140437
Since this last thread I have looked at 4 other tractors and all of them are more money, 345's - so no diff lock, or in even worse condition!:Stop:
Well I was still hunting away and this time I took my wife to see a 2000 345. When we arrived she said how much is it? When I told her "they are asking $3995" she says "you have to be kidding me....for that!?!?!" Now I have showed her pictures of the other tractors so she is seeing the pattern...:banghead3
This is where it gets good folks...:fing32:
My wife then says how much is a NEW tractor? When I told her the X540 list for $7500 but they have a $300 rebate going on and I bet I could get a better deal, she said look into it! (Oh how I LOVE this woman!) Then she said "I know you...and you want everything perfect and just like new. I know you are going to spend $$$ fixing up anything you find used and who knows how much that will cost and you don't even know how it has been treated!" She also knows I am going to sell the LT155 with all the accessories but the wagon and she said "don't you want a new wagon for the new tractor?" After i got up from the floor, I said "um, oh I don't know" LOL!
So to get on with this very long story...
I just ordered a 2010 John Deere X540 with the 48c deck. I am also having a mulch kit installed and the front brush guard added all for a grand total of $6825, and that includes delivery:fing32: I put down the max amount I was willing to go on a used tractor ($4k) and financed the rest with the 4.9APR deal. (I will have it paid off in less than a year but just in case...) So for that additional $2825, I got a BRAND NEW tractor with all the features I wanted (diff lock, power steering, HDAP tires, LC engine, mulch kit, and very, VERY clean:fing32
plus now also have a 4 year warranty!
I my short list of additional options are:
1, the headlight upgrade kit $51.00
2, the dual rear 5 gallon bucket kit $86.00
3, the seat net kit $26.00
Down the road I want the Tandem Utility Trailer Model 6500 (6 Ft. bed) with Optional: Hand Operated hydrolic Dump $530.00 plus delivery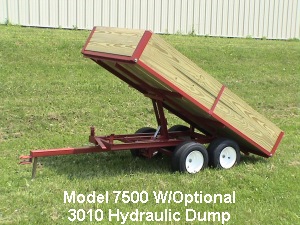 http://www.countrylawn-garden.com/wagonstrailers.htm
And either the JBJR or the John Deer 40" tractor shovel $900
To top this all off...my new 10 x 20 shed should be arriving on Thursday!!!:trink39: My new X540 will have a new home!:fing32:
Yes...pictures will follow by the end of the week!!!:trink39:
Life is good!:drunkie: