Discussion Starter
•
#1
•
I posted this thread over on Simple trACtors, but thought some people here might enjoy it as well. Especially since the upgraded spindles could pretty easily work on a whole slew of different tractor brands!
My ever changing AC 912 has done it again...
I've been putting plenty of hours on this ol' workhorse since my diesel swap and have been VERY pleased on the whole. However, there's always room for improvement! One area of concern was the steering; years of use had worn heavy grooves, causing the already lacking steering to become quite cumbersome, especially with a plow/blower hanging off the front. I decided I'd like to do the thrust washer/needle bearing mod (so graciously outlined on this site) and run tri ribs. I wasn't entirely sold on the 6.5 wide tri ribs that would fit my stock rims, so why not upgrade everything... lol
I could have bought the 6.5s for $140ish; instead I picked up 4.0s from GCT and then hopped on to eTrailer for some 3.75x8 4 bolt rims and 1000lb 4on4 hub assemblies and spindles (standard 2000lb trailer stuff); total cost was about $150. Of course while I was ordering things, I went ahead and grabbed some 23x8.5 Deestone Ags. They may not be the greatest, but they'll suit my needs fine!
Now, on to the fun!
I do love a fresh pile of parts.
No pics of the fronts getting mounted, but they were a pain. Too small to fit in the tire machine, and the tubes I was forced to buy were slightly too large, causing a hassle trying to avoid overlaps. However, the rears fit in the tire machine just fine!! What a nice thing that is to have!
I'll fill these with washer fluid later when I bring the tractor back down to retrofit my FDT blower, but that'll have to be another night. The tries were narrow enough that I couldn't get the bead to seat using the normal tricks, so out came the starting fluid and a torch to seat the beads the dangerous way. Oh well, it works.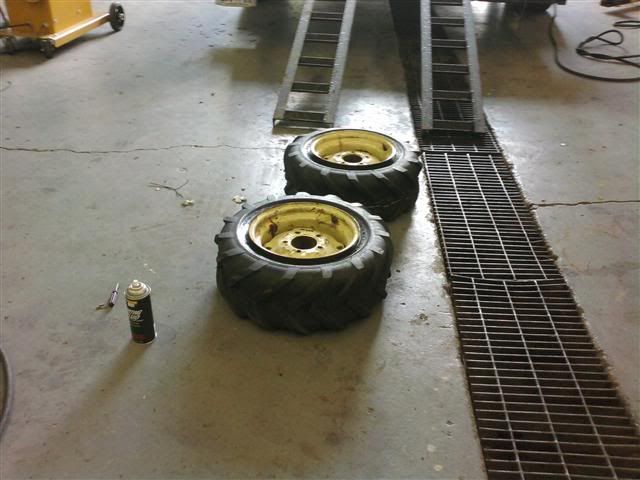 When I do the washer fluid, I'll give the rims a shot of paint at that time. Then the wheel weights and chains will go back on as well.
Ahhhhhhh...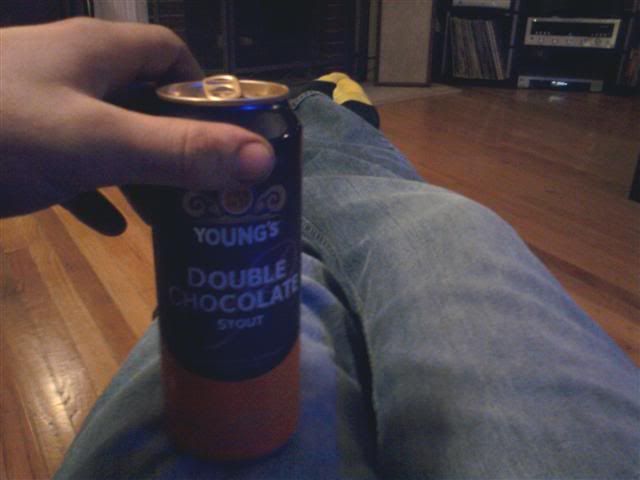 Today I got back down to the shop to finish up. First was cutting apart the old spindles.
The 1" spindles just seem to dwarf the old 3/4" ones! Tacked in and check for square. I measured the angle of the stock ones at 100° so that's what I set these at.
And fully burned in. Used a couple passes to fill in since I had used the round stub type spindles.
Now for the thrust washer portion. Apparently I didn't get pics of the worn in grooves, but they were bad; I wire wheeled and then filled them in with weld. I could have sat down with hand file and worked away creating a perfectly flat area for the bottom washer to sit, but I didn't feel like it. So I as carefully as possible tacked, leveled, and burned in a thick flat washer to act as base for washer/needle bearing/washer combo.
Because of my thicker base washer, I had to ever so slightly widen the groove for the e-clip on the "passenger" side. It did the trick though. Here things are taking shape.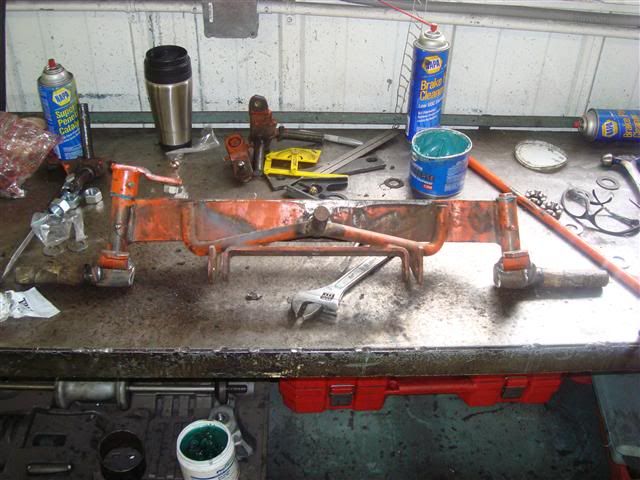 I had known my original supporter thingy was broken; now seemed like a great time to fix it. I tried grinding the tube stub down so I could weld a new one on, but found the metal to be of sub par quality.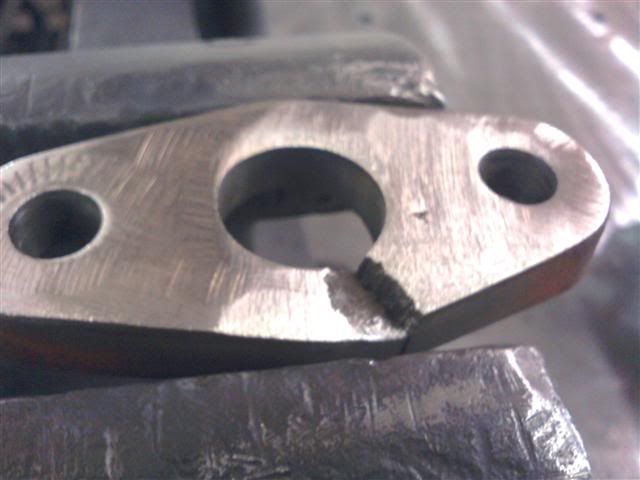 So I made my own out of fresh new steel.
Now we're getting somewhere...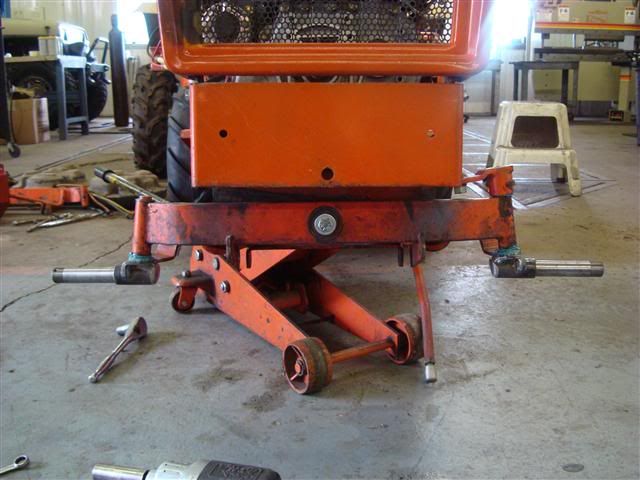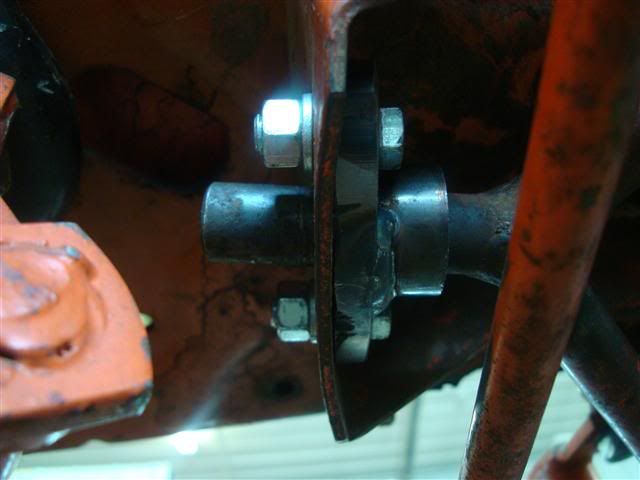 Bearings packed and hubs on.
Tires on checking for clearance; perfect at full stuff, full lock.
All buttoned up for now. I know a lot of guys like wide tires, and I do admit they look cool and serve a great purpose for flotation. However, my uses are mowing and more importantly snow removal. I'm from the narrow tire more ground pressure for traction club, so the 8.5s seemed a good fit for me; I do really like the stance of narrow tractor looking tires!
I can't wait to play with filled tires, tire weights, chains, and maybe even additional weight hung off the back!
And there really is just something about tri ribs that's screams awesome...
Got home just in time to throw on the deck and mow!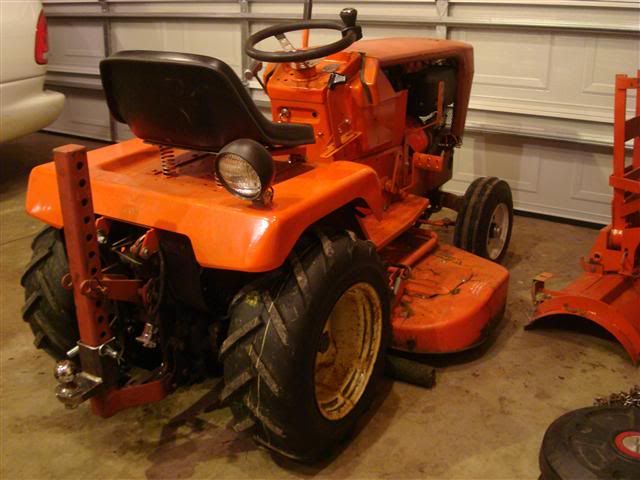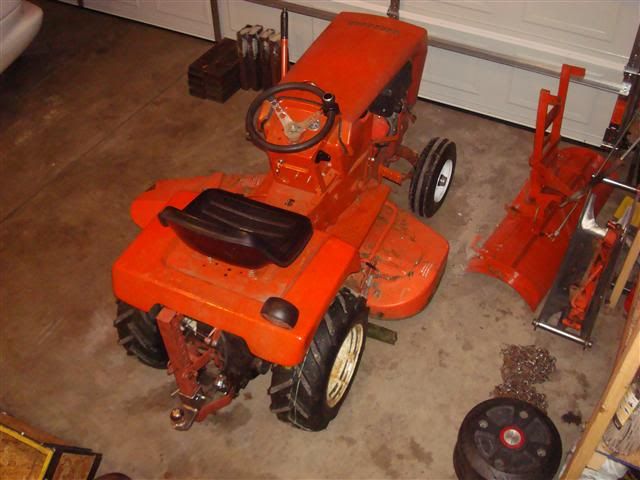 I guess I still have to add back in the panels on my hacked hood one of these days... :00000061: