Discussion Starter
·
#1
·
My 112 has a headlight setup that leaves something to be desired. The rubber mounts are deteriorated and stretched, and I only have one trim ring with wrinkled chrome.
Anyway, enough whining, I want to set up a bracket to support two new lamps which will mount to the existing headlight panel mounting holes, and do away with the rubber mounts. A while ago, I bought a couple 4" "trapezoid" tractor lamps which use a H3 style lamp, rather than a sealed beam. These lights can usually be found at places like Princess Auto. I got to thinking a LED conversion would help reduce the load on the small engine charging system. I've purchased some 10W warm white LEDs and drivers (AC/DC rectifier/regulator) before off ebay and used them on a few lighting projects with good results.
The disassembled replacement lamp, as well as old sealed beam, and LED components next to the H3 lamp.
The glass/reflector has the same dimensions as the sealed beam, which would allow it be used with the OE rubber mounting system.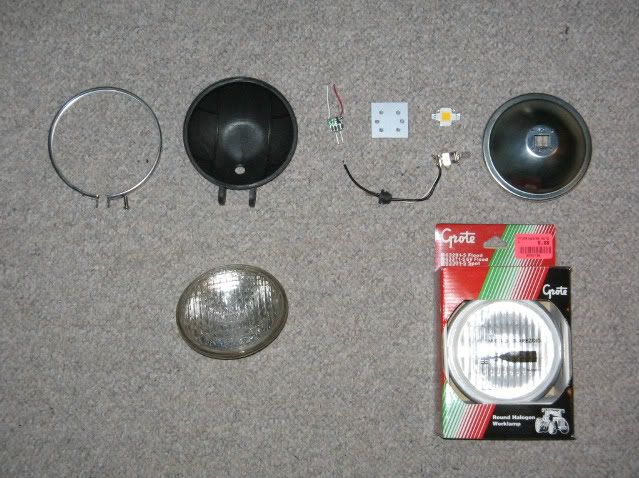 I built a heatsink/mounting plate to sandwich the LED to the back of the reflector opening. 1.5x1.5" square of 1/8" aluminum stock. The holes will allow the LED wires to pass through, and screws will catch the rounded corners of the LED. Corresponding mounting holes were drilled in the reflector for the mounting screws. Also shown is the H3 lamp which is making an exit.
Driver leads connected to LED. Before assembly, I applied a blorp of heat sink compound to the backside of the LED for good heat transfer. I'm not sure if the heat dissipation is a necessity or not, but these units can get warm to the touch after long operation. If I was installing this via the rubber mount, I'd install the driver board(s) in a small electronic project box to protect it from the elements, and use silicone to seal around the screws/holes/gaps on the heatsink.
Powered up and compared to the old sealed beam. Sealed beam on left.