Before I start there are 2 disclaimers.
1-the garage is far cleaner now, I just spent the weekend in there working with my 2yr old(hence the tornado appearance)
2-the switches have been straightened(had to tweak a brace a bit)
That being said....enter the Bolens 1050 I picked up recent from a forum member.
Everything I needed, midsize which is fine for my couple acres and it ran. I'm not picky, gimmie the bones and I'll give it personality.
It came with a sleeve hitch and an atv winch mounted to the right side footrest that raised/lowered the sleeve hitch. Not ideal, but it worked.
Headlights didn't work, seat was uncomfortable for my old back and it didn't want to run quite right.
No problem, seat was swapped out with a high back from one of my other riders I had in the shed, took a little work to get it mounted, but it's done.
I like to stretch out on the long trips back and forth, so the footrest needed to be freed up. After seeing another post on here about mounting a winch under the seat, I tried it, a little tweaking to the winch plate, and some grade 8 hardware, she slipped right in, now I'm not stepping over a winch cable and winch in order to sit down.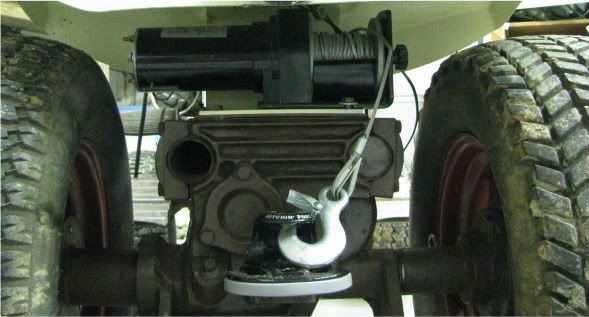 Also you can see is my storebought solution to hooking up other items to the tractor, the "hitching post". I was not able to hook up my 1 7/8 ball to the factory hitch and hook up the trailer as it was too close to the rear end. This pulled it out about an inch, which was all I needed, plus adding in the attachment point for standard lawn equipment as well. A great spend of $25.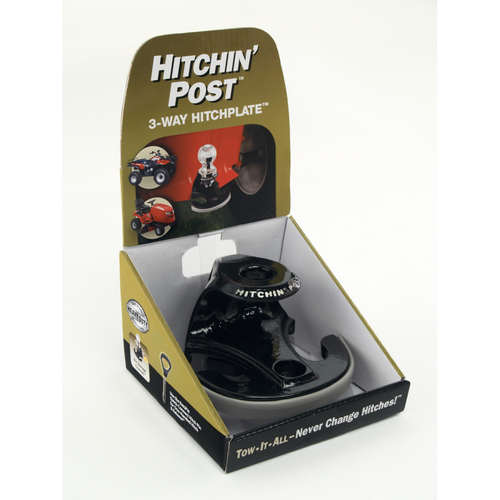 Next step was lighting. I have a light fetish, I admit it.The stock ones were not working. Unsure if it was switch, bulbs or wiring. Didn't bother to troubleshoot. I ran to Lowes and picked up 2 replacement bulbs for $8 each. A little new wiring and they are as good as the lights on my car.
Well of course the had to go to a switch, and as luck would have it, I had a few laying around from a rockcrawler build that I never completed. So there it went. 3 switch pod. Headlights, rear light, and the winch controls will be the 3rd slot.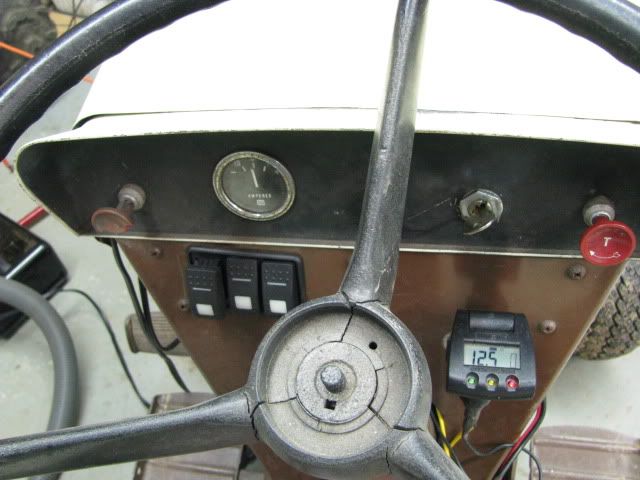 did I mention it's straight now?:drunkie:
Also you can see in the pic I added a 12v plug on the right side, perfect for ...whatever. I plan on keeping the voltage monitor that is shown in the pic, just to make sure the charging system is working as it should be.
Last additions are in the rear. I don't foresee myself spending a lot of time in a high traffic area(being as I live at the end of a road in a culdesac, well away from any roads with lines on them). But to be on the safe side, I added in a couple red LED pods from another previously discarded project.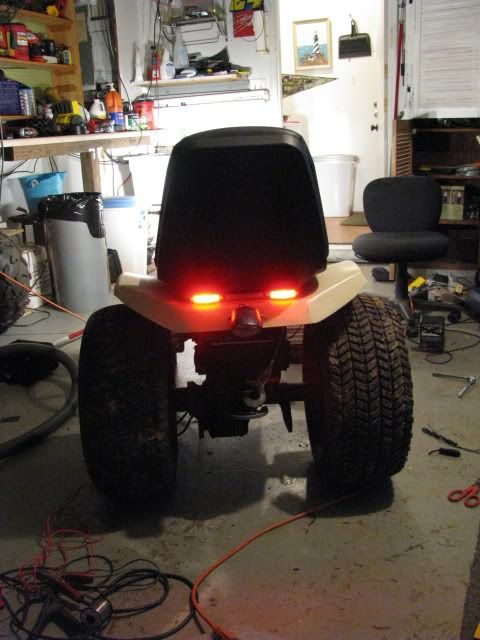 And last but not least was a rear light. I had planned on LEDs to keep the current draw down, but realizing it would only be kept on a portion of the time made me change my mind and go the old fashioned route. None of the LEDs I had(or have have seen in the "budget" range) had the throw I was looking for. As luck would have it. I had a set of fog lights from a past vehicle, and mounted one up perfectly in the old taillight holes.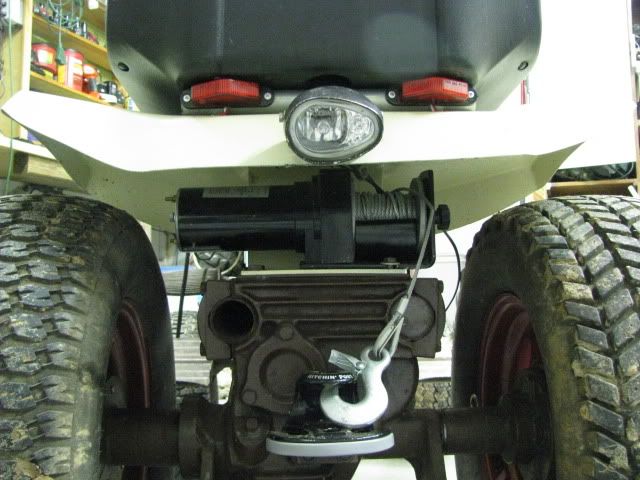 plenty bright
and has a good pattern as well, should do fine, even with the sleeve hitch and attachments on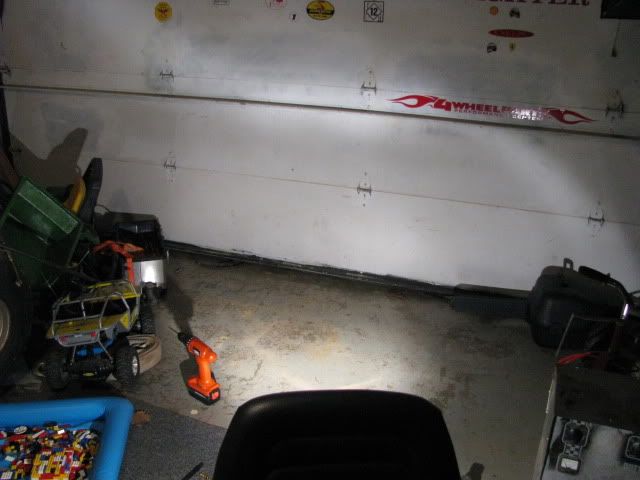 there is the rundown on this weekends work on the beast.
Oh, and what are the chances I would have had an air filter laying around that fit a 40yr old lawn tractor? :dunno: pretty good apparently, some new gas and air air filter that passes air,she runs like a champ. Next will be replacing throttle and choke cables, but hey..baby steps, I might actually have to pay for those.
I know some purists are prob gasping and having left arm pains, but hey, it's mine, I bought it to work, and to be as functional as possible, and well..it's getting there. (cupholder goes on tomorrow :trink40