HarryC,
Yeah, I kinda like 455's also. I did have four but sold one.
Yes, you NEED a 3 point hitch. I have a 3 point sprayer, aerator, rear blade and 450 tiller for mine.
I have a 54" deck on my 425 and a 60" on a 455. In my opinion, the 60" deck does a better job that the 54".
This grass was cut with the 60" deck.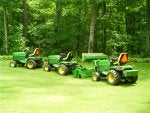 GotDeeres