Discussion Starter
•
#1
•
Finally, after six years of looking for one, I got one. It's not that there haven't been ones around, but it's one of those attachments that can get very pricey. That's not uncommon for Gravely attachments that appeal to both the collectors and the users. The recent examples that I've seen for sale were very nice and very expensive.
This one showed up on eBay.
I figured it would go for close to current pricing (outside of my budget), but I was at least going to try. I placed my meager bid (last seconds of course) and expected it to be out bid. But it didn't happen. And I won it.
A bit of history for those who don't know. The trencher attachment was not built by Gravely but by Crowley Ridge Machine Works Inc. out of Jonesboro Arkansas. It was sold by Gravely dealers as a third party attachment. They were designed to run off of a two wheeler or the front of a rider. They were also adapted to run off of the back of a rider. The base model could dig a 5" wide by 30" deep trench. With an extension, you could get down to 44" deep.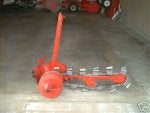 For the research I have done over the years, there appeared to be two designs.
The first design used an early rotary plow drive that had an auger that discharged to the operators right.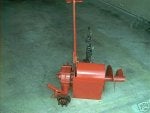 The later design used a quick hitch rotary plow drive that had an auger that discharged to the operators left.
Of course, I wind up with the odd ball, a quick hitch drive with an auger that discharges to the right like the old style.
I'm interested in hearing from other owners about their equipment and experiences with these trenchers. Does anybody have any more info on them?