Well, I'm happy to say that my 1949 Jacobsen Lawn Queen is finally all painted, clear coated and done. I was away at college since the end of summer, so I haven't been able to work on it for a few months while I was away. When I got back, I was anxious to paint it and get it all completed. Before I left, I properly winterized and stored the mower away so that it *should* start right back up again with no issues. After I got back and pulled it out and I put some gas in it, fuel starting streaming out of the bottom of the tank like a siv right away. I couldn't believe this because I had just put Por 15 tank coating sealer inside the tank this past summer to prevent future rusting, so this was a very much unexpected surprise. Furthermore, the tank coating sealer is also supposed to seal small cracks as advertised in the description. In all truth and fairness though the tank did not have any leaks before when I've used it, so apparently while it sat in the garage the cold weather did a number on it and must have cracked it. That's the only thing that I can figure. I'm sure glad I found this out
before
I painted the mower and then tried to fire it. Aside from that, the mower would not start so I ended up pulling the motor off of the mower (I've got this down to a science now) to work on it which also helped with sanding and taking other things apart for paint prep. The cause of it for not starting was due to a bad condenser. To be honest, I really haven't had much luck with these old style condensers lasting for that long (maybe it's just my luck). Not only that, but these condensers are obsolete so I would have had to retrofit a different style one on there anyway. So, I decided that I would upgrade it to electronic ignition. I know some of you might not like that and I totally understand 100% as it's not something a purist would do by any means, but I like having it a lot better this way as in my opinion it's more reliable and I like the idea of not having to pull it apart to clean the points if it's sits for a while or have to replace the condenser. To me it's a tasteful modern upgrade. The recoil assembly also needed to be pulled apart, cleaned and adjusted as it would not recoil back.
A little more work than I was expecting to find that I would have to do to it on it when I got back, but I'm glad I found all this out before I painted it so I didn't have to pull it apart later with fresh paint on it and gave me the chance to do the modifications.
Since the original decal for the mower was far too gone to do anything with and use as a template to recreate a new one, I searched around for somebody that had a Lawn Queen who's decal was still somewhat there and presentable. Found somebody on another site who had just the thing and was very helpful, took a picture of it for me and gave me the dimensions. Thanks again Rick! I had the member on this site (olcowhand- Thanks again!) who has the ability to recreate decals make a new one. It turned out wonderful and the mower would not be complete without it.
Under a few of the pictures I have descriptions of what was done and what not. It took quite a lot of work to prep everything for paint. Man oh man was this mower ever greasy! Not just on the engine, but literally pretty much everywhere there was grease, especially the underside which was caked in it. Fifty plus years of thick grease is not easy to get off. I went through many bottles of engine degreaser, lots of scrubbing with wire brushes and lot's and lot's of pressure washing to get all the gunk out of the nooks and crannies as my pressure washer had a hard time getting it off. But in the end it was all worth it. It's not a perfect job by any means, but it's not bad either and I'm pleased with the way it turned out.
Enough of my rambling, on to the pics! (There's quite a few, so you may have to be patient for them all to load if you want to view them all)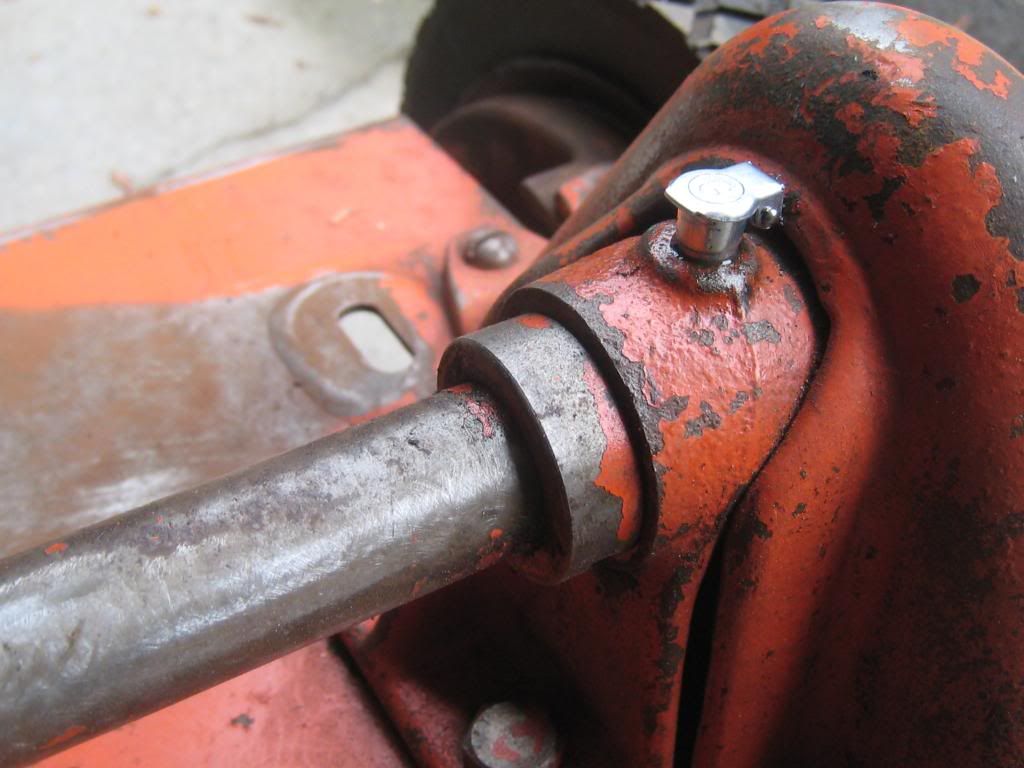 One of the oil hole covers has always been broken which I never got around to replacing, so bought one of the correct size (1/4") from Applied and replaced it with a new one the same style.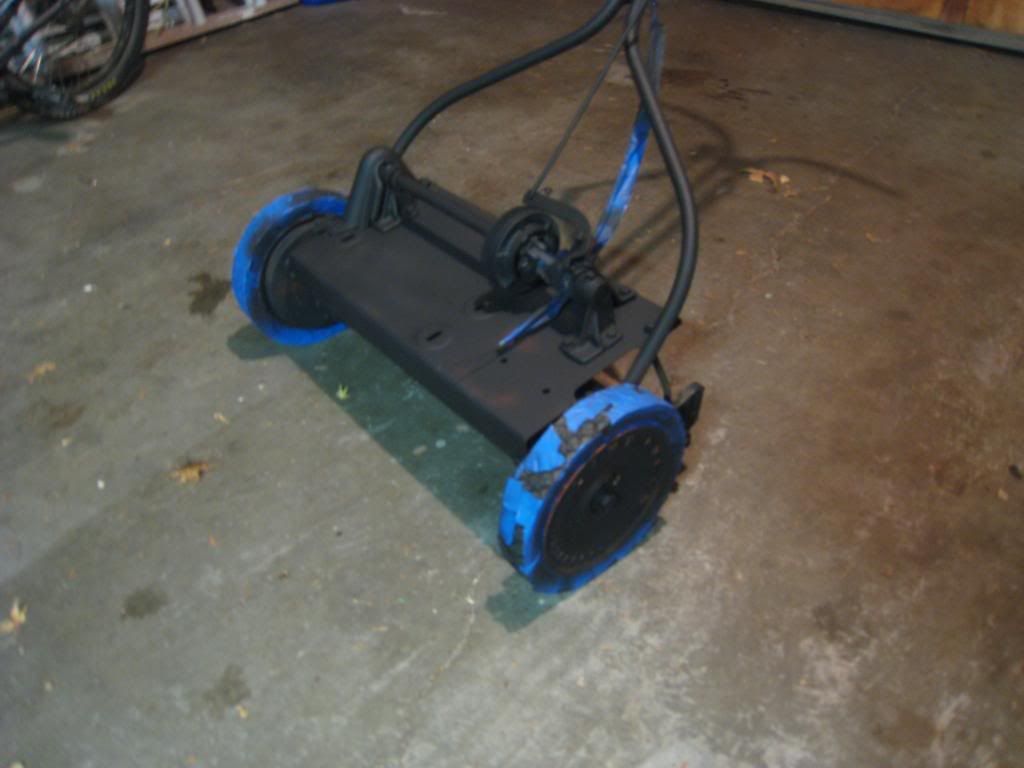 Here's one during the sanding and priming process.
The color scheme on the mower is painted exactly like it was when new meaning that for example I didn't choose to paint the bar that engages the reel silver because I thought it might look nice that color, this is how the mower would have looked like when it came new from the factory.
Also, incase you are wondering why I have the bow in the throttle cable like that is because I was having trouble with the original cable vibrating down. Basically what would happen was when I was mowing with it at say half throttle and it would go over a bump, the throttle would get bumped down to to 1/4", so I replaced the cable with a longer one. The bow makes the cable stiffer and harder to pull so it does not vibrate when going over bumps when mowing.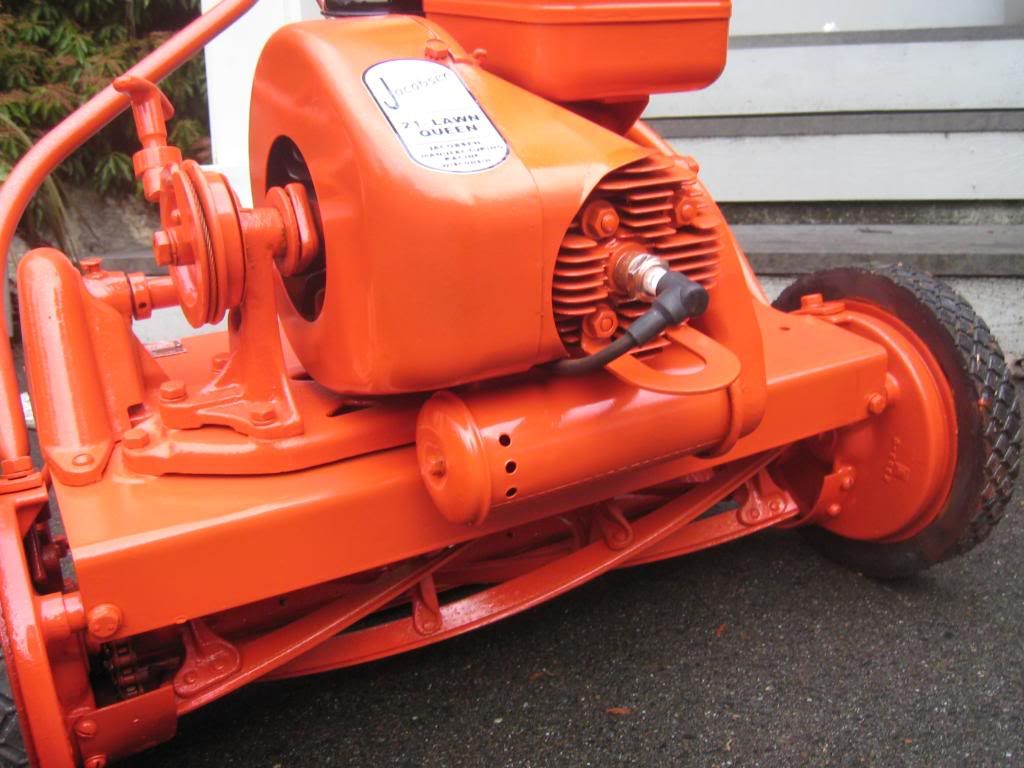 As Dan mentioned, it was very hard to lay the tiny little letters down. I bet it was, you did a great job!!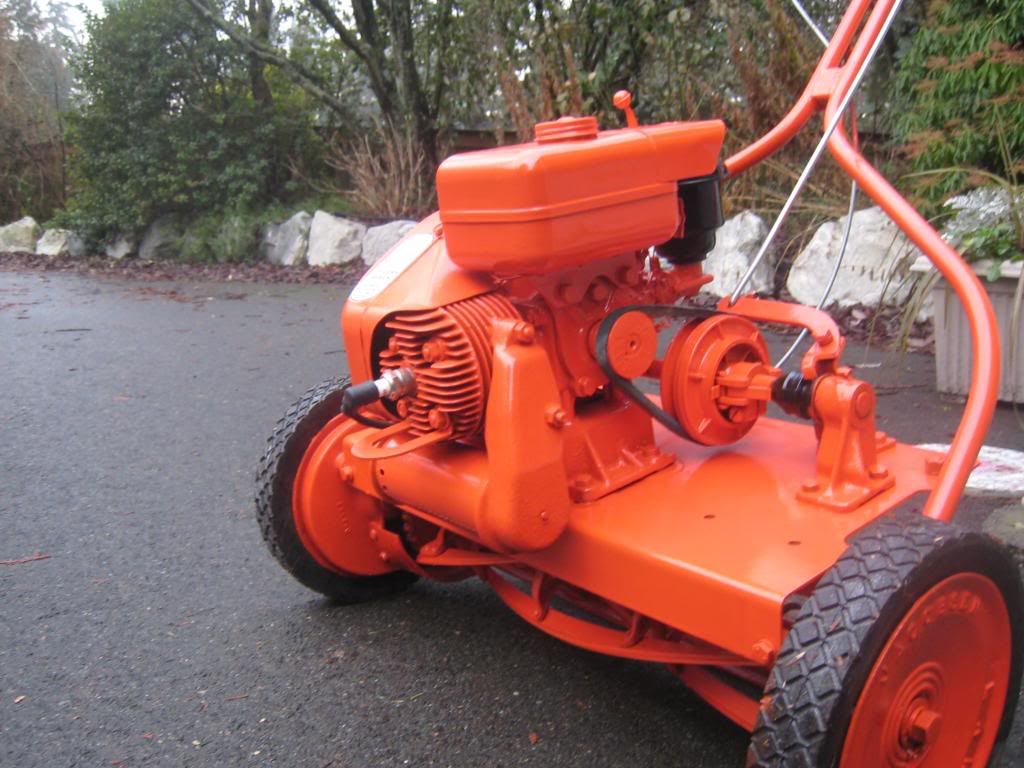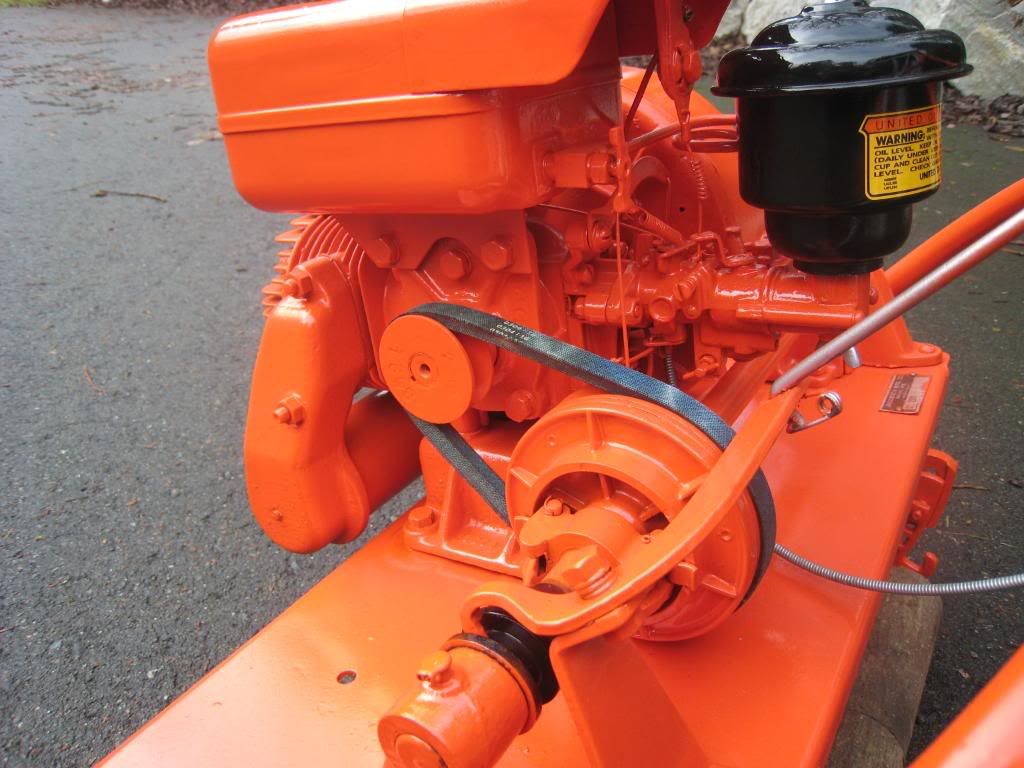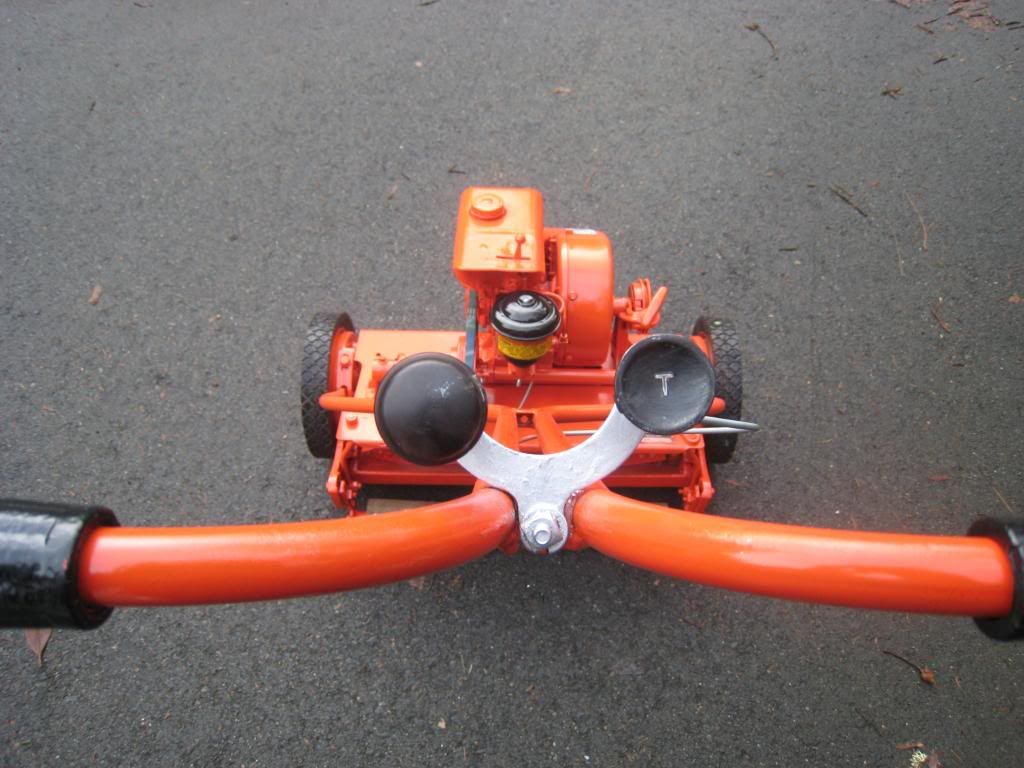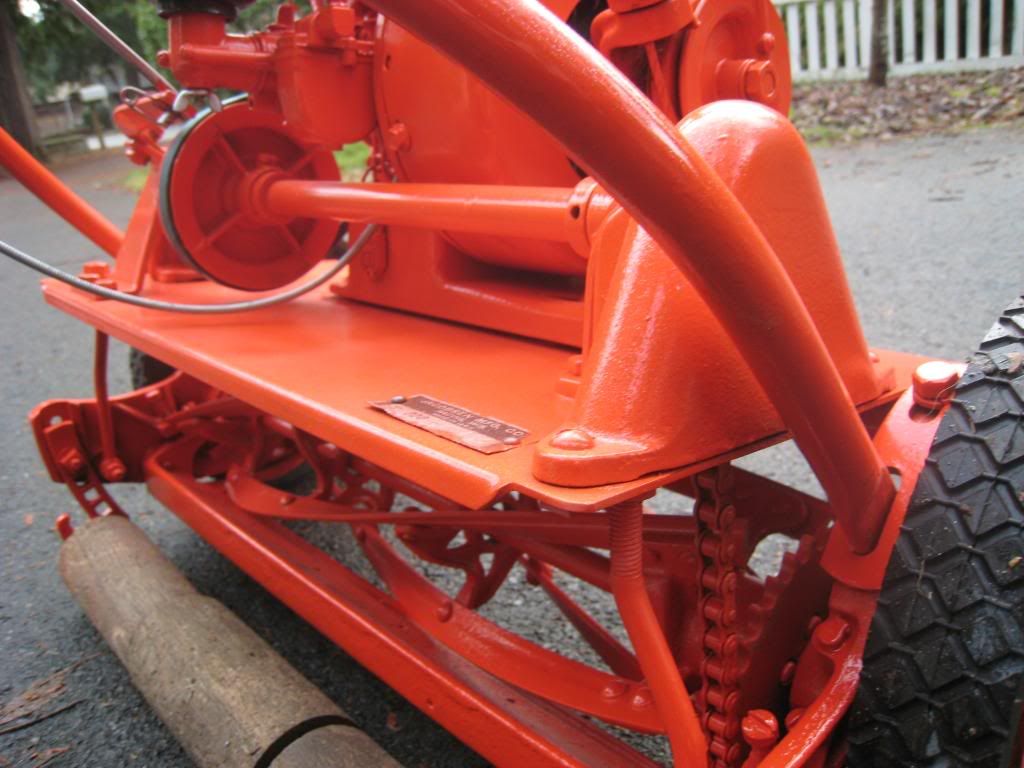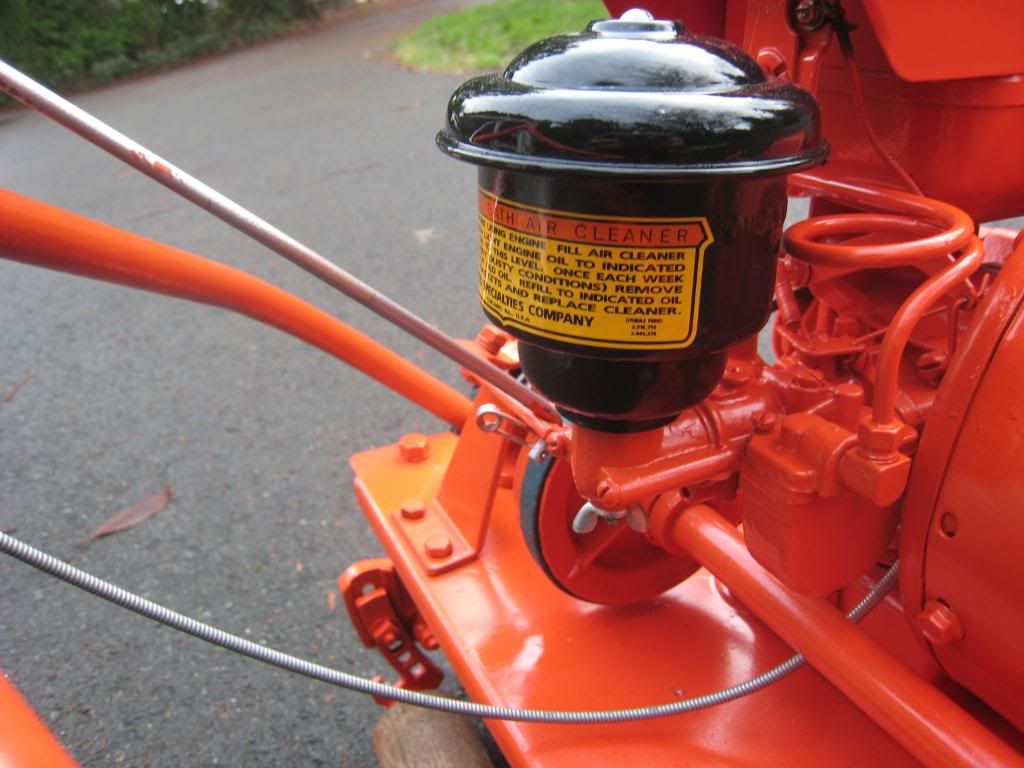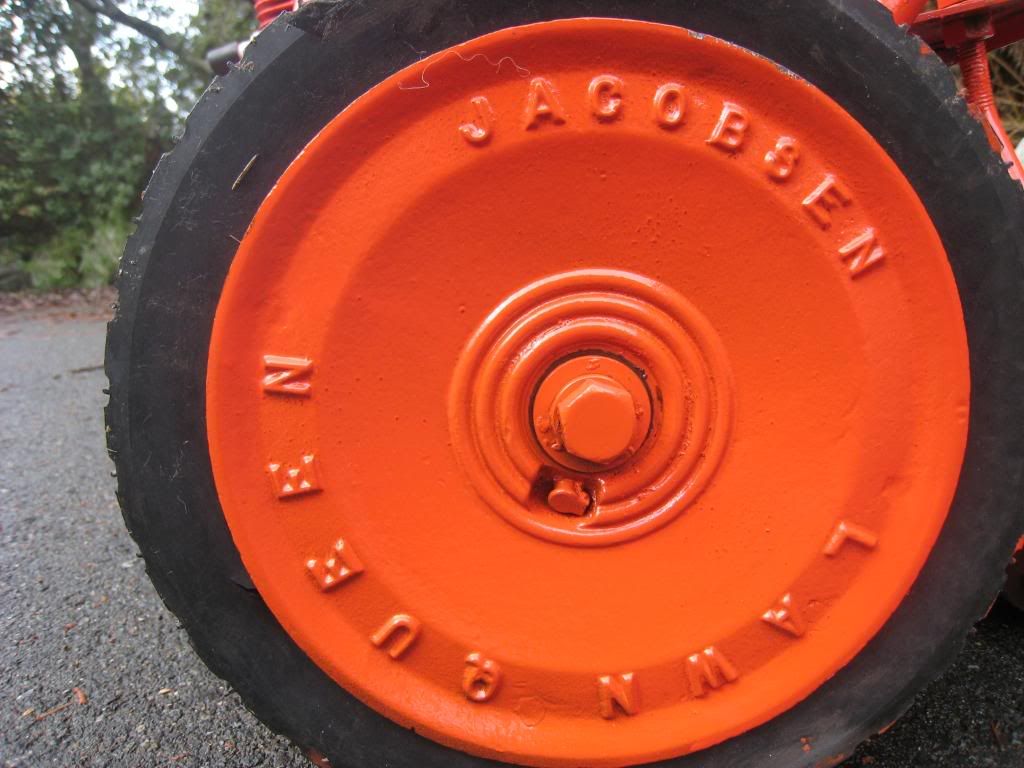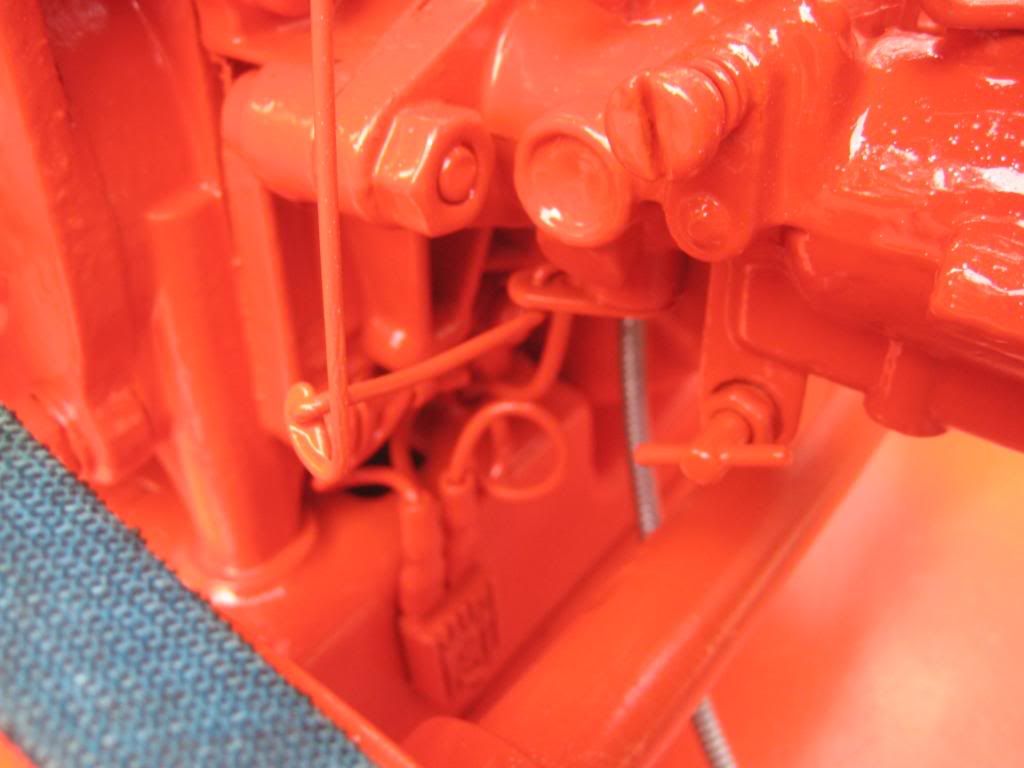 The control unit and wiring. The wiring goes into heat shrink tubing down underneath the engine mounting plate back up.
Another shot of the samething.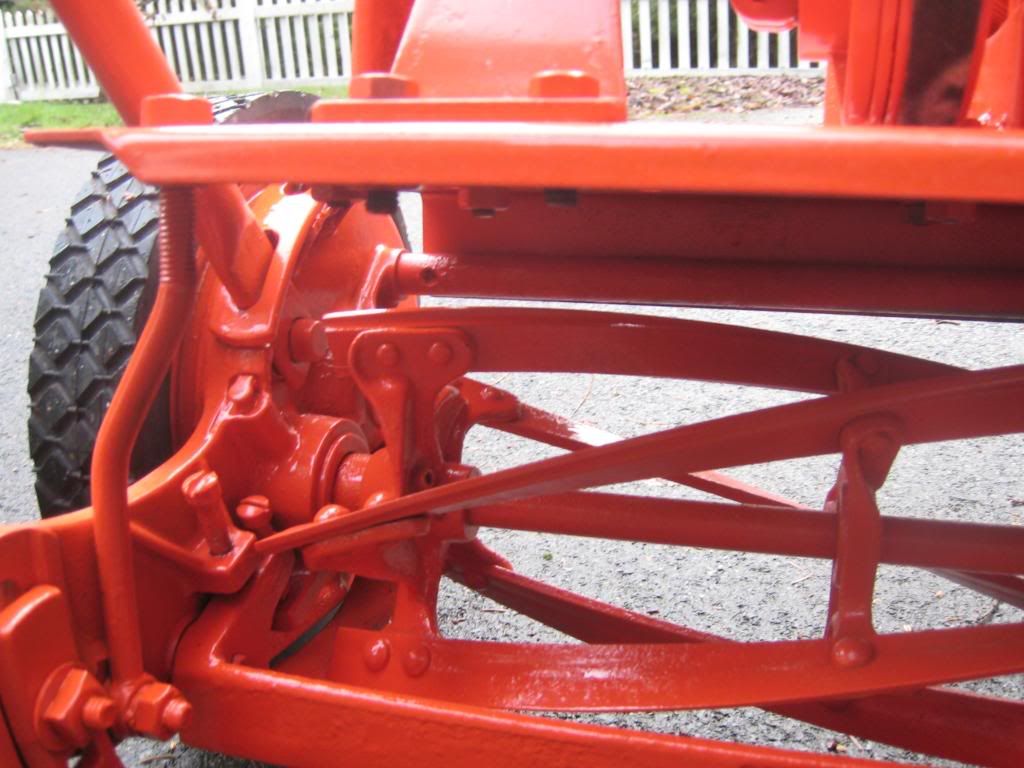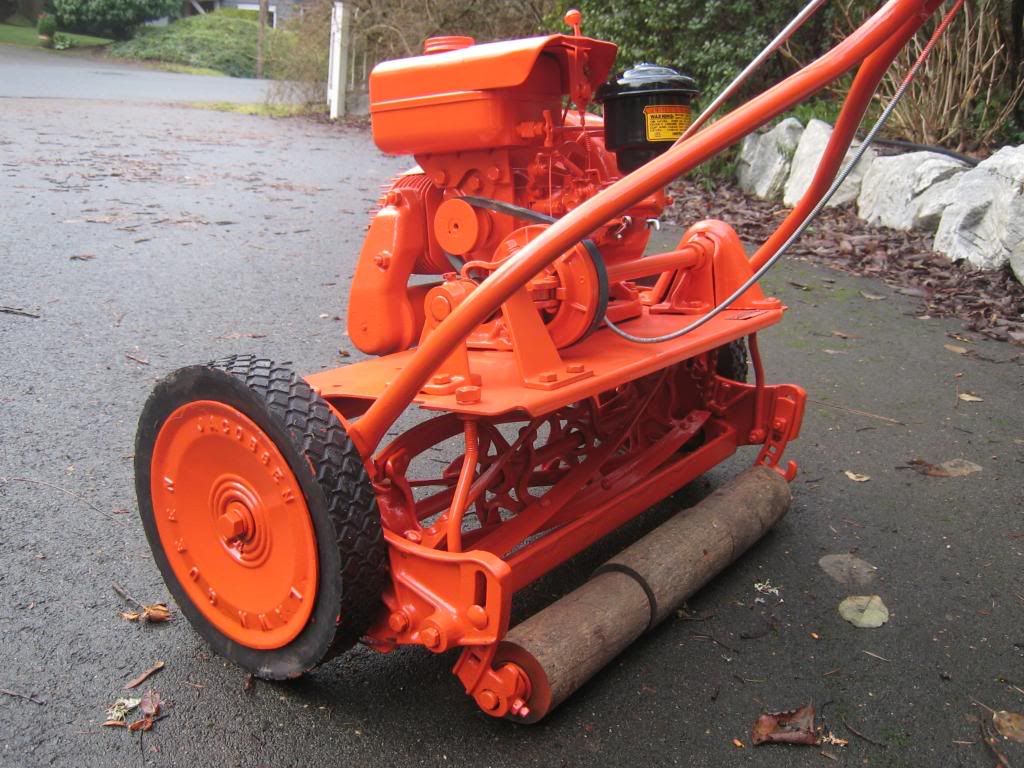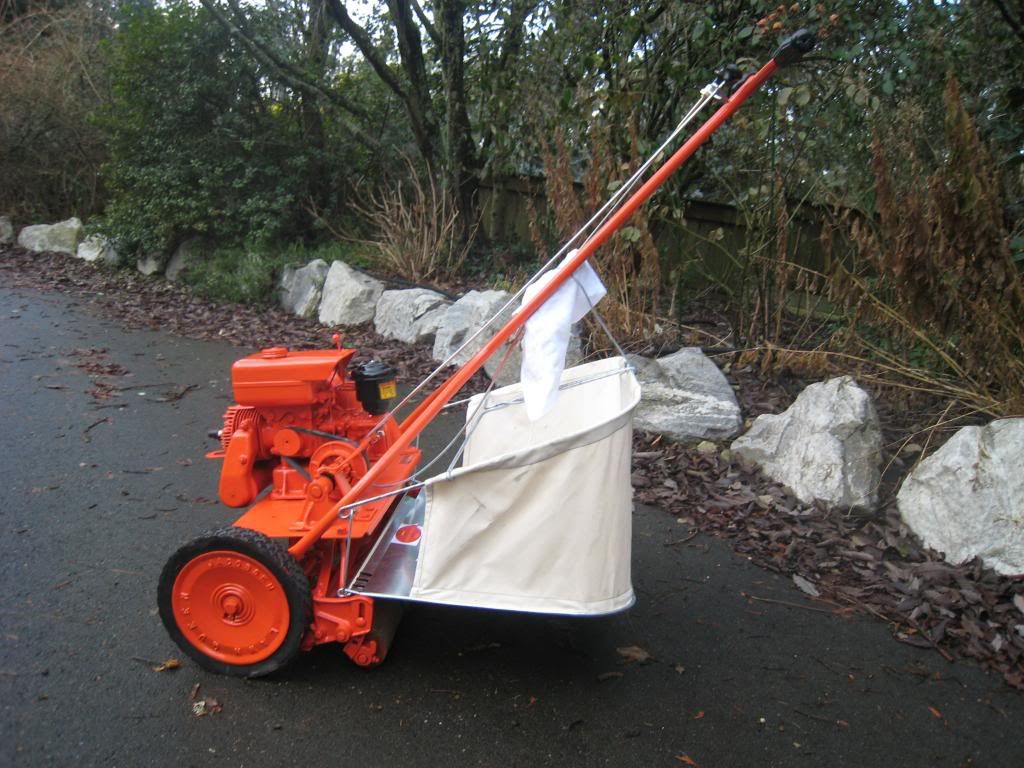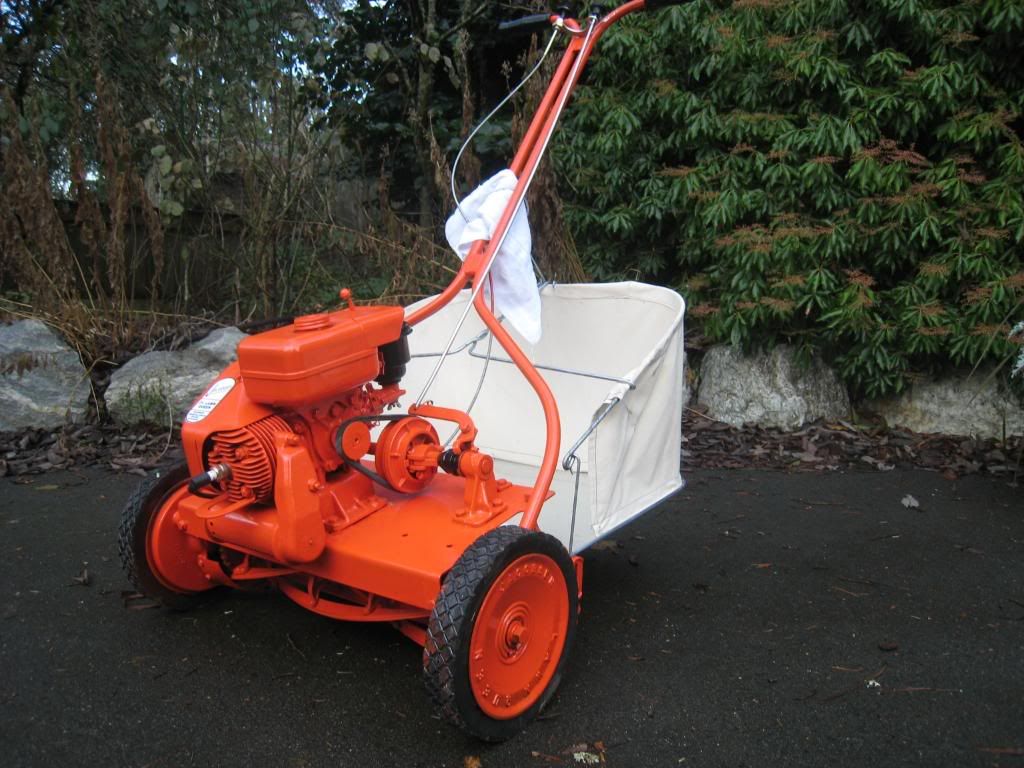 Please excuse the small cloth. It's there because I didn't want the wire to scratch the paint. I'm thinking I might cut a small piece out of a bike tire tube and wrap it around the bar where the wire attaches so it doesn't scratch it.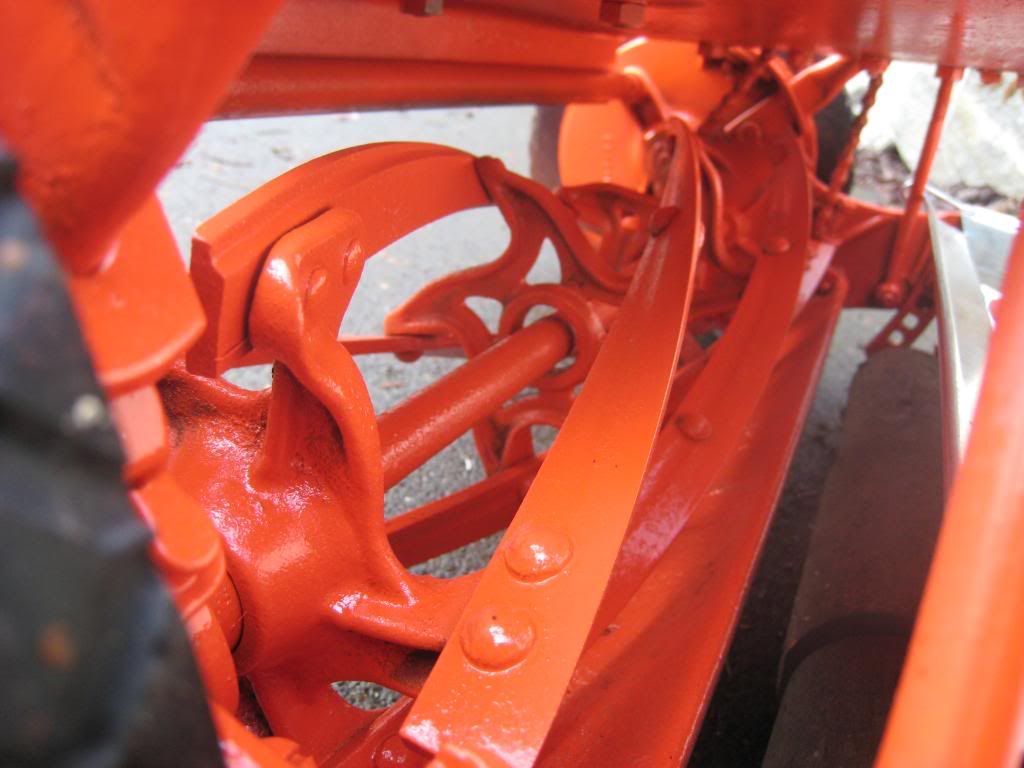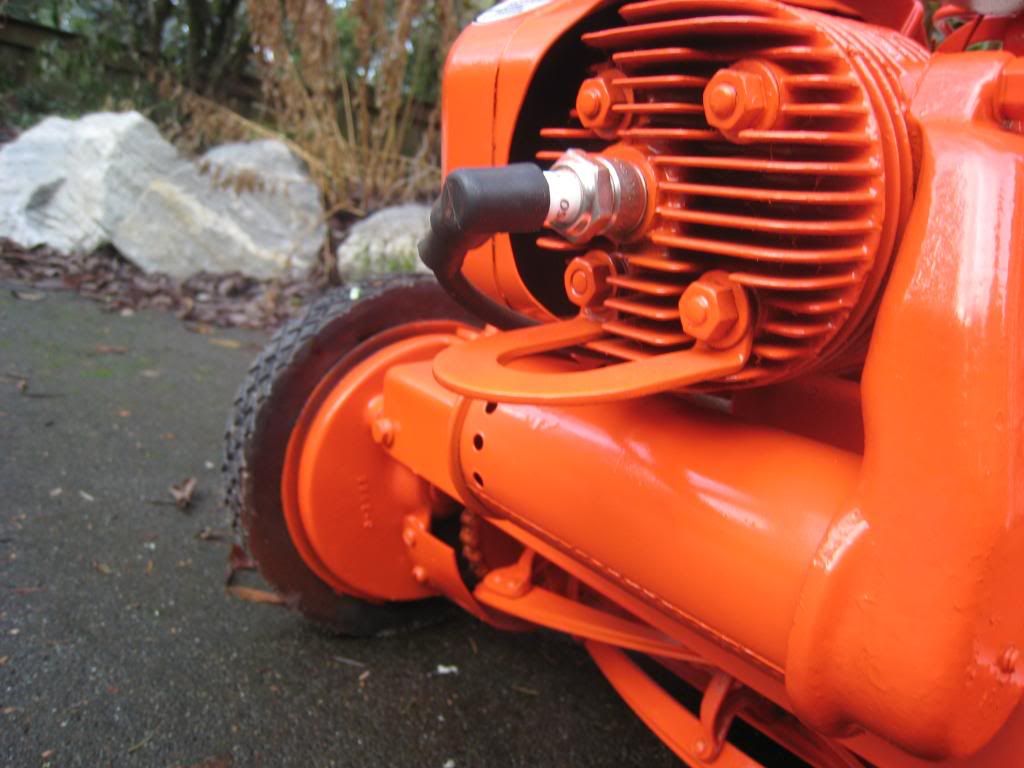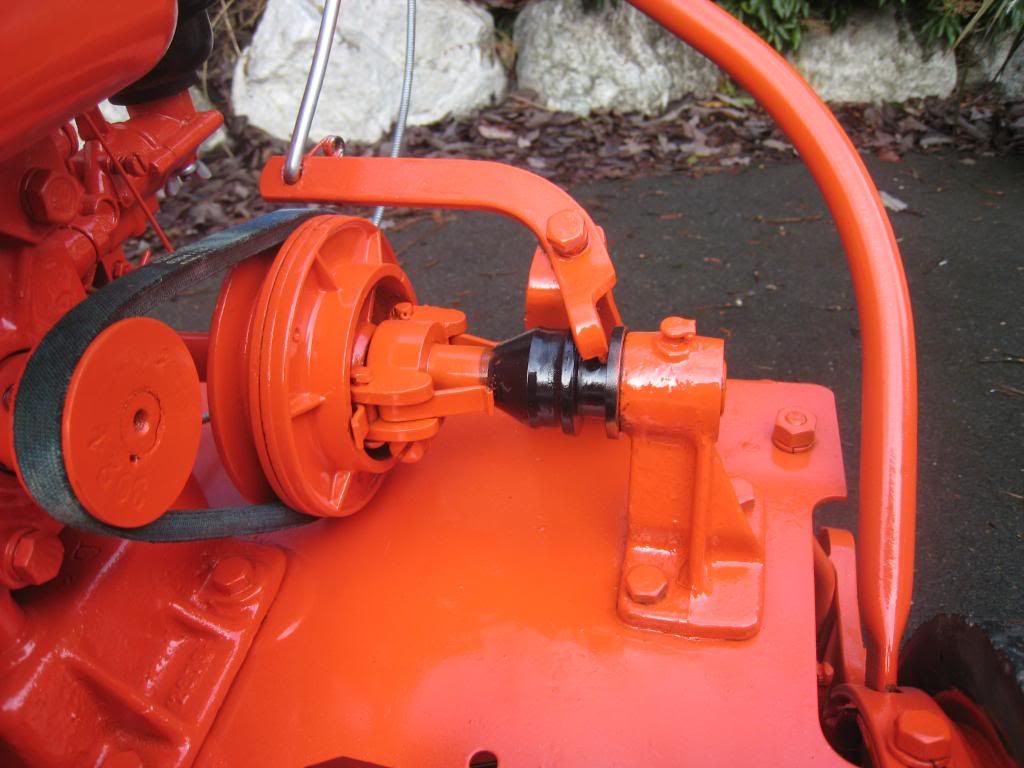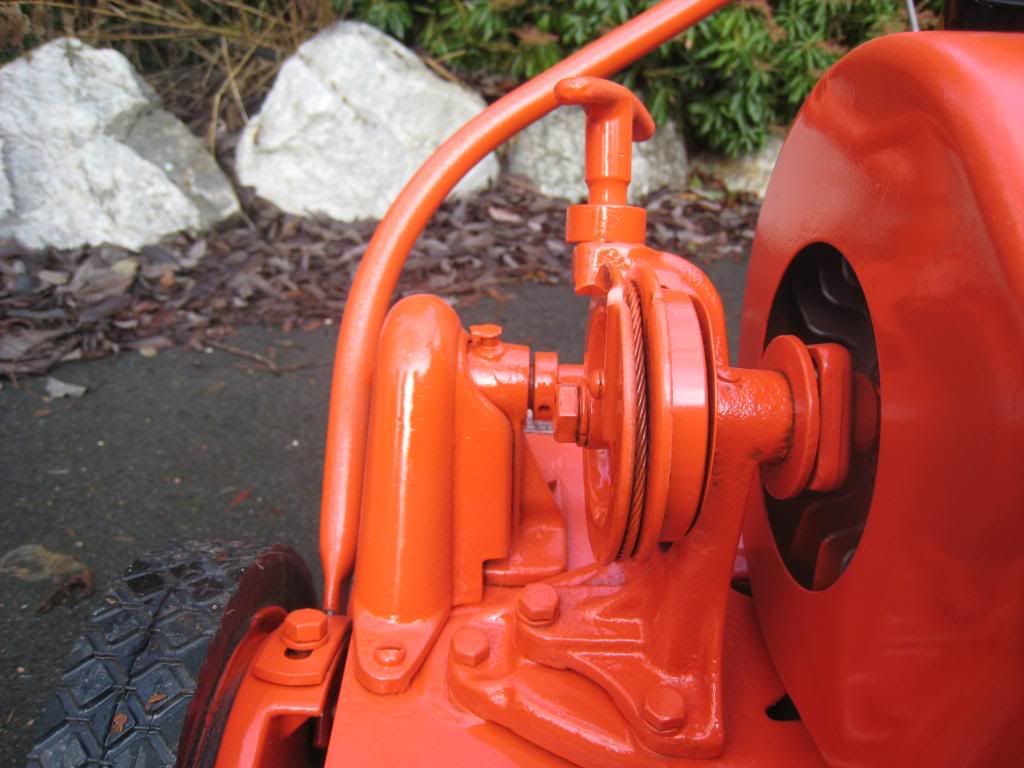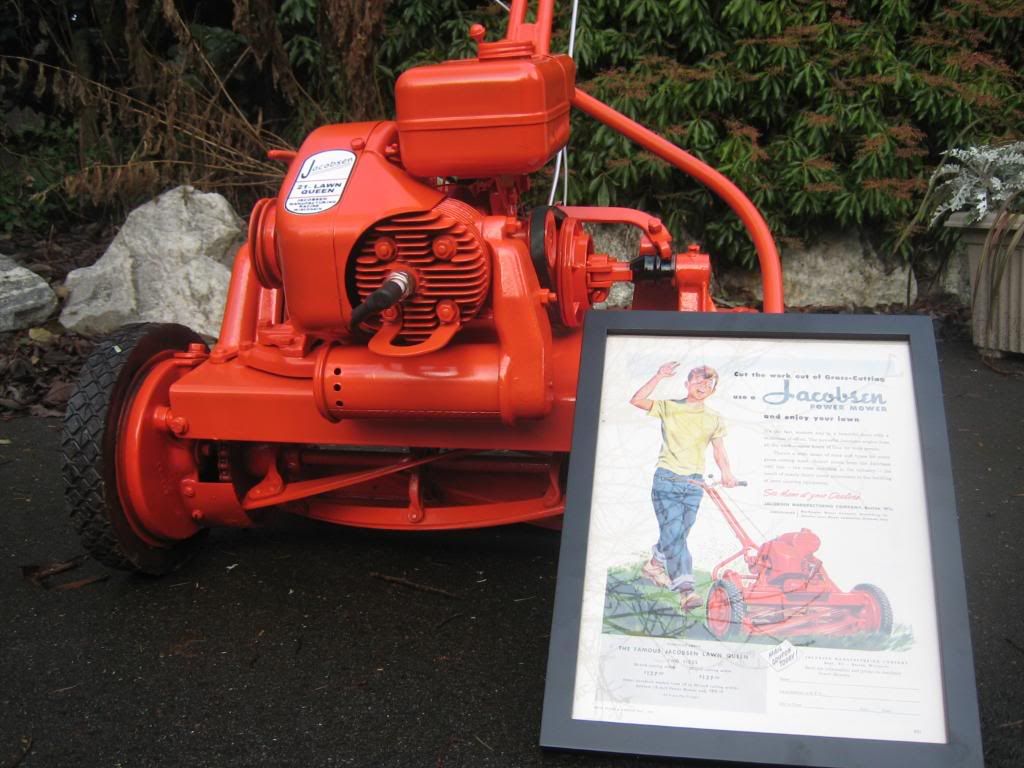 The original ad for the mower.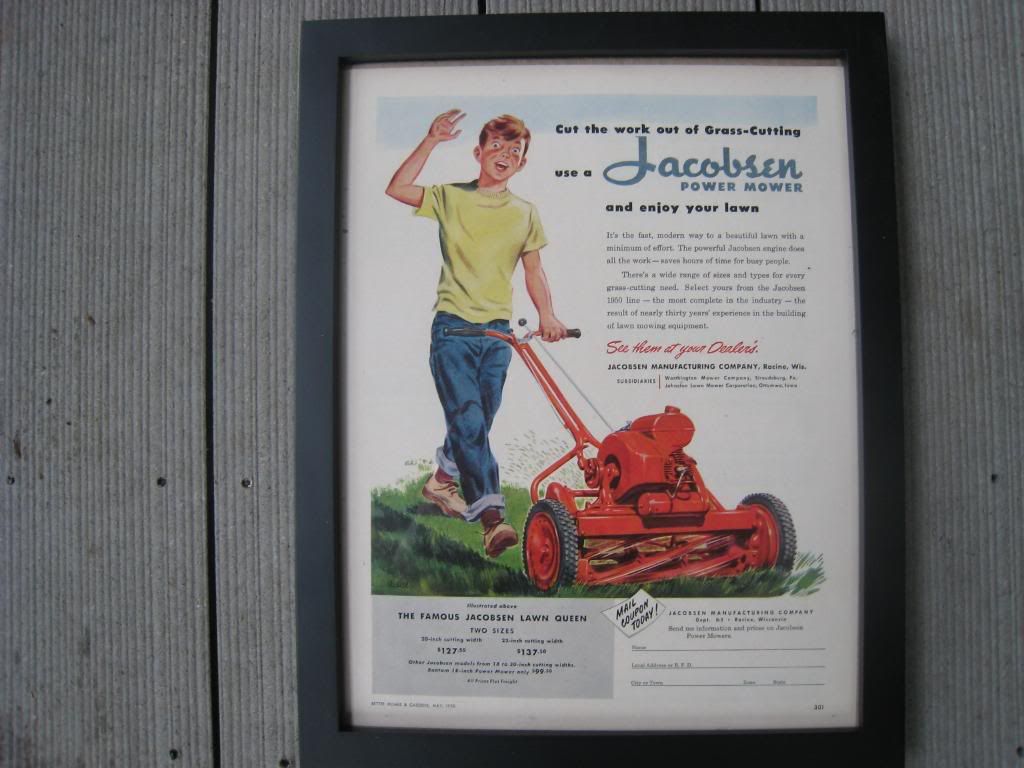 A close up.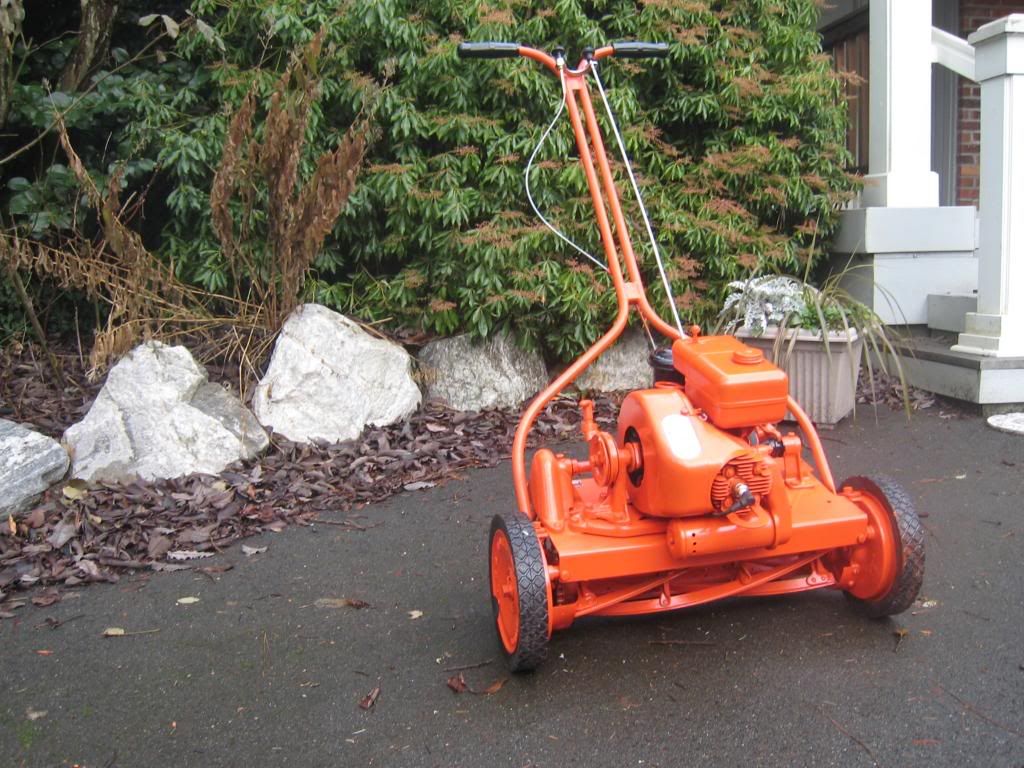 And there she be!