Hi Smeagol!
I wonder if you could move the hooks that hold the plate on to the other side of the chassis somehow which would leave the pegs free for the mower hooks.
I went out and took another look: It wouldn't be hard to move the mounts to the inside (freeing up the pegs) without altering the tractor:
- You could easily make two L-shaped flat strips of metal with a large hole on one end of each (to go over the pegs) then bend them inward, connect them together in the middle, then mount the square tubing to them.
- Or you could simply mount the L-shaped brackets directly to the skid plate.
All of the above would work, but would lessen the strength of the front mount.
There are, of course, many other ways to attach the front, but most would require drilling into the tractor frame.
Here's a lousy Photoshop of my idea: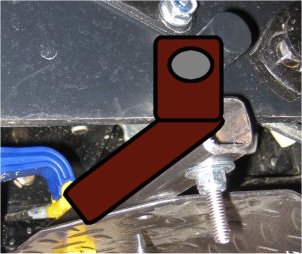 Do you think there might be any way to modify it to work with the mower as I notice there is already a hole in the plate for the driveshaft to go through
The hole for the driveshaft may need to be elongated to allow for the vertical travel of the MMM, but should work.
Do you lose the mower adjustement when you remove the support arms or is it just a matter of sitting these back in place?.
No, as long as you are careful not to spin the U-shaped mount brackets.