Discussion Starter
•
#1
•
I started the rebuild today so I thought it would be cool to do a thread documenting the tear down, refinishing and rebuild as I went along. I always like looking at other peoples work, I think aardvarks, Neils and ckill1's tractors are really nice and use them for inspiration and hope mine comes out half as good as theirs. I hope you enjoy this as much as I enjoy looking at you guys' work.
I made a thread introducing myself that also has a little history about myself and the tractor, here it is:
http://www.mytractorforum.com/showthread.php?t=143516
My dad and I went to my uncles to pick up he tractor, the lever that moves the tractor from forward to neutral to reverse is frozen so we couldn't put it into neutral so we had to put it up onto a few dollies to get it in the trailer.
I snapped a pic of the tag with the numbers that were on the lower left of the grille, can some give me more info on the tractor from these numbers like year (maybe 1967 from the number) or anything else?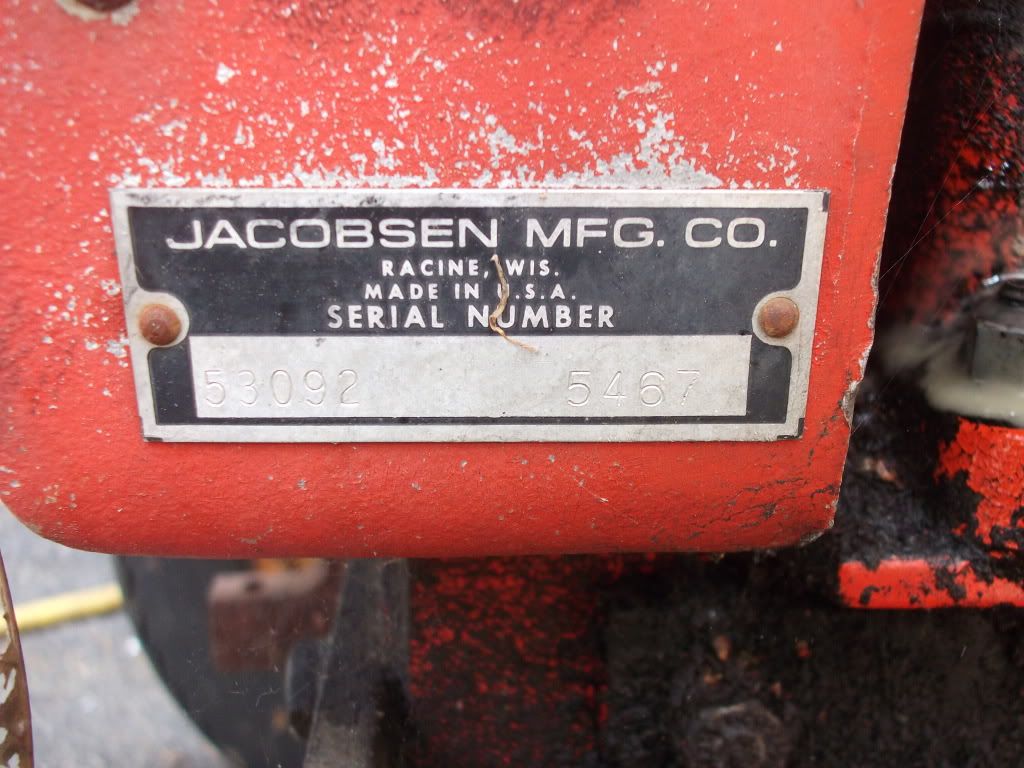 Here it is as we got her home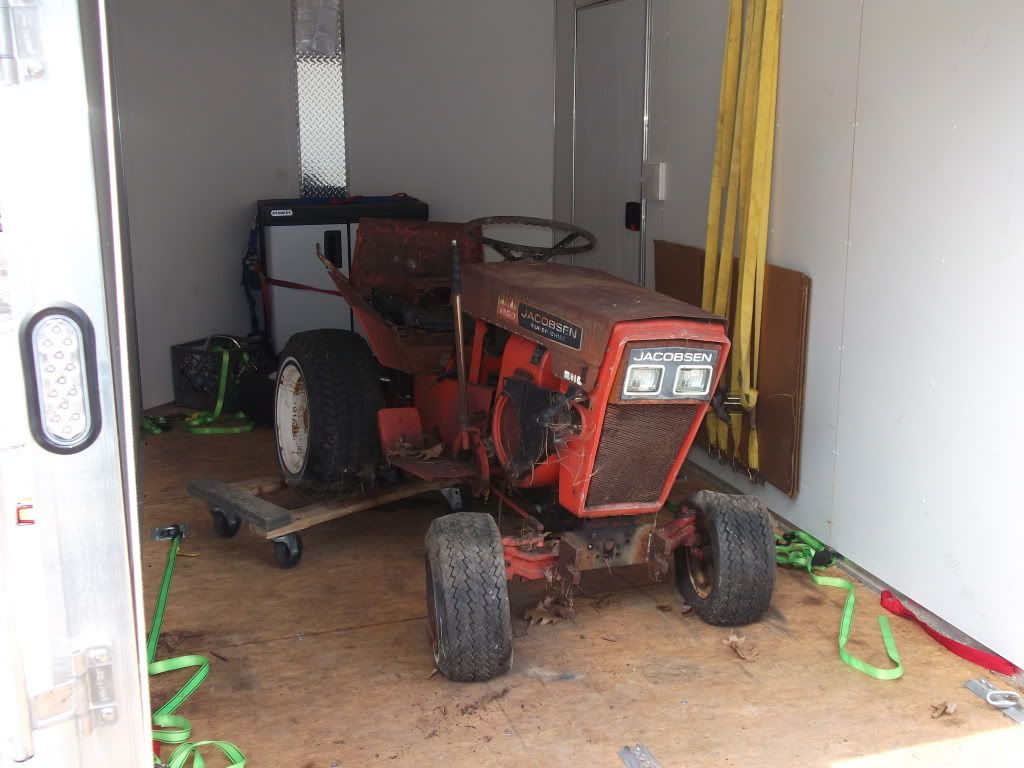 Rolled out on dollies as the wheels were frozen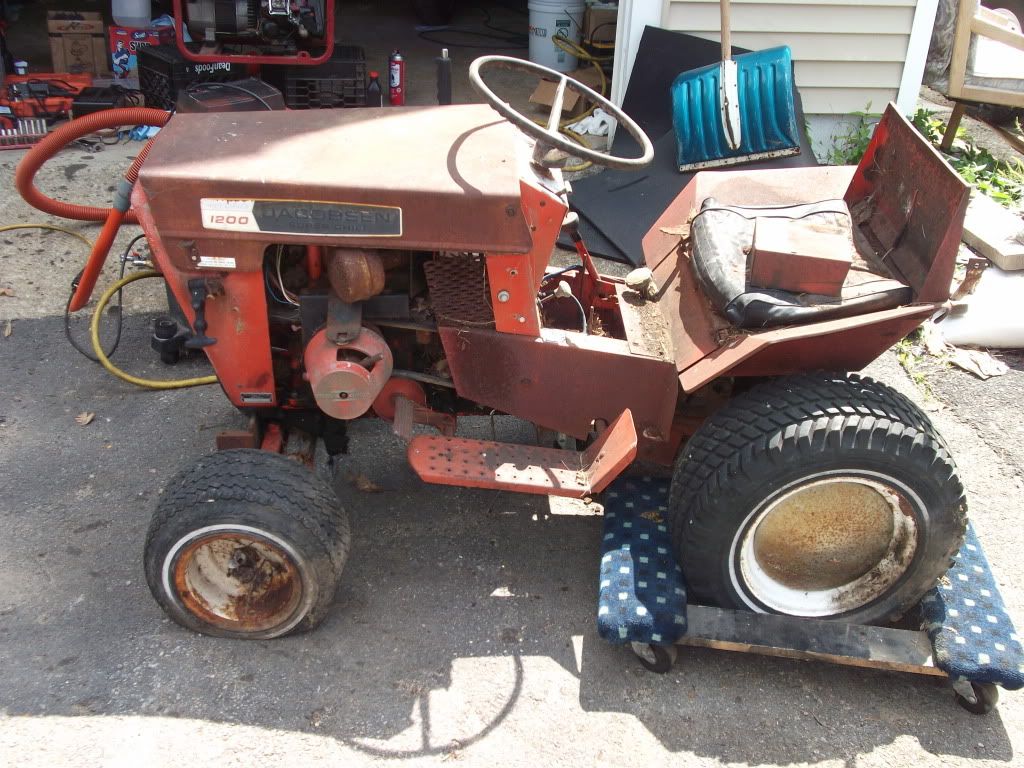 As you could see in the intro thread that she had been sitting outside for MANY years so the mice had eaten away at the seat cushion so when I lifted the seat it basically fell apart and the underseat storage was filled with all the mice's nesting material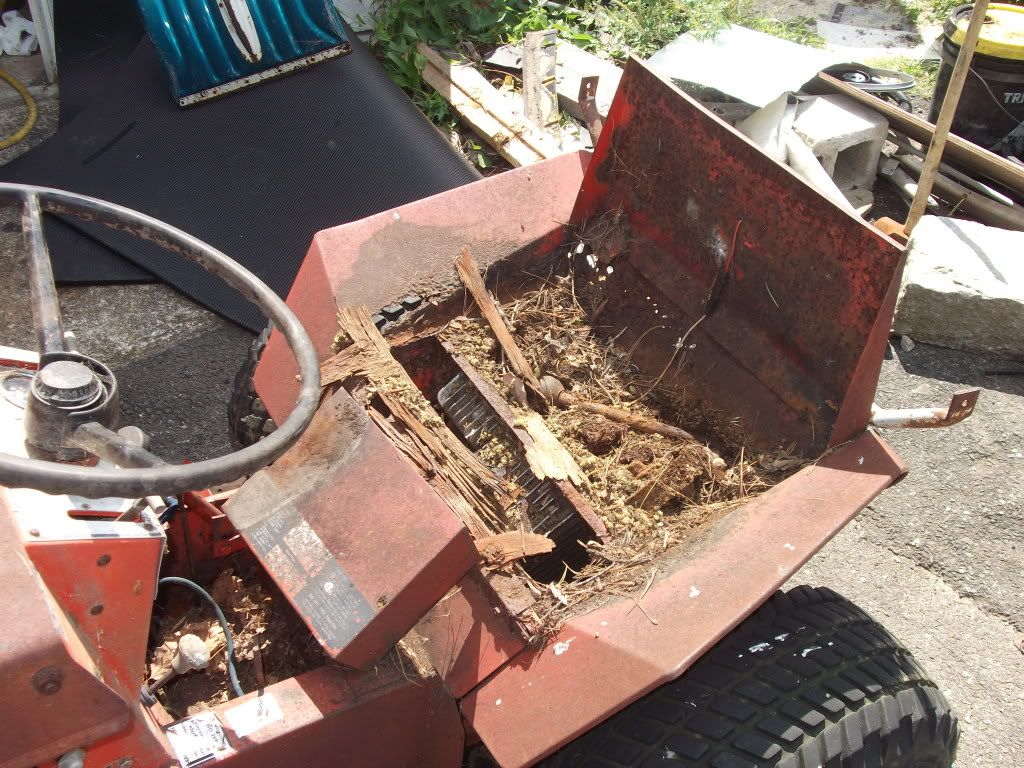 Under the hood and inside the fuel tank it was completely dry so it had some surface rust inside. i will be adding an inline fuel filter to protect even though I plan on cleaning out the tank well before firing up the 12 HP Kohler
I have seen a few other and they didn't have the headlights but this one does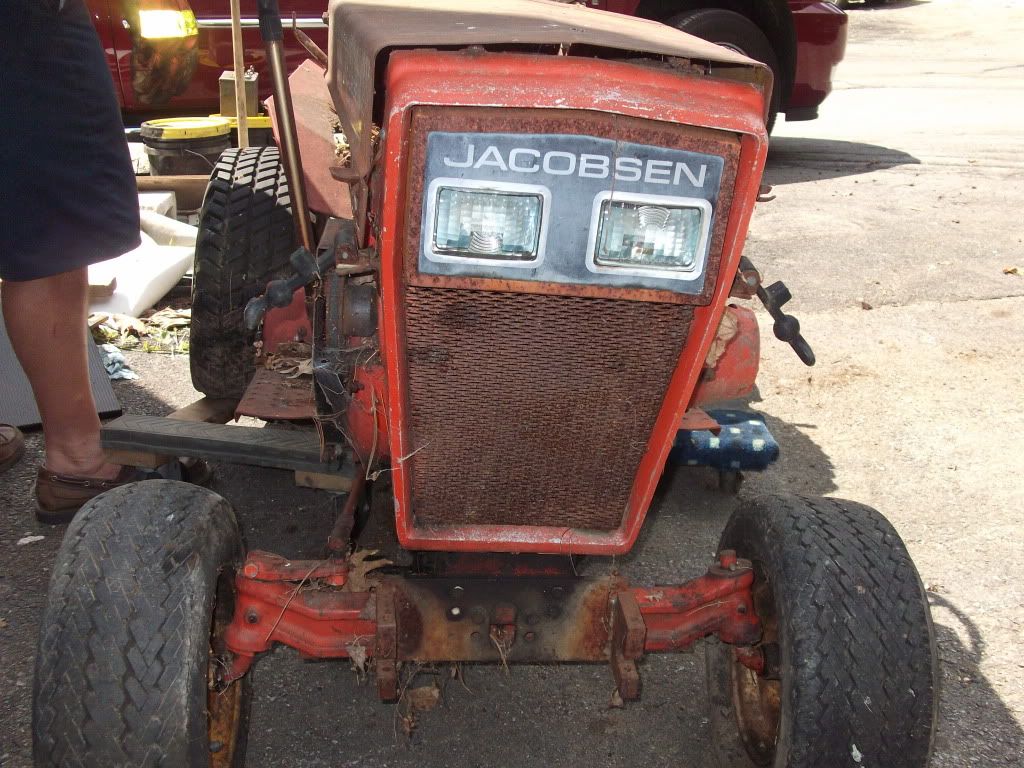 Took the hood off and started disassembling the front grille and headlamp assembly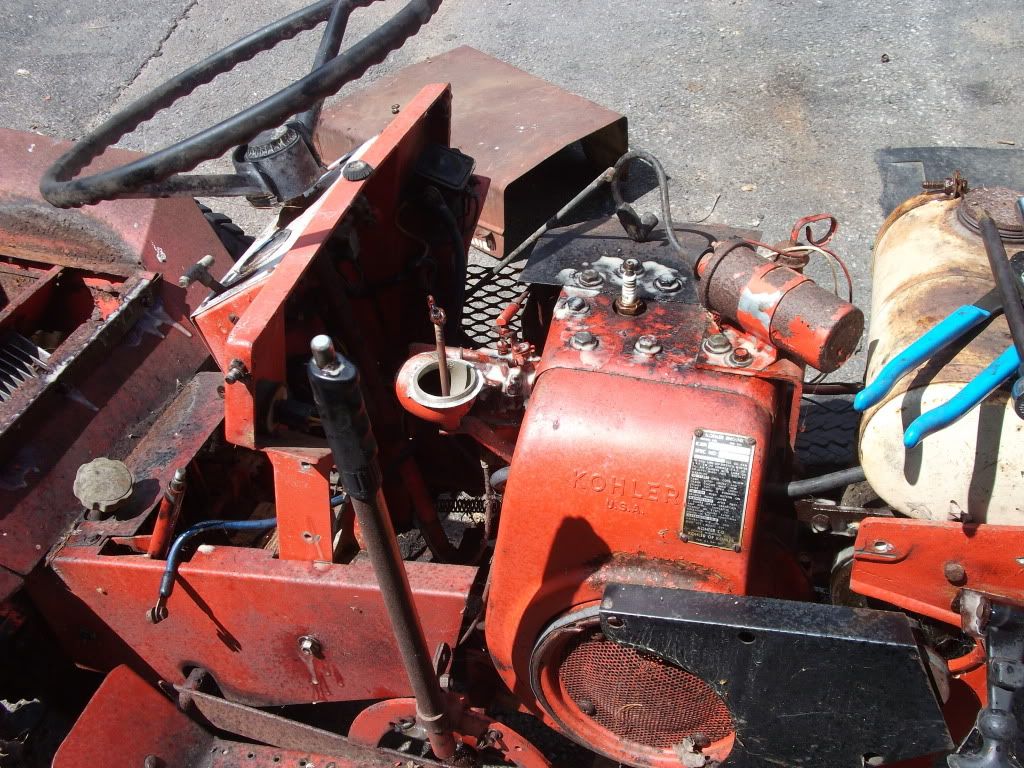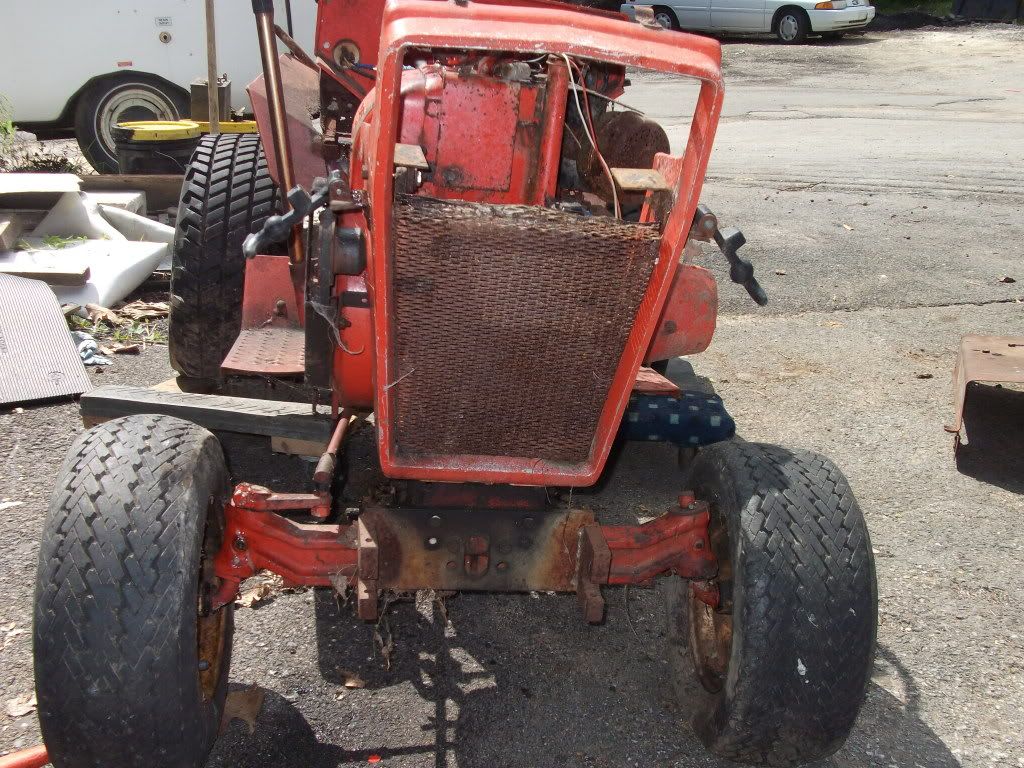 Some of the removed parts set aside. I am labeling all the large parts and putting the relating nuts, bolts and screws in freezer bags and labeling them as to what they are and where they go
This lever is the one that is seized up preventing me from shifting into nuetral, I have been soaking it all day in penetrant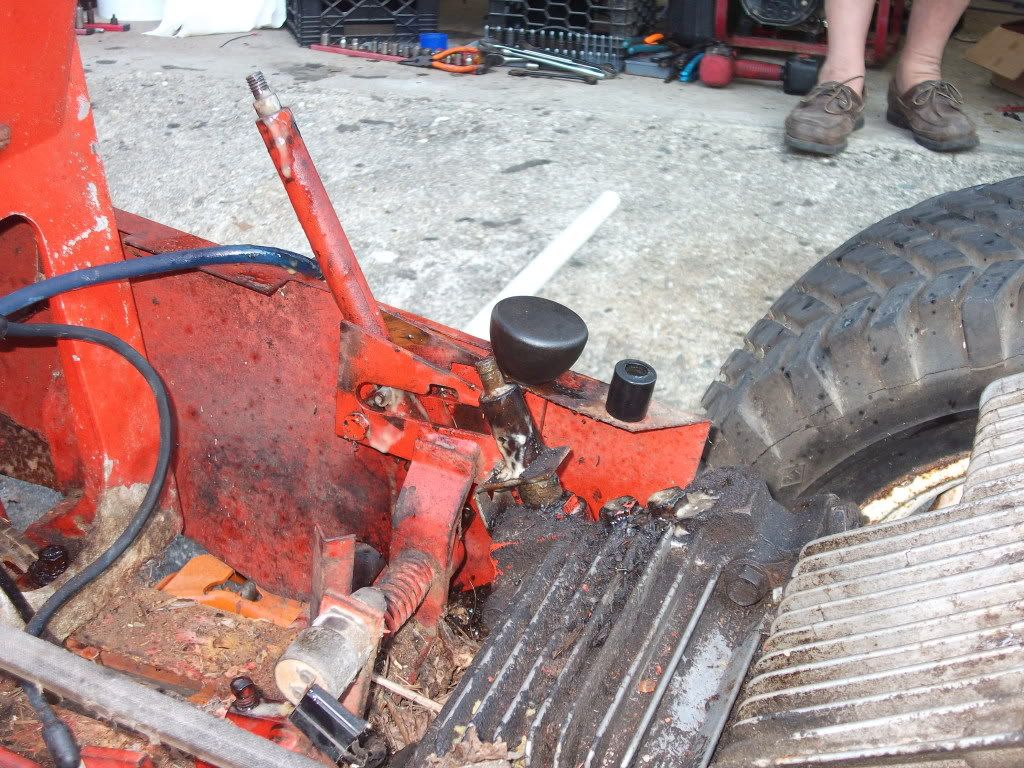 This is as I left it today. I am really enjoying the work so far.
I spoke to the next door neighbor who, as I said in my intro thread, may have had the push blade and snow thrower. He does not have them but did say that he and his dad have rebuilt a few Kohler engines and told me where to get rebuild kits and a local place for the starter/generator.
As I go along I will update the thread. if anyone has any advice or comments I would greatly appreciate them. I am new to this and this is my first tractor rebuild so any advice would appreciated.