Discussion Starter
•
#1
•
Stage-5
Reassembly of the Fuel Tank and Main Body,
This is the time to clean your parts. You can be as meticulous as you want here or just wipe the dusty bits off, or somewhere in between.
I washed mine by hand like I was washing a car, I let them dry in the air, reasonably clean. Make sure you keep your fuel tank dry on the inside,
Some water and soap, no scrubbing, wipe clean, and it looks like this,
Keeping the fuel tank clear is convenient for fuel level checking at a glance. Scrubbing these tanks can roughen the surface and UV treatment, causing the tank to hold more dirt and cloud faster.
My foot trays were dirty too,
Always protect your electrics, if you do get your electrics wet, Air drying tends to accelerate corrosion.
You can spray them with a WD-40, PB Blaster, or a Fluid film product. I learned this practice from a marine mechanic for protecting my boat electrics in salt water. It works under the principle that oil displaces water.
However, if you live in dusty conditions this could be counter productive in that these oils are a magnet for dirt, Know your area and use your best judgment, keeping the electrics dry to begin with is best practice.
Please review this stage first before starting, to freshen your mind of what to expect.
Lets get started,
1) Install your fuel tank,
Front support bracket,
Right side fuel tank,
Right side rear fuel tank,
Rear fuel tank,
Left side rear fuel tank,
Left side fuel tank, the fuel filler neck has an opening at the base that fits over the left main body support.
It should look like this when ready to move on,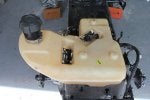 2) With clean fuel lines and connections, install the main fuel line, having it curve like this,
3) Install your fuel vapor return line, it will go here where mine of course broke.
This is your main fuel line, It will travel to the front fuel filter and the fuel pump.
Sensitive content, not recommended for those under 18
Show Content
The other end of the vapor return line goes on the right side of the carburetor (Kawasaki),
4) With your fuel tank still empty, leave the fuel cap off for now, for body install.
The tank will have a tendency to topple toward the fuel fill side, but a slight press down in back when lined up should keep it still for body install, just keep an eye on it during body install.
5) Remove the 4 rear body bolts, 2 on each side,
Right side,
Left side,
The two front nuts are in a zip lock bag, if they are on the studs, remove them now and hold on to them for the console. (Stage-6)
6) The vapor return line needs to be secured and not at risk of belts, body squeeze, tires, or lift lever.
The main body weight,
With the chassis top clean, put the body on front first under pedals and brake cruise release, the studs in front (2) are there to help guide the body down over the fuel tank. Remember to be careful with the threads on those studs.
Stage-5, Continued on the next reply.