Discussion Starter
•
#1
•
Stage-4
Tuff Torq K66 Service
This oil change is at a total of 190 hrs on the clock and 127 hrs since the last K66 oil change on mine.
Before starting, I recommend,
1) An impact wrench, air is fine, but if you have an air compressor you probably have one already, just remember to not use too much force, the top fan pulley nut is 45 foot lbs.
A cordless impact at 1/2" will be fine, 3/8" I'm not sure, so this info would be nice to know.
An electric, corded impact that can be bought for approximately $25 at 100' lbs rating would work fine also. The point of the impact wrench is to safely remove and install the top fan pulley nut while minimizing the risk of breaking the fragile fan blades.
Here are some examples, there's one for every budget,
Cheapest,
For the cordless crowd,
For those that have air compressor's, (I have this one, works great-6 yrs now)
2) Have the Tuff Torq PDF's on the service with you, I have supplied them, they are on the Tuff Torq Parts page, and I will always recommend what they say over anything I say if there is conflict. I don't think there is any, but just in case, please, always refer to Tuff Torq over an individual such as myself, and please, don't hesitate to talk with Tuff Torq to confirm or just get extra guidance.
I have found Tuff Torq easy to talk with in my experience, and for those skeptical, GOOD, I am too. If you doubt me and think I'm the kind of person that just gives away a job well done without any work, just read some of my earlier threads or talk with some of the senior members.
By now you should be starting here,
1) Make sure the top is clean, observe the reservoir bottle fluid level, is there any damage to the fan blades, is the belt frayed, etc.
This was mine,
The edges of my belt show wear, I'm replacing it,
The fluid level was fine,
2) Remove fan, belt pulley and 15mm top nut with your impact wrench and socket. (at the low torq settings special impact sockets are not needed), it has standard threads (lefty loosey, righty tighty) While holding the belt tight on the pulley with one hand, remove the nut. The belt held choked tight against the pulley uses the natural grip of the belt to hold the pulley from moving. The impact wrench will loosen the nut by very quick hammer blows and resist loosening by leverage.
Choked belt,
This was the built up dirt between the fan and pulley,
With the above being said, you can use a socket wrench. I would use a helper if possible to hold the belt with 2 hands and have sufficient strength to counter your muscle input, harder but will work fine, fan blades, fan blades, can't say it enough. If you break them, don't panic, they are easy to purchase not terribly priced but you will wait with your project.
If you have PB Blaster or WD-40, with care not to spray your belt (remember it's a listed solvent too) with a straw you could put a dab on the threads to get absorbed first.
3) The belt can be easily removed from the main transaxle pulley, from the side my hand is on. If you are replacing the belt, just cut it,
4) Lift the fan off, from the center not blades. Place the fan in a safe place.
5) Lift the drive belt pulley off, (or up, held with sm block of wood-you need some clearance for the hydro fill bolt access)
6) The reservoir bottle is attached to the "Hydro Fill Port". The fill port has a fitting pressed in by hand only, locked in place by a 12mm bolt. Remove this bolt with a 12mm end wrench or socket,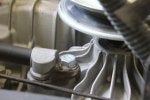 Once the bolt is removed, lift the reservoir bottle, tube, and fitting all at the same time as one unit and set on a clean surface, this will prevent an oily mess to clean up for the bottle separating from the tube. A small amount of oil may come out if higher than the tube. Don't worry about measuring the oil in the bottle, we will measure what comes out of the transaxle.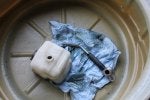 7) Have your oil ready, This is what I use, there are other great products and of course, you can't go wrong with Tuff Torq brand. Tuff Torq says it must be JASO MA-2. The use of 5-50 or 10-50 is allowed for hot weather and heavy use, other factors to consider for your specific needs.
8) Get a measure bucket, I like these, from the box store paint isle, cheap, and disposable.
9) Tuff Torq says 2.5 liters or 2.6 liters total, I've seen both on their own literature, don't panic, we are going to measure what comes out, (what comes out should go back in) and just reference as a redundancy the amount against the official literature, with the recognition that the official number is the one used when assembled. If this process gets messed up, don't panic, it will resolve itself in the way I'll be showing to fill the transaxle.
There are 2 chambers according to Tuff Torq on the K62/K66 and these chambers have there own amounts, they don't mix.
Hopefully I have your mindset in the K66 as 2 separate chambers now.
10) We will change the hydro chamber first.
Your fill side is open, and you don't want anything to fall in. Contamination here is a new Transaxle in short order, Panic. Just a bit of humor 'ish, If something falls in to contaminate the chamber, as long as nothing is turned after the oil is drained, this too can be fixed without huge expenditure but you will have another project. I or someone else on this sight I'm sure will help you through the process of splitting the two transaxle cases apart in order to clean all the parts, the contamination shouldn't cause harm unless it's pulled inside the pump and motor.
With your oil pan under the transaxle and your measure bucket under the hydro drain, we will remove the 14mm bolt and let it drain. This picture taken from the right side.
Note- I know it looks like a maze of bolts underneath. This is where the sharpie is handy, or paint pen. If you find yourself confused when looking at the picture and the bottom of your transaxle, get your 14mm socket or end wrench and find all the 14mm bolts. There are only 2 14mm bolts. When you find a 14mm bolt put a sharpie mark on it. All the other bolts are smaller, 12mm or 13mm. You should have 2 clearly marked 14mm bolts now and they will be on each half of the transaxle if you split it down the center from front to rear with your mind or a sharpie. The 14mm bolt on the right side is the hydro chamber. Done!
Keep in mind, my goal is to help someone with very little to no skill do this, just take your time.
The 14mm bolt has a crush washer, the safest advice is to always replace a crush washer, they are a one time use only design.
With that said, I used the same one over again, knowing if it leaks, guess what I'm doing? Yep! From scratch, all over again. There is your risk. If you have a Dealer like my new one, he will most likely have one in stock, and they are cheap.
Here is mine draining,
After it drains, now let it drip. I did for 20 minutes. do as I do and expect the same results sure, logical, but at least 5 minutes of dripping would be good, its the very bottom and if any metal particles exist, that's a place they will be.
My chamber gave me just over a liter or 37-38 oz's.
11) Record what came out and note how dirty the oil is, or clean. Does it have a burnt smell? Take a flash light to it and look for small sparkles, this is metal or a possible sign of excessive wear. Metal flakes should sparkle under light in a very noticeable way.
Put the 14mm drain bolt back in but only hand tight, then use your wrench and snug it. (it's aluminum, easy to strip threads, easy to overpower) Place a clean micro fiber type towel (no lint) lightly over the hydro fill port.
12) Unscrew the gear side fill cap, make a mental note of the placement of oil inside the short fill tube and right it down. I measures mine, at approximately 1" down from the bottom of the cap when fully inserted, as an example of what your looking for. This was good according to Tuff Torq, the gear side doesn't have an overflow reservoir for when the oil expands as it heats. This small amount of space at the top is there to allow for this expansion.
Stage-4, Continued in the next reply...