·
The Admin from... Nowhere!
Discussion Starter
•
#1
•
The husband of a coworker of a coworker of mine (that'd be a co-worker, once removed) was cleaning out his garage or basement or something, and was going to recycle some of the things he found, including a voltmeter... Somehow, my officemate (who was looking for a replacement voltmeter) wound up getting his hands on the box of random stuff, which turned out to be not QUITE what he was expecting (in a not-so-good way)... But rather than chucking the whole box, he saved it for -- you guessed it -- ME! Now, I KNOW I'm not in the same league as a certain other member on this forum for collecting cool old stuff, but I still wanted to share....
First off, THIS: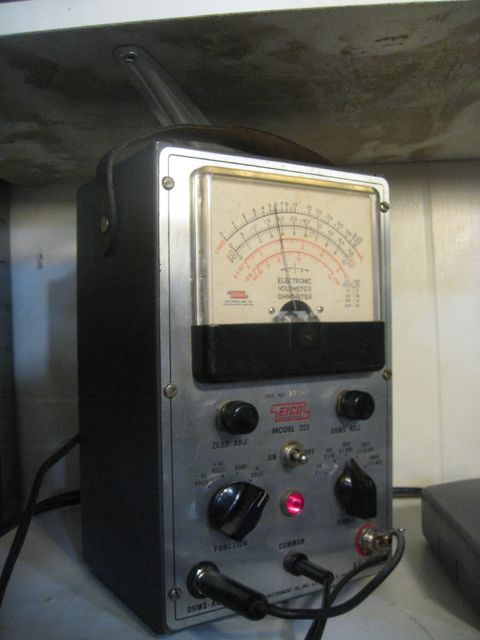 The EICO 221 VTVM, circa 1963, which if I recall correctly was sold as a DIY kit. Obviously, looking at the position of the needle, with the settings where they are and no probes attached, this particular meter is a bit of a doorstop. However, LTGal is JUST FINE with this piece of technological art decorating any room in hour house... Especially if we can have the ruby red light glowing on it...
Now, THIS little gem...
Some interwebby research tells me that Electronic Developments (Surrey) LTD folks were pioneers in the post WWII boom in hobbyist radio-controlled vehicles/aircraft. As far as I can tell, this "escapement" was a component of the steering gear for an RC plane, and was probably made sometime around 1948-1950. I'll probably NEVER use the thing, but its still pretty cool! Complete with the instructions, AND the price tag! I just hope my co-worker's coworker's husband's RC plane isn't missing a crucial piece of steering gear! :14_6_5: