COMPLETE!!!
Here's a direct link for the original thread that has all of the nuts and bolts in it:
Sears GT/18 Restoration - MyTractorForum.com - The Friendliest Tractor Forum and Best Place for Tractor Information
Took a lot of time, a lot of effort and a bit of help, but I got it done. Can't thank you guys enough for your comments and your help. I had a lot of fun doing this one and it came out great. I also learned A TON by doing this project. I'm already finding it easier to work on some of the other suburban issues.
Biggest problems/issues I had: Sheared tranaxle bolt- Had to fill it and re-tap it. It was bored out with a drill. Bent transaxle pulley- 3rd times a charm. Bad starter solenoid and a bad coil. Starter- Someone decided to open it up and put the casing back on, backwards. This caused it to operate incorrectly. Glad my best friend spotted this for me! Shot mufflers- Found an original set in great condition on e-bay.
When I decided on the paint colors I wanted to go original, but after seeing another guy on-line that had added red accents on his brake pedal etc.., I went with it. I also added a "Knight Rider' esque scanner light on the upper grill and two xenon strobes on the lower just for fun. I'll post a video soon. Replaced the headlights and added two amber lights on the rear.
Ok, here's the pics!! I know how much you guys love them so I included 50. I've left a link to my photobucket album that has the rest. I took a bunch since this was my first real Sears resto, so bear with the volume. Decent pics though. Enjoy!
BEFORE
AFTER
Re-touched dash text:

A few pics from the process.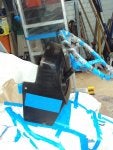 Roughing the wiring in.