well... if it's got a brake on the engine and/or remnants of the "dead man" lever on the handlebars and/or control cable (aka "zone cable"), we know it's post 1982.
black handlebars: mid - late 1980s ... from the long dimple on the inside of the discharge chute I would guess even later.
the "EY20" is the engine... but I know zilch about Robin engines... I just do B&S and Tecumseh.
MODEL number of mower can be tricky. I had one where the sticker was so faded out I couldn't read it, but when I carefully peeled the sticker off the top of the deck I was able to make out the model number from the "shadow" left behind from the glue. You might try that. Be careful not to damage the model number sticker attempting to remove it - no razor blades!
Probably a series 15 model M .... steel deck 21" .... not a heck of a lot different than this one I finished the other day (although this one has a completely different engine on it than what was OE):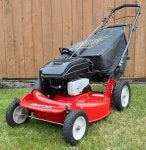 Take another look and see if you can figure out model number - might try what I've suggested above.
You should be able to find a *.pdf format owners manual and parts manual online free.
<edit>
as a last resort:
since you have the SERIAL number, you might consider giving B&S a call (or email inquiry) with the serial number and see if they might be able to help.
Briggs & Stratton Power Products acquired Snapper about 10 years ago.
<edit again>
re: "different lighting"
can make all the difference. and a good magnifying glass. try inside/outside light - direct sun - partial sun. I recall having a heck of a time making out model numbers on more than one mower (Snapper or otherwise) but usually I'm able to figure it out - sometimes with a helpful person on the other end of the phone (or email addy) at the manufacturer's end.