·
TECH Exchange Contributor!
Discussion Starter
·
#1
·
Over the extended labor day weekend I ended up working my rear off on yet another trailer project.
This spring I had re-decked and fixed an old 16' car trailer with new sides and all.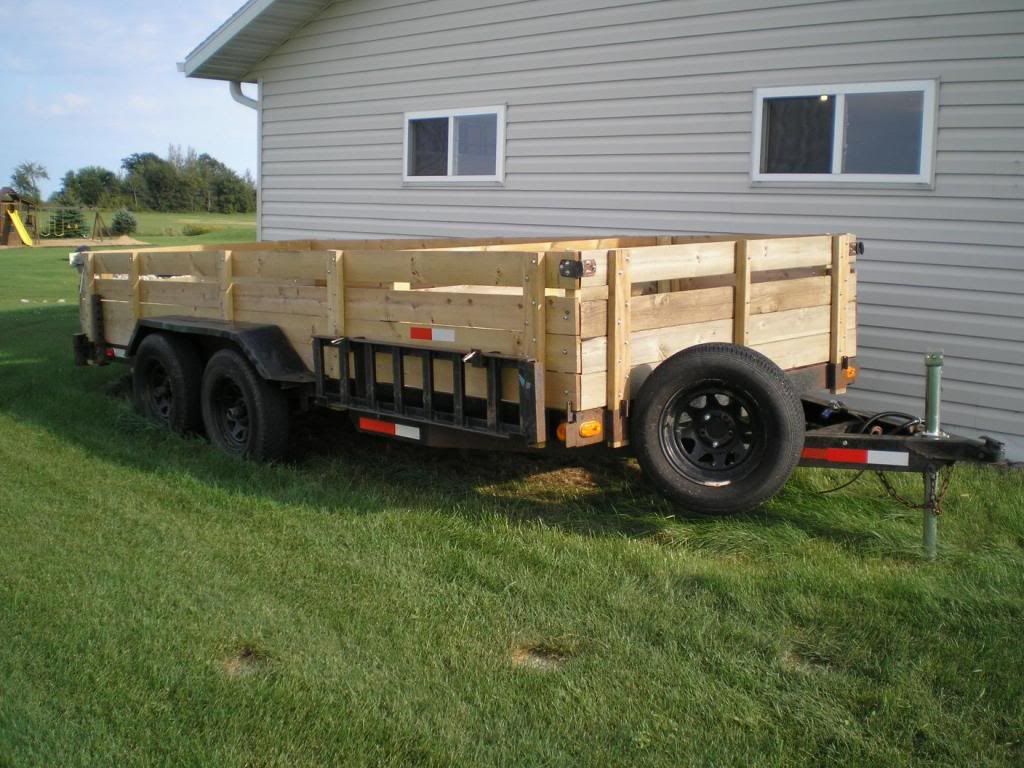 Even though I also had a 4.5'x8' trailer, I found that I used the big one for everything because it was parked outside and easy to get to.
It just did not make sense to me to haul a 2,000 lbs trailer to get 400 lbs of fertilizer or a 250 lbs paddle boat.
So I ended up selling both the 4.5x8' trailer and the 16' trailer and replaced them with a medium sized 6.5' x 12' trailer with a 3,500 lbs axle.
As usual I looked for one that was structurally sound but needed deck and lighting work as I know how to do these repairs. I found this great trailer that is very heavy duty for it size with rotted out deck and smashed up lights. It did however have brand new tires.
Here are a few shots of it in the garage after I took of the plywood patches.
Rear of trailer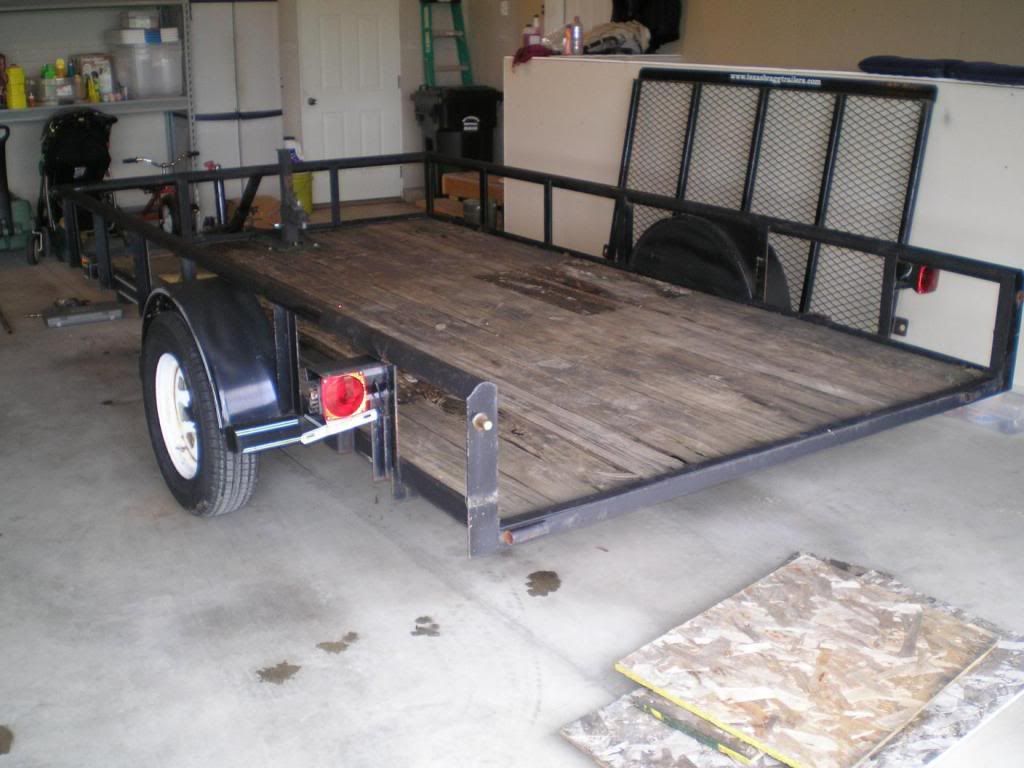 Side with the gate detached sitting next to the trailer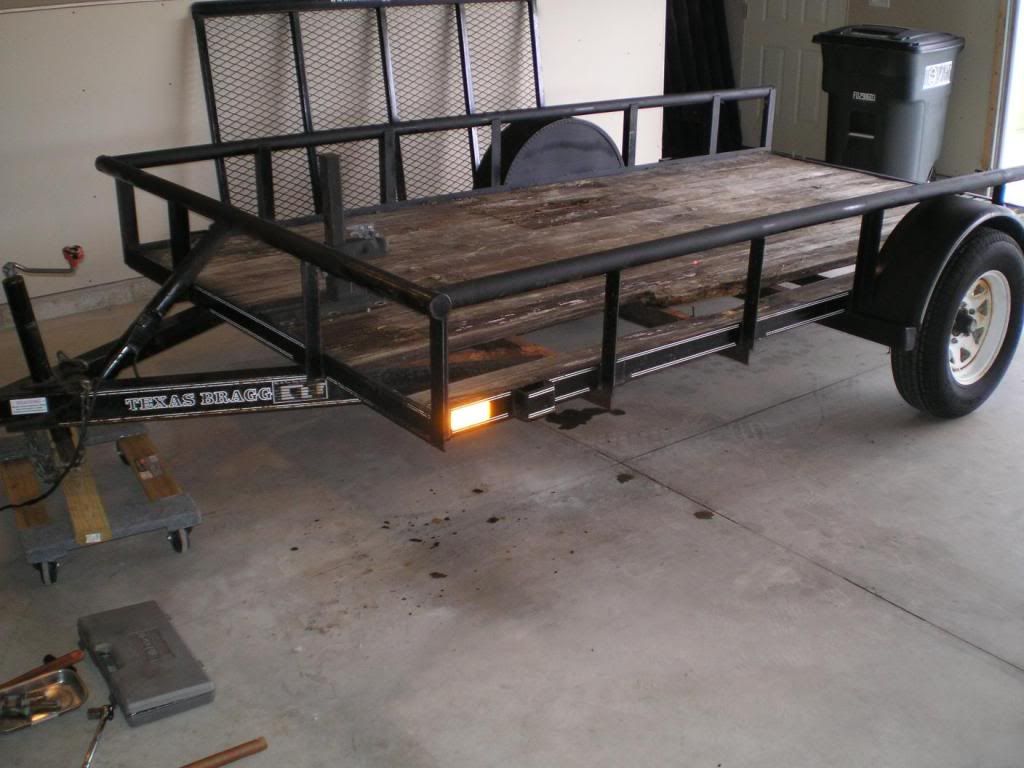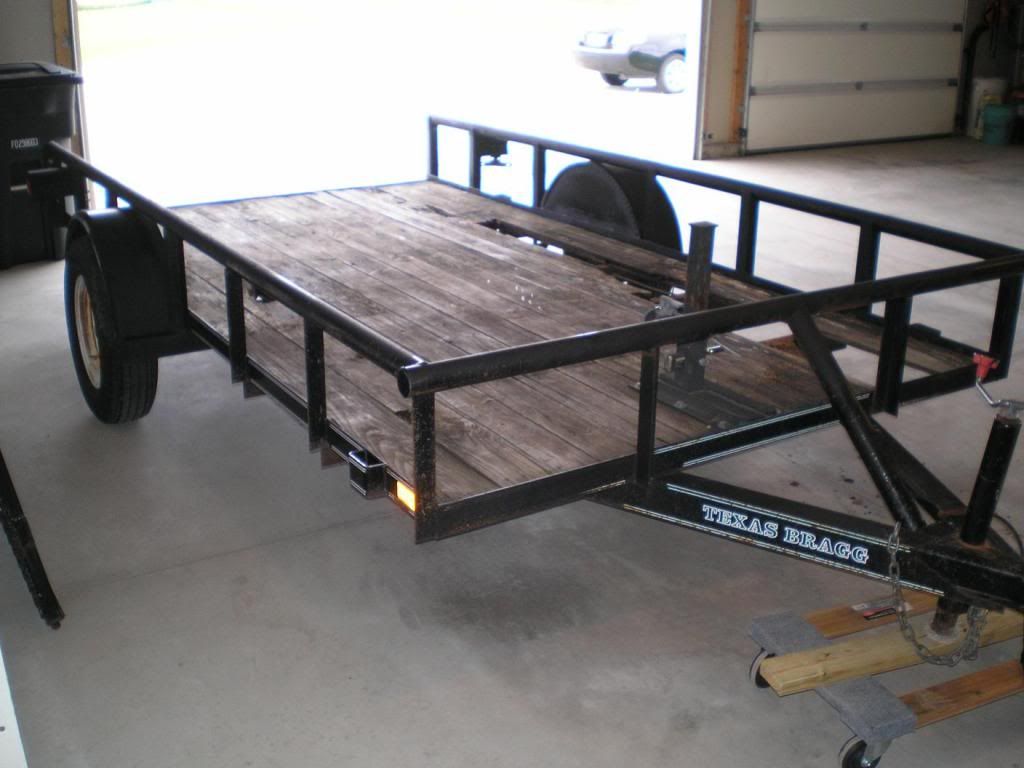 I ended up stripping it completely down and took off the wiring and lights. I lightly sanded any rusty spots, sprayed with rust converter and topped up with an industrial enamel paint. That may not be the right paint for a trailer, but I have had good success with it for the tractors so I figured I would give it a try.
I then added fresh pressure treated wood for the deck, new tail lights and also added the DOT required marker lights on the front and fenders. Finally I put on the 3 light marker (over 80" wide trailer), reflective tape and some wood sides to keep in mulch and gravel or whatever I need to pick up.
That is of cause when I don't use it to pick up tractors :thThumbsU
It was kind of interesting to put in the center boards of the deck as I did not want to cut the steel lips holding down the wood. So for the first time I tried out the method of putting one end of the board into the lip and strap the other end down to the trailer. I then inserted an automotive jack in the center under the board and pushed it up so it bowed. It is kind of scary to see a 2x6 bow up 2 feet. But it works great and when you push the other end into the steel channel the wood is in there good when you remove the jack.
Sorry that I did not get any pictures of it – I was so fascinated that I forgot.
Here are a bunch of pictures of the finished product. Since this is MTF I pulled it out with the tractor.
Warning – picture overload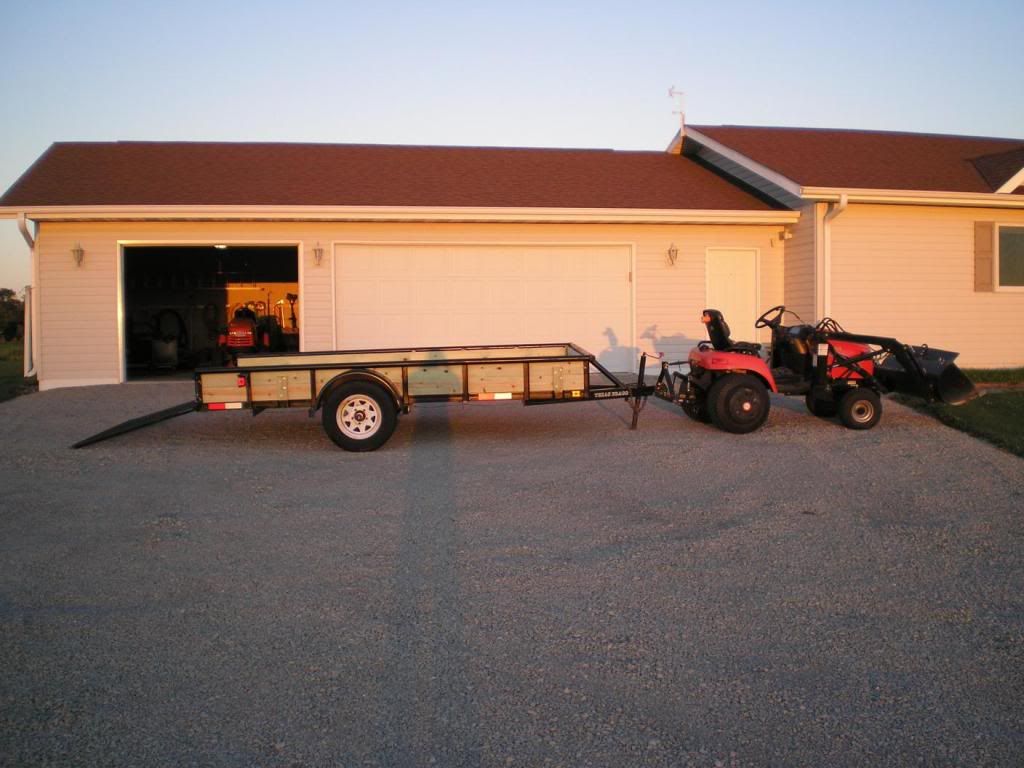 I am in about ½ of the cost of a new one and this one is just as good.
It has a nice big rear gate
Notice the 3 light bar I had to mount under the channel so it would not get in the way of the gate.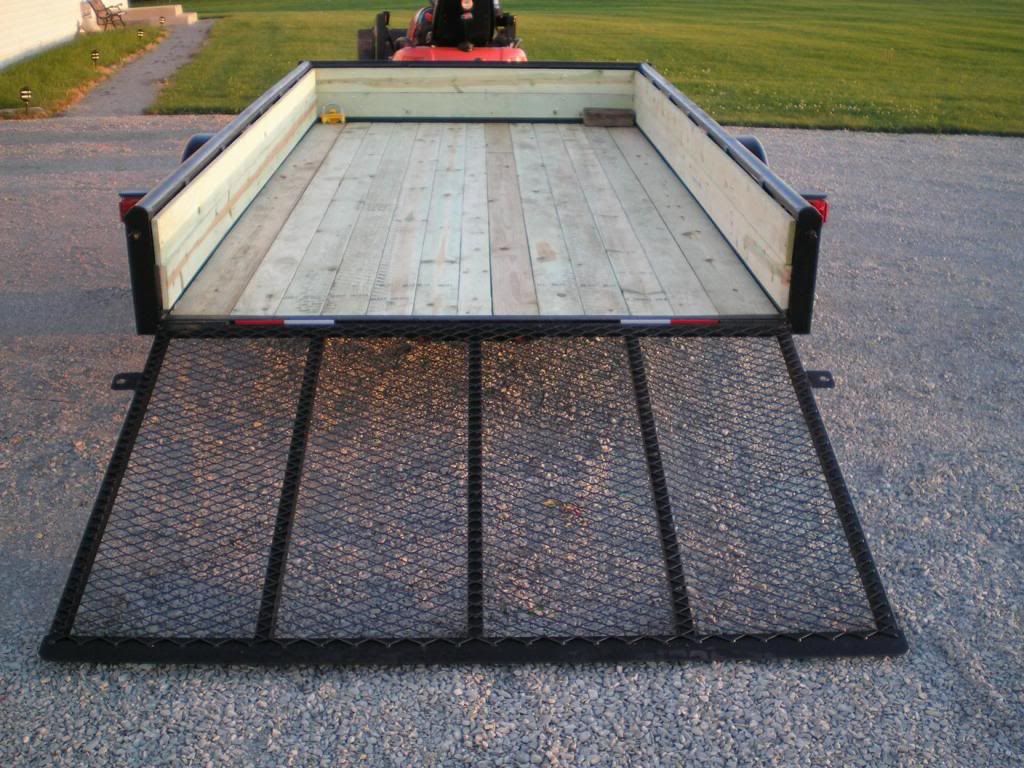 Gate down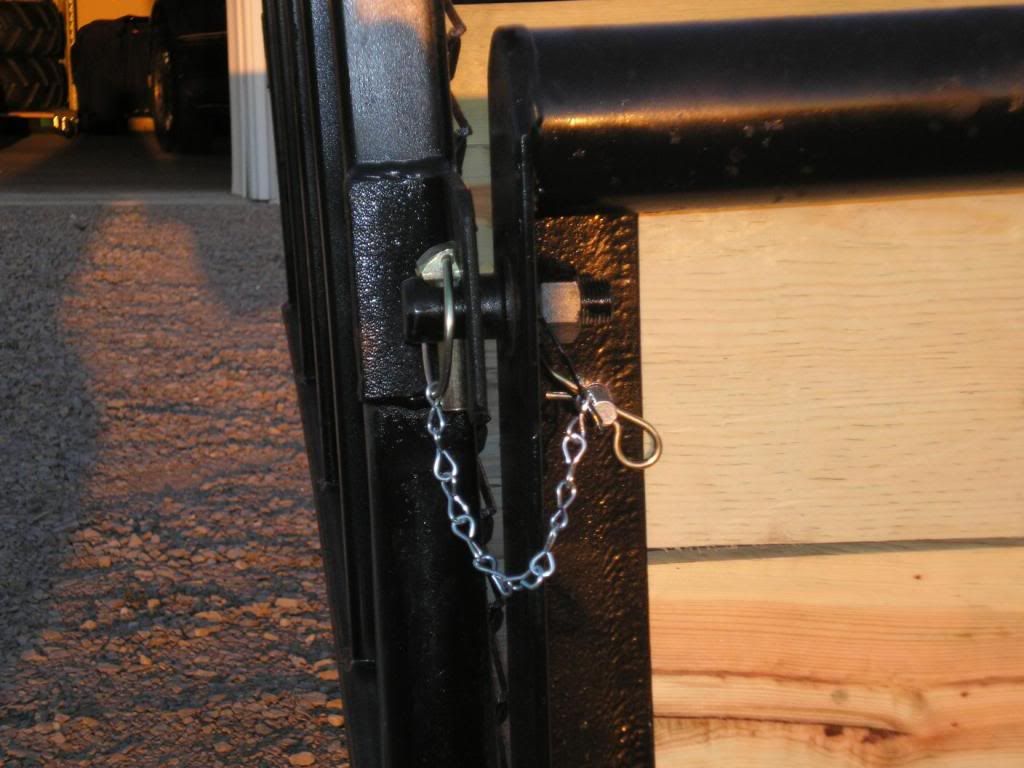 Added pin to hold gate and chain to avoid loosing the pin.
I wanted to make the wood sides removable without tools so I did not bolt it to the angle like most trailers. Instead I used the stake pockets and then put in a pin with hairclip to hold the boards in.
Hope you enjoyed – I had a good time building this and I only smashed one finger during the process. :Stop:
(5 lbs stubby sledge versus left index – sledge won big time).