Discussion Starter
·
#1
·
I saw this one on Ebay. Says upgraded tp 10amp...........Is that okay to buy or just go to John Deere and get a original one like they carry. No idea what amp the JohnDeere one is.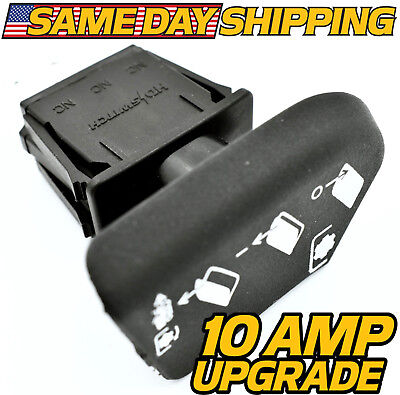 Find many great new & used options and get the best deals for PTO Switch Fits John Deere Deck X465 X475 X485 X495, X575 - 10 Amp Upgrade at the best online prices at eBay! Free shipping for many products!
Also some info on how to get that switch out of the dash? Do you just pull on it real hard and it pops out or is there a special way to take it out?
When it failed, I had just turned on tractor and pulled the switch up and it started to smell and smoke up like burnt wires, took off the screens and inspected wires look fine, also took out the 2---- 15 amp fuses and they looked fine too.
So I believe it's just the switch that is bad........ if I pull out the connector from the back of the switch should the tractor still start or is there some kind of safety built into the switch where you need a good switch for the tracor to still start?
Things always break down on Sunday's so no way of going to John Deere today for a new switch today?
Any help appreciated, TIA