Discussion Starter
•
#1
•
I been running Exmark since summer of 05. I was running the XS series with the 25hp Kubota diesel. They were good mowers when they didnt break down.. :banghead3 There are 3 key points that fail almost like clockwork on these models and all the dealers do is replace till it fails again. Exmark knows the problems, but doesnt seem to want to fix them. Below are the main fail points.
First is the electric fan, the fan motor must get hot and causes them to fail, and when they do, the engine temp just keeps rising, and you have to shut the engine off hot, cause it will not cool on its own.
Second is the Mule belt spring, this is the tensioner spring for the belt from the engine to the deck. I cant tell you how many of these springs I have broke in the 4 machines I have had since 05. This black one is supposed to be a new style, It was installed last week, so I wont know if its better than the old style or not.
Third is the muffler issues:banghead3 My last machine, a 07 with 920hrs has had 3 mufflers so far. These either break at the manifold, or break mounting bolts that hold the bracket to the engine block on the other side. 4 weeks ago, the two bolts broke off in the block, dealership had a welding shop come remove the bolts, and new ones put in, 2 weeks later, muffler broke at the manifold. Buddy tack welded to get me by couple days, then it started to crack again. (See below)
Dealer ordered a new muffler, they installed it and 4 hrs later, one of the bolts broke again (See below)
Here is a shot of the muffler and how it sits
I would not recommend the Kubota diesel powered Exmark XS series to anyone!!!
Last month I traded my 08 Exmark in for a new John Deere 997, love it so far!!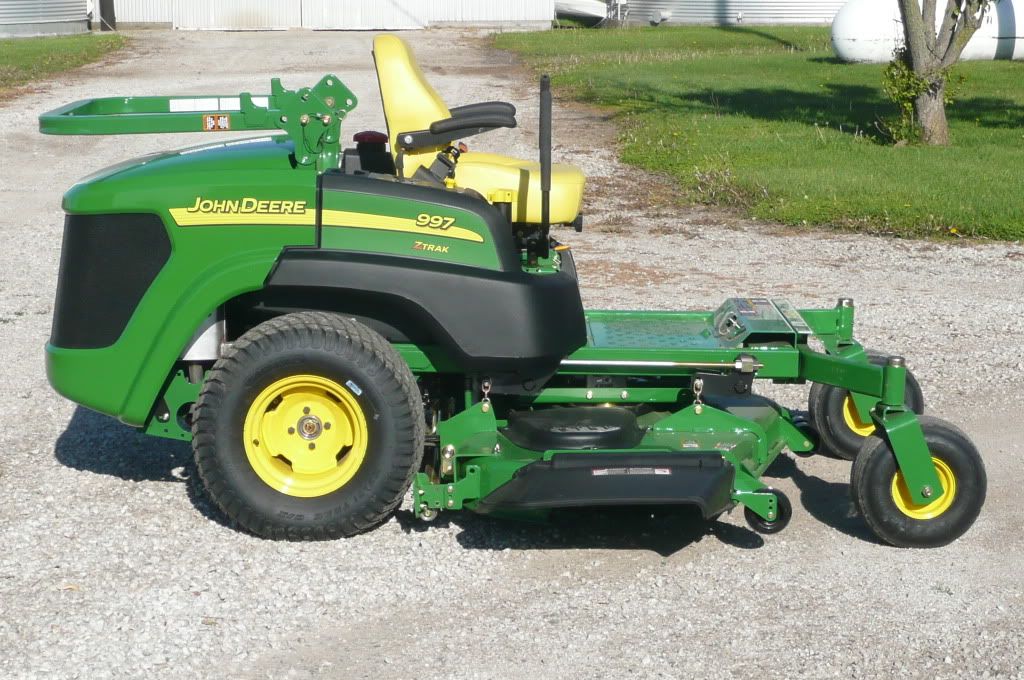 And just traded the 07 Exmark in on a 04 John Deere 777. Like it so far, but today was the first day on the job.