·
The Admin from... Nowhere!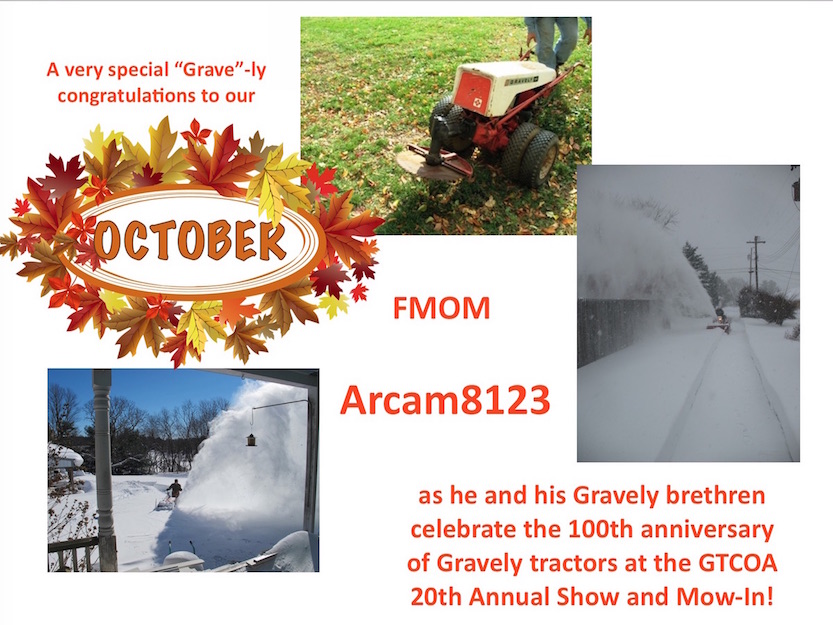 Name:
Ron "Ron C"
Join date:
01-07-2006, As well as I remember, Ariens and Gravely was one group. It was kind of quiet in the Gravely group back in those days.
Member number:
1157
What city, and state, do you live in?
Mount Airy Maryland
Are you married?
Yes, to the most wonderful woman that full supports my tractor habit. Lindey and we just made 20 years last December
Do you have any children?
One, Jordan, 28
Do you have any grandchildren?
Yes, 2 granddaughters
What do you do to earn a living?
Industrial engineer by education, Petro physicist by career #1, IT professional by career #2. Tractor nut by choice.
How old are you?
I just turned 30 for the second time.
Military service?
No, flat feet kept me out of the Army, bad eyes kept me out of the Air Force.
How did you come to join MTF?
When I first got into Gravelys, my internet searches turned up MTF. It was one of the few forums that had a Gravely section.
What are your favorite forums and why?
Gravely just because. You saying there are others? Actually, the FEL forums and any forum where users build/modify stuff.
What do you like most about MTF?
MTF is like the "Amazon.com" of tractors, you can find everything here. All makes, sizes, and colors. It's friendly and people are so helpful.
At one of our GTCOA (Gravely Tractor Club of America) when we were discussing out club webpage, one director asked if we should start our own forum. Without any really thinking about it, I blurted out "we already have one, MTF". I explained that we have a very active group there already, it's well moderated, and we have access to tens of thousands of tractor enthusiasts that might have or be interested in what we have to say. Since our mission is to share Gravely tractors, how better to do it. So MTF is sort of our unofficial forum.
Please list your tractors and/or equipment:
I have over thirty. I'm not sure how many parts tractors are out there.
What is your favorite tractor or piece of equipment and why?
It's so hard to pick a favorite, it depends on my mood. One of my favorites is my wife's 1972 Terramite back-hoe. Yes, it's my wife's because I can't spend too much for a tractor so she buys the expensive stuff.
The first Terramites were built on Gravely two wheel tractors in 1967ish. The 1972 was the last year that Gravelys were used. In 73, Terramite switched to 4 wheel Power King Tractors. There are only 3 72's known to exist. I have a rare Gravely 24G with a Kwik-Way FEL. From the bits and pieces of info I've gathered, there were only 5 built. My oldest is a 1941 Model L and my newest is a 2002 Pro 16 two wheeler. I don't know where to start on attachments, Gravely made over 60 different ones and that doesn't cover that aftermarket stuff.
Is there a tractor or piece of equipment you'd love to own someday?
Yep. A Gravely salt spreader! They were made in the fifties and nobody has one. The only reason we know they exist is from the sales brochures. Don't tell my wife, but there isn't much that is mechanical that I would not haul home.
What are some of the tasks you use your tractors and/or equipment for?
I have just over an acre that I mow. I mostly mow it with a Gravely Pro 16 two wheeler with a fifty inch front mount deck. If I'm in a hurry, I'll use my 20G four wheeler with a sixty inch deck.
For the garden, I use a rotary plow on the front of a Gravely Super Convertible L8 and a power cultivator on a Gravely Super Convertible C8. For snow removal, I use a 1988 Gravely Pro-10 with a 48" blade, a 1984 5665 with a 26" M210 snow blower (snow cannon), a 1969 432 four wheeler with a 48" blade or a 1984 8199KT four wheeler with a 44" snow cannon.
It depends on how much snow I need to deal with (OK and which machine starts at the time). When I want to show off, I bring out my 1962 Model LI two wheeler with geared reduction wheels and an early 1960s square chute snow blower (dog eater). When we get an inch or two, I break out one of the L8 tractors with a fixed angle broom and just sweep the snow off.
I used the Terramite to trench for my electric service entrance on our house (saved me $1,100) and my Gavely FEL to backfill the addition foundation (saved me $500).
Could you describe your property for us?
We live on an acre and a half lot in beautiful downtown Mount Airy. Well down town is two blocks in one direction and there's a corn field on the other side. Our 100 year old house sits on top of Parrs Ridge so the yard is 400' long and drops off about 40' over that distance. Not much flat land here.
Is there something you'd love to build or restore someday?
I have a shed full of stuff to restore. I have a 1941 Model L that's high on the list. I have a tractor that is the same year as my wife was born. I told her I want to restore it and she promptly informed me that if I tell anybody what year she was born in, I could wind up an integral part of the garden. I won't be taking any chances. I also need to finish (paint) my Terramite. It's featured in my thread "Mama got a new toy".
Most memorable tractor moment?
When I bought my first Gravely. It was an eBay auction. I wasn't going to bid more than $400. The auction ended, the final bid was $650. I had the winning bid. I guess the problem just got worse from there.
Earliest tractor memories?
I've always been fascinated by machinery. It wasn't a tractor memory, but it kind of sums me up. It's my favorite Grandpa memory, here's how he told it. "I came home from church and there was little Ronnie, sitting in a pile of parts that use to be his tri-cycle. He found a pair of my pliers and had taken the whole thing apart. I went inside to change clothes so I could put it back together again. I came back outside and there was little Ronnie, riding down the sidewalk on his tri-cycle. The little stinker put all back together by himself!" I was four years old at the time.
Do you have any other hobbies or interests that you'd like to share with us?
I don't hunt anymore, because I don't have a good place to hunt and I'm kind of lazy. I still enjoy shooting, when I have the time. The past three years I've been working on an addition on our house. I do as much of the work as I can, so it's taking a while. I'm on the Board of Directors of the Gravely Tractor Club of America and if that wasn't enough, I'm the President too.
What do the other people in your life think of your "tractor" hobby?
My son thinks I'm crazy, my wife has given up, my neighbor's won't let their children near my yard and I'm happy as a clam.