Took delivery on Saturday June 6th. I bought the bumper and cart with the tractor and the bumper came installed. I installed the sun shade and cooling system later (the latter 2 Father's Day gifts). Here are a few pics of my rig (taken with a Sony DSC H50):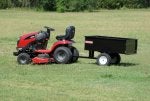 I just finished the install of the cooling system the day before yesterday and have not used it yet so I can NOT report on its performance. With 105 degree days a cool mist sure
SOUNDS
good but, we will see how it works.
Mowin' Man :trink39: