Discussion Starter
·
#1
·
I was driving home from work today when a speck of Lawn-Boy green caught my eye. The mower was about half way under the ladies front porch with weeds grown up all around it. I took a chance and stopped to ask if she had planned to do anything with it; "yeah, I'm having a yard sell tomorrow and planned to sell it". So, 15 bucks later and I'm the new owner of a 7268.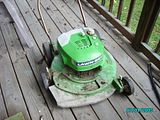 The shroud is badly faded and the wheels are just a little wobbly, but all in all I think it was a good find.
First thing I did was check the tank for old gas. Seeing that it was bone dry I went ahead and put some fresh mix in. Thought about checking the bowl first, but decided to take a chance crank it a few times just to see. Nothing. Pulled the spark plug and it was pretty toasted. Somehow this thing was still sparking, just not strong enough apparently.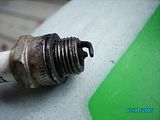 I popped in a new plug and give her a pull.....presto, fired up first try and smoothed out nicely after a few seconds.
Is there anything to be learned from the condition of the old plug? Is it an indication of something that needs replaced or repaired?