Discussion Starter
·
#1
·
Hey guys,
Looking for some advice. Bought my Case 448 in the spring which came with a mower deck that hadn't seen much use from previous owner. However all parts were there and seemed operational so I figured it shouldn't be too difficult to get working. Sure enough, I sharpened up the blades a bit, got a new internal belt and got it mowing. Caveat: I'm just learning all of this, so no guarantees the blades are balanced. The old belt had very uneven wear, which I thought was odd, but didn't know what to make of that.
Fast forward a few months... Noticing that occasionally, when I engage the mower, I'll get some burning rubber smell and a bit of smoke, but it seems to go away once blades are up to speed. I also started noticing more noise coming from down there with the mower in general. So I decided to pull it out and have a look and maybe clean it up. There was some grass and junk inside, but overall everything looked like it was still 'in place'. This is a photo of the belt tension, which seems quite loose to me. (I could pull it out that far with just the weight of the mower deck holding me back). Getting it on and off is quite easy and easier than it was when the belt was newly installed.
I took a closer look at the belt and noticed the same uneven wear that the old belt showed, though not as drastic yet. All of this is after maybe 6 times of mowing 2 or 3 acres (a couple of those times were pretty tall grass). This photo is a side profile of the internal V belt. You can see some parts have already been worn down way more than others. There was accumulations of rubber 'dust' / 'shavings' from the worn belt.
So, I'm guessing the problem is somewhere else. All the pulleys do spin without difficulty, though they're stop pretty quick after I give them a spin (with or without the blades attached).
I'll attach some pictures of my pulleys and blades in the event those are the source of the issue.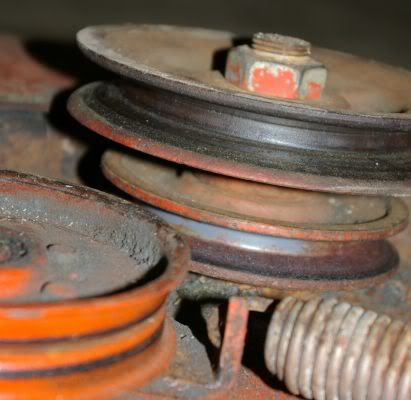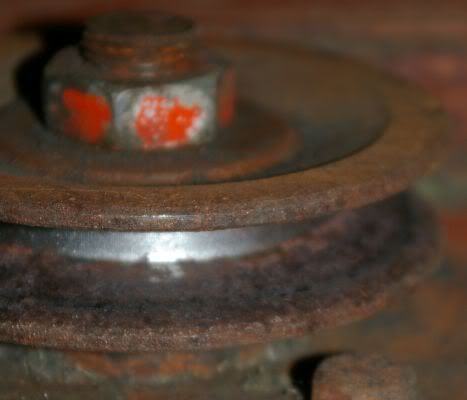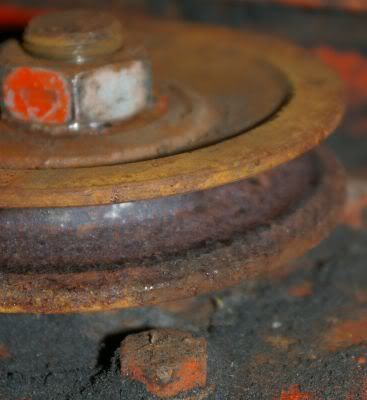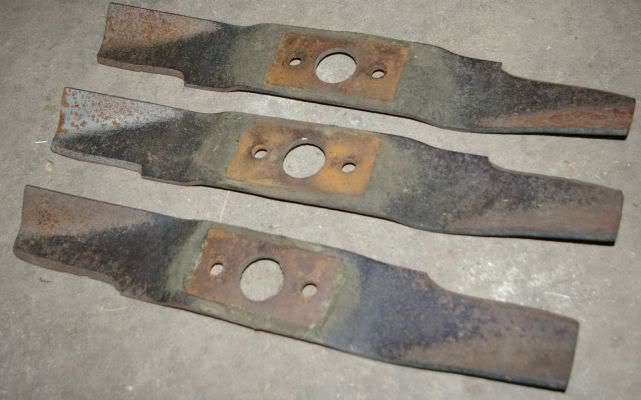 Is belt slippage to be expected when engaging the mower? If yes, then are my pulleys in too 'rough' of shape that they're wearing off the belt? If belt slippage is not to be expected or desirable, do I need to get a slightly shorter belt? As I mentioned, this one wasn't this loose when I first installed it. Or could it be caused by too much resistance because of shot bearings and/or unbalanced blades?
BTW, I do intend on giving it a good cleaning at the end of the season. Hope to have it last many years.
Thanks for any advice you can offer,
Jordan