Been driving by thiscommercial property on the way home for several weeks, only to watch the grass get taller and taller by the day.
The business closed down, and the building, and property are up for sale, and is kinda being neglected.
The other day, I see a guy, and his wife out there working. Hes using the string trimmer, and she is using the push mower...mulching I might add.
I stopped by later when they were "done" and left them my name and number and said I could take care of that for you if you like, I just live down the street. he said he would ask his sister and brother, as they are all the owners still.
Last night, I get a call, he said they tried to mow some more, and its just too thick, and tall for their mower. He asked what I would charge to finish the lot up. I said i dont know, knowing that $30.00 would be worth it to me, I threw out $35.00 to $40.00 I guess. He said he was thinking more towards $50.00, which is worth it to me. So deal was done I was hired on.
Last night, I drive my 300 on down the street, set my deck to the level his little push mower was at, and dive on in.
Best part of the story here...
the tallest of the tall grass was over the top of the hood of the tractor by a inch. The shortest of the short, and the really thick green stuff was over the top of the front tires.
So, I can see why they were not having much fun with the push mower. :fing20:
My 300 with a 48" deck I rebuilt got put to the test here for sure. Engine ran strong, never bogged down, and the grass shooting out the discharge shoot was thick and green the whole time. When I thought that I should slow down or stop, the grass shooting out would stop as well, so I knew I was not packing the deck up with cut grass.
So, when I was done, looking at the lot, I would say the next step would be to pull a bailer now, and pick up my nice thick straight lines of cut grass. ha ha ha :fing32:
Owner said before I even started, if it piles up, that's fine, he didn't care, he just wanted it cut, and looking better than it did before.
Took me about an hour to do, cause after I mowed, I went back and recut what piled up again to "thin it down some".
Best part is, I mowed at my regular speed most the time. I was amazed I did not have to go slower.
Wish I had a before picture to share...but you might have an idea of what it was like based on my little story here.
:trink39:
Edit: added a picture of the work horse.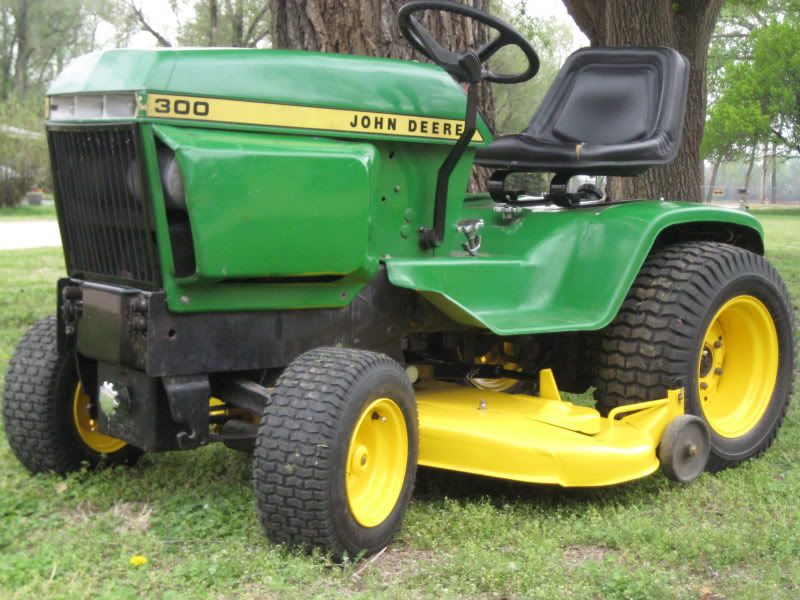 ~F~