Discussion Starter
•
#1
•
I made a bet with a certain person back in early spring, whom I know very well that I should never bet with.

The bet……

That if any emergency situation should ever arise that I would and could keep my composure far better than they, now at work whenever some situation comes up I'm cool, calm and collective, hence the wager of my Wheel Horse…..
Seeing this other person get upset at just about everything, and seems to be in a rush to get things done I figured I'd win the bet and take the $750 that was offered and buy some cool things for my tractors.

Well the emergency came earlier this month when we were out doing leaf clean up, Rob began yelling for me to shut my Cub Cadet down….
Pointing he said, the house is a fire!!!!

Seeing the smoke, I began running about trying to figure out what to do first…. Not very good on my behalf!!!

Rob on the other hand calmly looked around to see where our daughter was, and seeing that she was out of harms way told me to call the fire department.

Grabbing a fire extinguisher and cautiously going inside, he put the small but very smoky fire out.
Opening the window's to allow fresh air in as he held a fan up to help exhaust the smoke.
When the fire department arrived they went in and made sure that the fire was out, and said that it was caused by an electrical outlet……

I may have lost my Wheel Horse but gained a lot of respect for Rob in the process, as someone that seems to get upset because he can't get a bolt started right he managed to keep it together in a real emergency situation!!!!

I am truly glad that no one was hurt, and that the fire was put out quickly and that very minimal damage was done!!!

In the end I have decided that I didn't really lose my tractor as it's still in the family, but greatly learned to appreciate my family even more…

Lesson learned:

Just because you can keep your wit's together while at work….. It's a whole different ball game when an emergency situation exists on your own home front.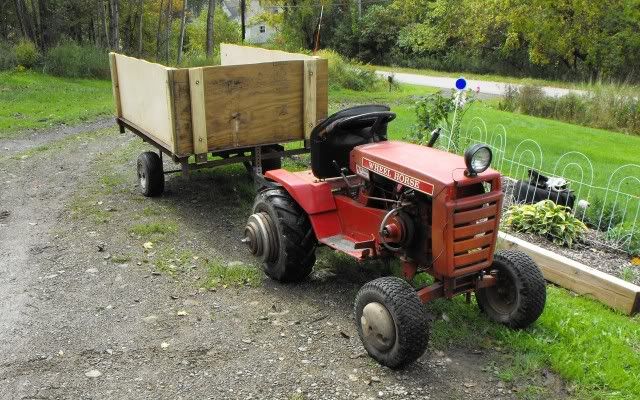 The Wheel Horse as she sits today....
​
Merrie​
Merrie​