Here is a good example:
Command CV26
This 26 hp peak performer features a steel-forged vertical shaft and air cooling in a v-twin configuration. It's a 4-cycle, gasoline-powered engine with cast iron cylinder liners,
electronic fuel injection
, aluminum block construction, and an overhead valve design.
Durable, Long Life Design.
Hydraulic valve lifters
are oil pressurized, ensuring that push rods stay in constant contact with the rocker arms. Requiring no adjustment, the valve train is virtually maintenance-free. In addition, full-pressure lubrication delivers continuous lube to critical engine components, even at 25-degree angle of operation and optional
oil cooler
regulates the oil temperature extending oil-change intervals. Large capacity, in-line fuel filter provides extra protection against dirt particles that can clog fuel lines.
High Power Performance.
Overhead valve technology provides greater volumetric efficiency and a higher compression ratio. This produces more power, improved fuel economy and cooling and reduces oil consumption. In addition, there is virtually no carbon buildup, reducing overall maintenance costs. The variable speed, mechanical governor promises smooth performance, regardless of application or fluctuating demands for power.
Reliable Starting.
Kohler Command PRO electronic ignition system generates a stronger spark at low cranking speed and Automatic Compression Release (ACR) allows compression to escape during cranking to reduce pull force.
Kohler Courage SV735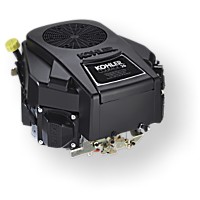 Professional Grade Design.
Professional grade engineering for the consumer. Overhead valve provides better fuel efficiency and more torque per unit of displacement, cast iron cylinder bores add protection under load, the oversized, micro-polished crankshaft bearings along with full-pressure lubrication ensure uniform distribution of oil to critical bearing and parts for longer engine life.
Durable, Long Life Design.
The top- mount dual-seal air filter ensures that no debris enters the engine and the internally vented carburetor provides added protection in dirty conditions. Modulated cooling fan with variable fin spacing reduces noise and optimizes air flow resulting so that the engine runs cooler thus extending the life.
Comfortable Operation.
Tough on grass, easy on you. V-Twin design provides smooth operation and the acoustically dampened air induction system reduces noise for quieter operation. This engine also features a flip-up air cleaner cover that allows for quick inspection and change
High Power Performance.
Precision governor controls provide quick response in high-load conditions giving you a high quality cut every time, even in thick, wet grass.