Discussion Starter
•
#1
•
Ok soo... Ive spent probably the last month prior to doing this project searching and researching things I could do with my K46. I obtained a John Deere D170 recently and it has the K46 Tuff Torq and a 26 hp briggs. Now the mower itself was in great shape, has 264 hours on it. I did have to do some maintenance on it after getting it. I had to recondition the deck slightly. It had a busted weld on the inside of the deck and needed to be sanded down and repainted. I did all of that greased up all the joints and that's when I got to the K46. I knew that there have been other people that had issues with these Hydrostatic transmissions. So the first thing I did was I took the k46 off and drained it, and filled it with 5W-50 Castrol full synthetic. This is what was recommended by Tuff Torq (found that on here lol). When I drained the oil it was greyish but still had a decent feel to the oil. I filled it back to proper levels and put the K46 back on the mower. It ran perfect no issues at all.
Now I mow my mother and father in laws properties as well but they have some pretty steep sections to mow. I used to have a Scag Tiger Cat 2... its simply amazing honestly but I will never own a zero turn again for any kind of hill. I used it a lot and I got familiar with how to mow steep areas with a zero turn, however its a gamble. You lose traction once and boom down the hill you go. Now yes I have gone from a $8000 zero turn to a $2700 lawn mower. I didn't need the Scag, it was overkill for what I was doing mowing wise. Had I known how it would handle on hills I would not have bought it.
Back to the D170. Knowing the hills I was going to be mowing on I knew at the least I needed to do the oil change on the k46. I accomplished that with minimal time. Then after reading some posts on this site I started to realize.. im going to overheat that k46... without doubt. I started to go over it in my mind.. how can I prevent this? I then found a video of some gentleman in I believe Ireland or something that used a motorcycle radiator and some bmw pump and rigged up a cooler. This gave me the platform to go from to do it my way. I started to piece together in my mind what I needed to make a clean install of a oil cooling system for the k46 without interfering with the hood or anything else on the D170. After a while I had a list of parts and I started to order things. Now I will say I like to be efficient and frugal. I didn't want to blow stupid money on this project, I wanted to spend the least I could but have and effective setup (don't we all). Below is mostly what I ordered.
1x - Tru Cool L7B Stacked Plate Cooler 5 3/4 x 11 x 1 1/2 (New Amazon)
1x - 6 inch Radiator Fan with Shroud (8 amp draw - Ebay)
1x - Holley Red Fuel Pump (used Ebay)
7-8 Fittings
About 20 Feet of Transmission Oil Hose
20 Amp on off switch
14 Gauge wire inline Fuse w/25 amp fuse
Bosche Oil Temp Gauge
Permatex Thread Sealer
Permatex RTV High Temp
JB Weld High Temp
Electrical fittings
Brackets at Lowes for mounting Cooler
Zip Ties
Mesh Filter (Aluminum)
Random Bolts/Screws
Once I had most of this stuff I started on this project and It took me approximately 20-30 hours of work. Most of that was trying to figure out how to place things and waiting on JB weld to cure and so forth. I started by removing the K46 again. At this point I can literally take that k46 out in about 10 minutes, its not as difficult as you think after you have done it once. I used a small floor jack to support it as I removed or installed it into the lawn mower. Once I got the k46 out I drained it for an hour. I removed the bottom plate which was not that difficult. They got some tab areas made to were you can pry it off after removing all the bottom bolts, didn't take too much pressure to pop it off. Once I got it off it looked pretty clean inside.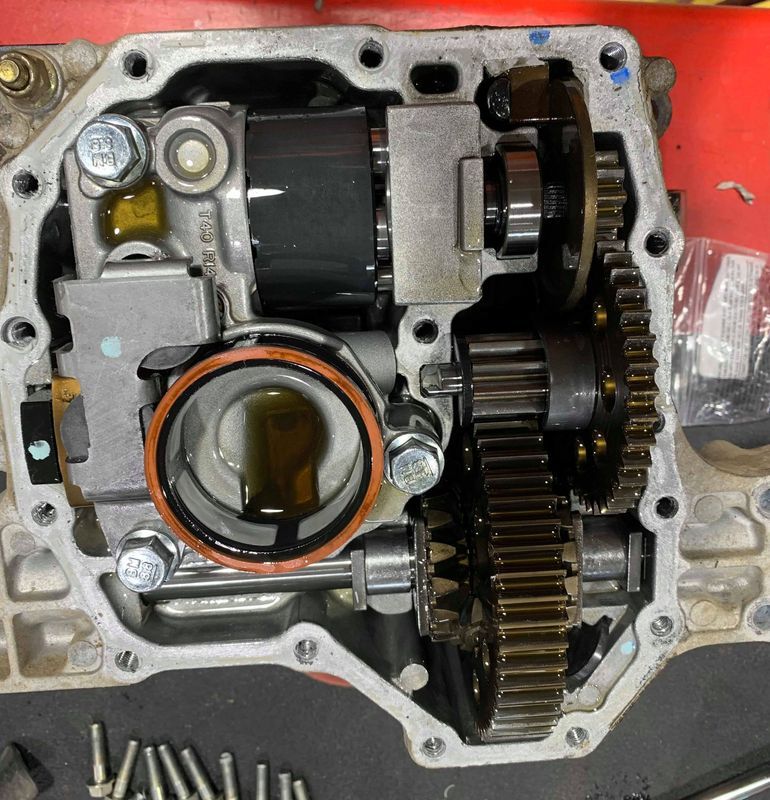 Once I got it apart I didn't mess with any of the internals. I left it alone because it was fully functional and I had no reason to mess with any thing. I cleaned up the bottom plate and dried it off good. There are two round hole areas near were the filter is on the bottom pan, these are perfect areas to thread in 3/8 NPT fittings. I Didn't have a 3/8 tap set so I drilled a 1/2 hole and then used a Dremel to open it up so the 3/8 fitting would go in about half way then I screwed it in until it was flush. The casing is made of aluminum so it gives a bit. I wanted the fittings to be very secure in there and then seal them with JB weld. The fittings looked like this all the way in.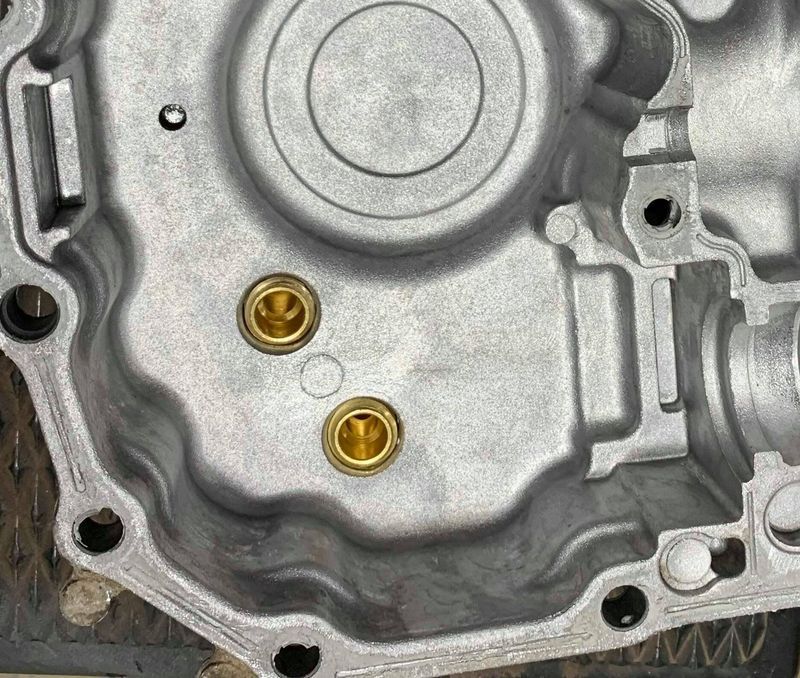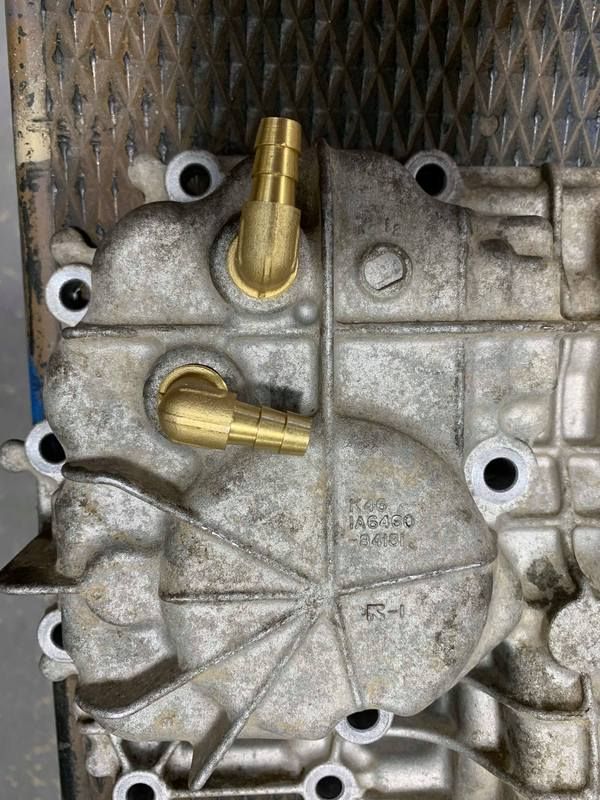 Once they were really secure I used JB weld and sealed those fittings really good. After that I cleaned up the other side of the housing and used RTV and re sealed the bottom plate to the K46. As far as pumping the oil from the case to the cooler I did a lot of research. I was looking at oil pumps for scavenging and some other styles of pumps but most of them used a ton of electrical power and I didn't want that. I doubt the electrical generation from the 26 hp briggs could handle to much amps. So I decided on a Holley Red Fuel pump. It is a vane style pump so the internal sections are metal not rubber. I had read in several places some people were using these as scavenge pumps that got up to temps of 260 F without issues. With the cooler I have and still utilizing the factory k46 fan I seriously doubt I will ever get remotely close to those kind of temps mainly because this is a small hydrostatic transmission. I found my Holley Red fuel pump on ebay cheap and when I got it I took it apart and serviced it made sure the motor had some good grease on the upper fitting (it was dry as a bone and had black crap all in it, used electrical cleaner works perfect now). I got my fittings together and figured out were to mount it. There is the right amount of room on the right side of the mower behind the k46 were it mounts. One of the things I will probably change eventually is to get an elbow fitting for the right side. Hose sticks out more than I like. This is what it looks with the k46 mounted and with the fuel pump in place.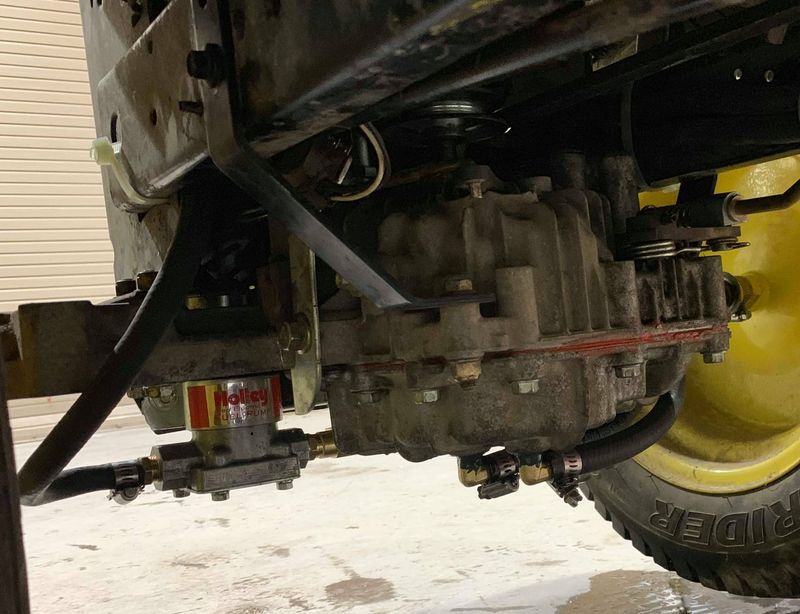 Two cool things about the holley red pump. One, it has an anti drain back valve. Two, it uses 2 amps of power. This pump was perfect for moving the oil at a decent rate but not too fast and low power usage. It works a little harder when the oil is cold but with an on and off switch I can choose to not use the cooling system until the axle starts to heat up. Oil flows better hotter and it wont work as hard. From my experience with liquid cooling system on computers one thing I had to consider was how much flow it was going to be pumping through this system. Too fast and the heat exchange wouldn't be so great. This in my opinion was a perfect flow rate and power for this situation. Now the one other issue I had to consider was the Vent cap for the k46. The cooler sits about 6 inches to foot higher than the axle does. Yes the Holley Red has an anti drain back valve but the other side doesn't. I did mount the radiator with the fittings pointed up so whats in there, stays there when its off but you still have oil in the line. I found a fitting that went in the vent cap hole and used JB weld. This was the result.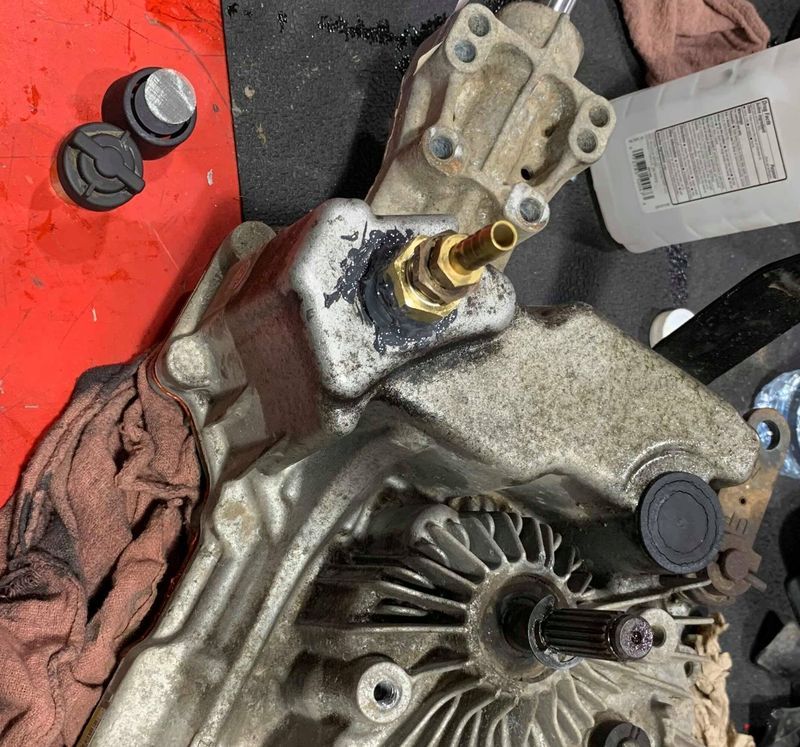 I then ran a hose up to the top of the mower were you sit and I used a 3/8 fitting to mount it up top. The vent cap fits perfect in a 3/8 female fitting, nice and snug. This elevates the vent cap so that oil wont come out of it but you still have a vent if it gets too hot!
The last thing is the cooler which was honestly the most difficult figuring out. I had to figure out how to mount it under the hood and be able to leave it functional. The Tru Cool L7b had the right size I wanted and honestly... I got really lucky with the dimensions. I used some brackets I got at lowes and mounted it just in front of the engine. It was so perfect the brackets lined up with two holes on the frame. Boom mounted super easy. Making the bracket was a lot of eyeballing and measuring.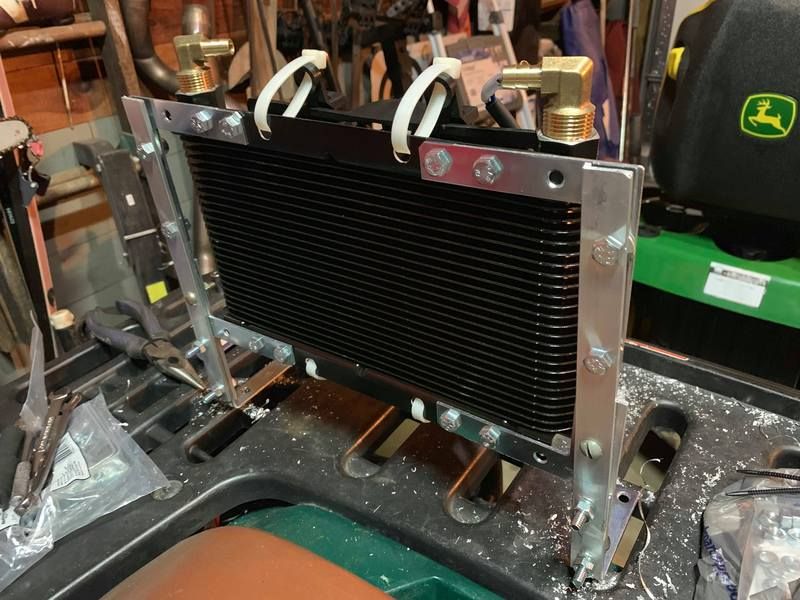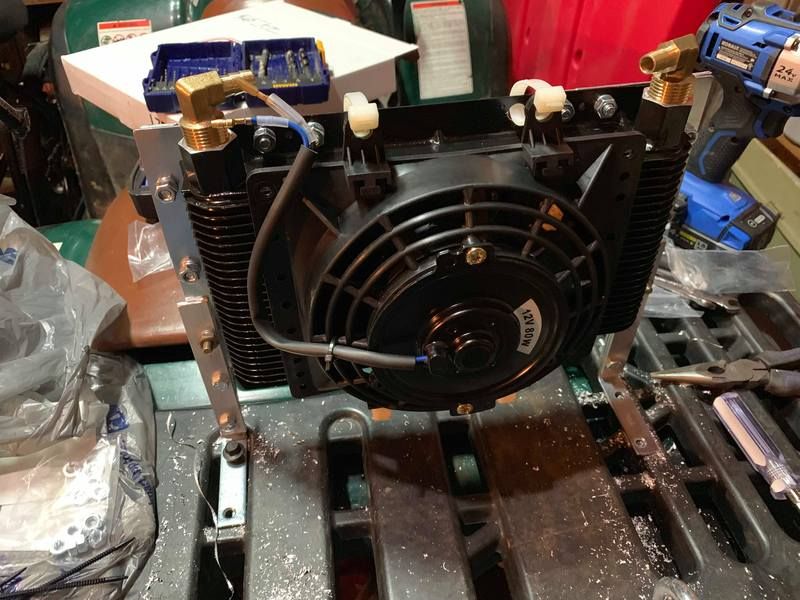 I had to make one modification to the cooler. It was now forcing or sucking air through the cooler well because it was poorly mounted... and this was the end result. I had to mount it on that side of the cooler due to clearance issues. This worked well.
Once I got that all put together it went on the mower like this.
Last but not least I added a mesh filter to keep stuff off the cooler.
Does this work? Yes. It works well. This is a free flow setup no pressure so the Holley Red works well. I used approximately 2.7 quarts of oil instead of the about 2.1-2.2 for the regular fill to make up for the extra capacity. When the mower is running you cannot hear the pump or fan. The true test is yet to come. When it gets hot out then.. Ill know how effective this setup works. The best part is I can choose to use or not to use this setup. It is auxiliary but can run non stop. The k46 functions as normal with this system off. It is simply an added cooling system for when it gets hot. You can also judge the temp when its on or off because I mounted the temp sensor very close to the case were the oil feeds the pump. This is were I mounted the temp gauge and switch.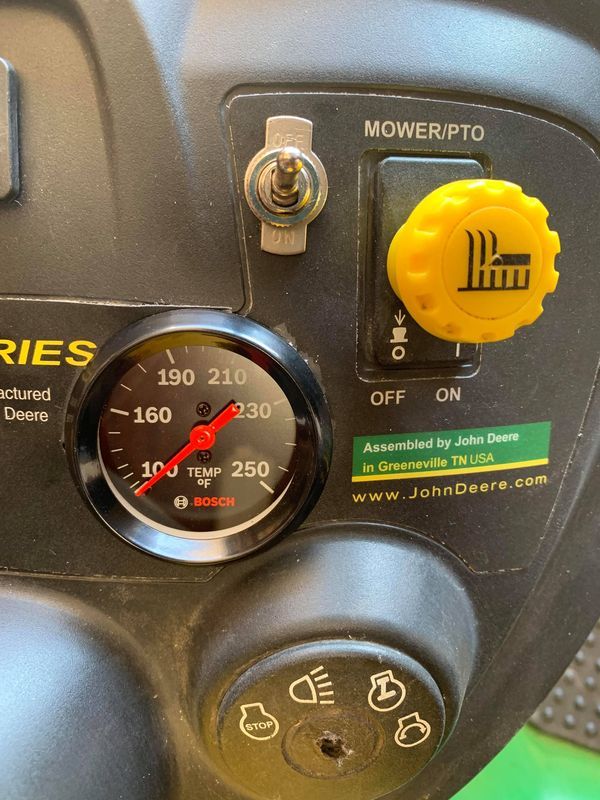 Pretty sure that's everything I modified and I hope that what ive done is effective. I think I spent around 200-250 dollars on this project, so I didn't go insane with what I bought. The best part is this mower is paid for and im not financing a 8000 monster mower that my wife didn't want me using on hills... this d170 is actually pretty good at going up a steep hill without loosing traction. I was surprised. The one thing that gets them is the heat. Hopefully that wont be the case ever again! I hope what ive shared helps because I found very little in actual cooling modifications. I will say I only will use this for mowing, I will never use it for tractor stuff. I also believe you can use this method for any other Tuff Torq transmission. Taking that bottom plate off was very easy and it was easy to add a line in and out without effecting the transmission itself. I will try to stay up to date and let everyone know how it works out.
Mowing season is coming...…… and I am prepared!