·
The Admin from... Nowhere!
Discussion Starter
·
#541
·
So, I figured since I had the honing done, and I'd measured the end gap of my rings to check the bore (and its even within spec, between .010 and .020), I'd drop the piston back on the connecting rod and pop the rings on...
So, following the advice in the tech manual, here's the con rod in bench vice with soft jaws (Well, actually, wrapped in a plastic bag)...
Dang these little wrist pin retainers are finicky... Pushed them into the grooves using a 1/2" socket, after I was able to wedge them in and catch them a couple of times when they went "PiiiiiinnnG!"
All set for the rings!
I can see THIS tool being REAL handy when I FINALLY get around to a ring job on Ernie... Worked very slick! And the tech manual had a really good section on how the rings go on...
And there we are!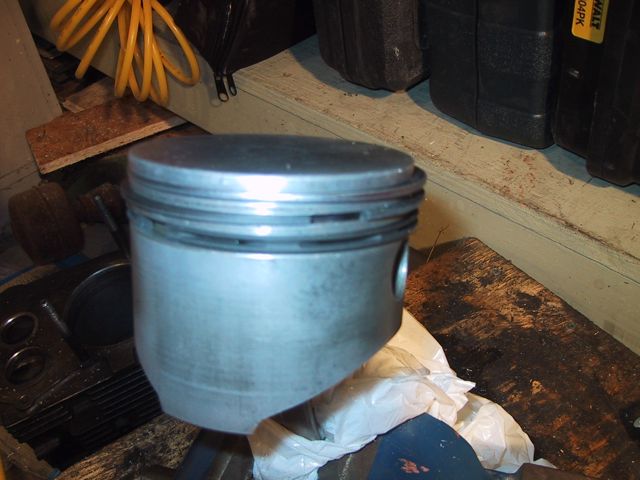 Took me far longer than I thought, for this first time.... Had a bit of a panic after, as I got to thinking I couldn't remember where I'd put my brand new connecting rod cap lock nuts... Frantic search turned them up in my cabinet where my tools are... Whew!
Next steps.... Following Derekbroerse's advice, I think my next step will be a thorough cleaning of the whole block, inside and out, and a run through all the passages with some bottlebrushes... Then, oil seals - have to grease them up real good.... Then crank goes back in, and camshaft and tappets and piston...
Dunno if I should pull apart the Franken-engine to see if the camshaft is in better shape or not... I may steal the valve springs....
Doh, guess I gotta decide when I want to lap the valves in...