·
The Admin from... Nowhere!
So, for those of you that have not been following my saga, THIS has been living in the backyard of my parents' house....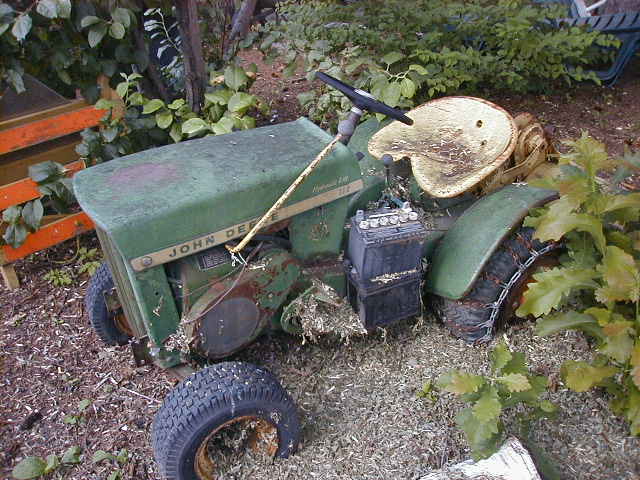 This was my maternal grandfather's pride and joy, his 1967 JD 112h. It hasn't run for 20 years.... Well, this weekend, with the support of the incredibly amazing Littletractorgal, the assistance of my in-laws, the aid of Greensail (who helped me put the winch on a stable mount on my trailer) and the permission of my mother, (just to be on the safe side and to avoid police intervention), the 112h was disinterred from its resting place and slung onto my trailer... I'm sorry, I didn't take movies of it being winched on, it was amazing (kinda like that
video of the T-34 tank being pulled outta the swamp in Russia
). So, the FIRST stage (the recovery) is ALMOST over, the 112h is sitting on my trailer, connected to Littletractor using the Hitching Post Littletractorgal got me for my birthday last year... Getting to that point took from 11:00 yesterday until dark. Today, we hook the trailer back up to the truck, run it over to our place, then Littletractorgal and I and my FIL will drop it off the trailer and into it's predetermined spot in our garage...
(As long as we get this all done before my dad gets back from his weekend at the lake... AND I put ALL his tools back EXACTLY where I found them... Otherwise, there is a distinct possibility that this could be my last post on MTF:00000060
More pictures soon, I promise!