As most owners of Cub 3000 series know they get slow after awhile with reverse being the worst. Below is a huge reason why. The linkage bushings are plastic and wear out quickly. The hydro levers barely move and you have no speed.
This tractor only has 360hrs on it and the bushings are already trashed. The reverse lever bushing is worn completely thru and you can see the linkage slop.
Linkages below that get bronze flange bushings--BFBs. I buy from Aircraft Spruce.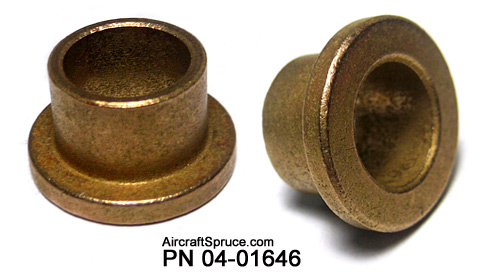 Oilite Bronze Flanged Bushings Oilite Bronze Flanged Bushings

www.aircraftspruce.com
The small ones are FF520-10s and the big ones are FF730-03.
@Joelk
gets credit for the BFB idea--he told me about it. He did it differently by drilling new hairpin holes in his linkages.
Because they are longer than the plastic bushings you have to grind a little length off the small ones to get your pins back in. On the small ones the overall length is the important part. I mark them with a sharpie to tell me how much to grind off.
The linkage holes get drilled out to 1/2" for these b/c the BFBs are thicker. I took both linkages off and drilled them on the bench.
Now the big holes get drilled out to 3/4". I used a step drill from Harbor freight and my angle drill and used a bit holder to lengthen it for the frame hole. I had to remove the rubber mat and the bolt under it and the captured nut under the floorboard because it was in my way.
Now here is where I struggled. The big bushings need to have thin flanges to fit. The length doesn't matter. I ended up grinding the flanges thinner and then enlarging the hairpin hole in my linkage to get my pin back in.