How To Test For Alcohol Content In Gasoline
I have read several posts in this forum about alcohol content or lack there of in gasoline around the country. There appears to be quite a few misconceptions about whether fuel does or does not contain alcohol.
First off, it depends on where you live. Alcohol content labeling is regulated by the states not the federal government. I live in Missouri and gasoline can contain up to 10% alcohol (the current Federal mandated limit) without being labeled on the pump as to content. Other state will vary (I know IOWA goes as far as to subsidize "gasahol" and it sells for less than gasoline that contains no alcohol).
Octane rating is no assurance of alcohol content or lack thereof. 89 and 92 octane may contain alcohol as easily as 87 octane fuel as long as it does not exceed the 10% limitation. Most of the suppliers around here do not formulate the higher octanes with alcohol unless the price of fuel goes up to a point where it is financially feasible (again, the states have regs on when alcohol must be blended).
The list goes on and on, with seasonal conditions locality and several other factors playing a role in fuel formulation. It gets rather annoying for those of us that have to make this stuff run when the fuel is a constantly moving target.
OK, having said all that, let me show you how to test for basic alcohol in gasoline. Remember I have been testing for this stuff for 30 years so I have the high dollar stuff, but you can do it with nothing more than an empty 16 oz. pop bottle and some simple measuring devices.
The basic tools for testing specific gravity and alcohol. Since we a basically concerned with alcohol content the thermometer and float will not be used. The 100 ml graduated made be replaced with a graduated pop bottle or any type of clear container that can hold gasoline and is sufficient size to contain 10 equal measures of known quantity. More on that later.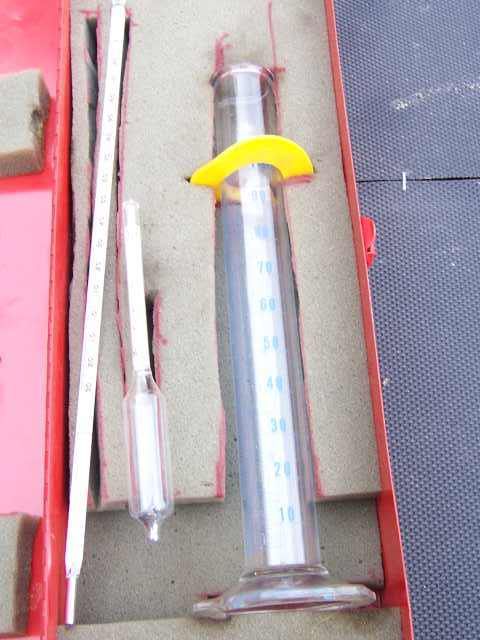 Since we will be testing for alcohol content in percentage the quickest and easiest way is to measure 90 ml of fuel into the column. Sampling into a clean small container and then filling the column will make getting accurate amounts much easier. DAMHIKT
Into the column we add 10 ml of water. The water will go to the bottom of the column latching onto any alcohol it come into contact with, so I use the 10 ml (a cc is equal to a ml in volume). By measuring the water before adding, the error factor of initial alcohol contact is minimized/eliminated in the final results. The addition of 10 ml of water actually measured 11 ml in the column, so there was an immediate net gain of 1% just as the water fell to the bottom.
Once the water is added, the column is agitated ( I just cap the top of the column with my hand and shake it up and down with my left hand) so the water and fuel try to emulsify, then set aside to separate for a few minutes. After 10 minutes of settling, the separation line measured 18 ml. This fuel sample is regular 87 octane so it contained the legal amounts of alcohol as expected.
Now, how does one that does not possess a 100ml graduated column perform this test? Find a bottle or jar with straight sides. Use your wife's teaspoon measure and add 2 tablespoons of water to the jar and mark the level using a permanent marker (Sharpy or equivalent) and repeat this until you have 10 equal graduations. Empty the water and dry the inside of the container. Perform the test as outlined above. You might not get the exact percent readings but it will be close enough to know what you are buying for fuel.
Oh yeah, and for those guys that insist on putting "dry gas" in the tank for winter storage, it is methyl alcohol. Over dosing the fuel with "dry gas" will cause problems as well.
Roger
Old, Tired, and Grumpy