Discussion Starter
•
#1
•
I was kinda always curious to know the limits of a lawn tractor. My 300 in particular...
Yesterday afternoon, the city workers were going door to door leaving fliers, and telling everyone they would be doing some sewer cleaning and to cover your toilet. LOL I was heading out of the house to leave, and I caught them, and they also said (after looking at a areal map) that they see I have a man hole on my property.
Yup, back in the North West corner of my lot.
I have a Grand Prix parked over it, cause I had to puck it back further than it was so my neighbor and I could get his backhoe back in there and remove some chain link fence. That I can move. Hooked a toe rope to it, and a few tugs (and throwing some dirt) I had it moved. That was the fun part, mini tractor pull in my back yard. LOL
The North side of my garage, I have a stock pile of old wood fence slats that I have been saving up, for when I fence in my .5 acre lot as I will buy new poles, and posts, but the slats would cost me dearly, so I am recycling them. LOL
Ya, that had to be moved as well, cause it was "blocking access".
So, loaded up all the wood slats onto a trailer I traded a used mower that was given to me for. Its an old motor home, that was trashed. My plans are to make a tilt deck out of it, and add a floor, and some sides to it, cause the other trailer I have is a dual axle car trailer, some times too big for some small jobs.
I was happy to see that the mower was able to pull it through the grass, and back it on in to the drive way for the mean time till they are done working back there. Then, I will park the trailer back there again, but now its loaded and mobile atleast.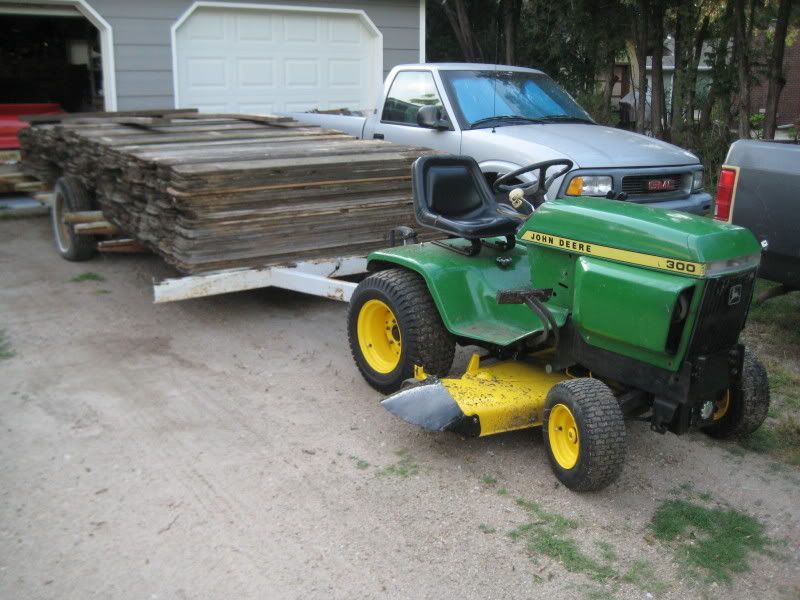 It may not look like a lot...but trust me, thats a lot of weight worth of wood...and most of it, is very wet wood cause the north side of the garage gets wet easy enough...but does not get that much sun light.
So, whats the most you have pulled or moved with your lawn tractor before?
Me so far...a car, and a loaded trailer.
~F~