Discussion Starter
•
#1
•
Yesterday, I found this attached to a 1970 T-10. I'd like to buy the whole tractor, but I'm about one tractor away from a divorce. My wife does want the garden tilled, however.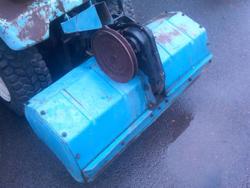 The hitch and lift group on the T-10 look to be identical to those on my 7116. The Simplicity-Homelite X-reference shows this 989 tiller as having a different lift rod and PTO clutch than the Simplicity 694 unit.
The tiller seems to be intact and functional, the bearing in the idler pulley will likely need to be replaced.
Will I be able to mount this tiller to my 7116, or is this a project to be avoided? Thanks for any input.