Homebrew 4X4 articulated GT
I posted some pics in reply in another thread and was asked some questions so I'll just start my own thread about this build.
I needed a small tractor to use in the garden and to pull my trail mower. I have a couple other garden tractors that have plenty of power but traction was the issue!
I wanted to keep my expense down so I tried to use as much of the donor parts as possible. I had lots of square tubing that I had gotten for free from an old conveyor system. Other than belts and battery, I had less than $100 invested when it was done.
It started as a couple of Rally riding mowers that had seen better days. I took the transaxles and fabbed a frame that articulates in the middle and the front axle can pivot over uneven ground.
The transaxles are 5 speed but one is Peerless and the other is Spicer. But the ratios are almost the same.
The shaft that the tractor articulates on also transmits the power to each axle. The engine is belted to the shaft using the original tensioner as a clutch then belts run to each axle. The black piece in the pic above is the original part of one on the frames to mount the engine.
The steering is sort of rack and pinion using a large sproket that I had hanging in the shop with double chain attached to it. The sprocket is welded to the front half. The rear half of the steering is a small sprocket engaged into the top half of the double chain. The two upper chains are for reduction.
Then I took the rear half of one of the donors and mounted it to the rear sub-frame. The black again is part of the original frame. While I had access, I went ahead and added a bank of relays to actuate the winch for my lift.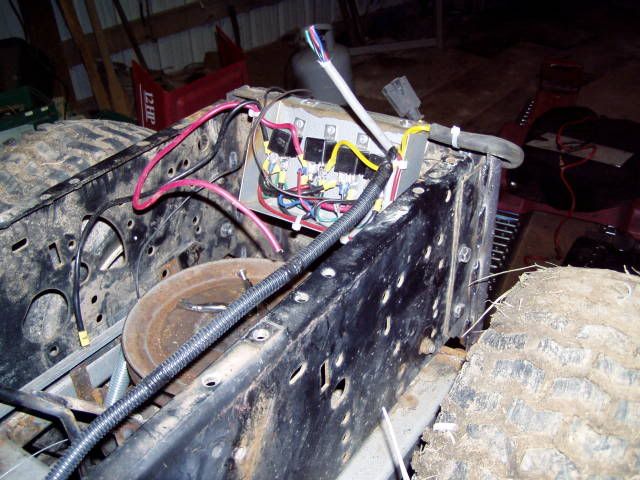 I made some linkage for each transaxle and connected them in the middle with a heavy push-pull cable from e-bay.
The rest of it was pretty much just cosmetic. Re-used the rear fenders and seat from one donor and cut the hood to fit from the other donor.