Discussion Starter
•
#1
•
Finally starting to work on my 1968 112 with the blown engine. I purchased an engine sight unseen last fall after talking with the guy who said it was complete except for the carb and starter, and said it was running when he pulled it. A friend of mine picked it up for me and it's been sitting in the corner for the last 10 months. I pulled it out yesterday, and while looking it over I noticed there is no spark plug wire. After removing the tins, I find out the alternator was also taken, and this is where I am having a dilemma. I pulled the stator (I think that's the correct term) from both engines and my original one has a wire from the stator to the alternator. The new/used does not. I can not find any place where it might have been cut or pulled out. BUT, the new engine has a wire coming from the other side of the block that I have know idea where it goes. The original engine does not have either the wire or the cover, but is solid in the same area. Hopefully the pics will explain better what I am talking about. Can I use the alternator and stator from the blown engine or do I need to find a different one? What is that wire for and where do I attach it?
As always, thanks for the help, Rick
The original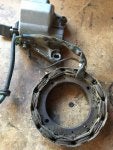 The new one
The circle is the where the wire I have no clue about goes in.