Discussion Starter
·
#1
·
I finally have all of the parts for my headlight button and electric hydro fan button. Pushbuttons are Apem IP latching series (sealed to IP67). Specifically, IPR1SAD5LOS (yellow plunger, red LED). Button label panels are 1.5mm thick aluminum, anodized black with yellow-filled engraving.
These two are going into the indicator panel on either side of the LCD/indicators. Buttons were $21.22 each from
Mouser
. Label panels were roughly $20 each from
Front Panel Express
.
I'm using Panasonic sealed 20A relays with mounting tabs, and also using relay bases so I can easily remove the harness. Relays were $6.49 each, bases for them (with terminals) were $1.75. Both from
Eastern Beaver
.
AMP sealed Mini Universal Mate-n-Lok connectors for the pushbuttons (pins and sockets not shown). Parts per connection... one AMP 794805-1 plug, one AMP 794939-1 cap (receptacle), one AMP 794772-4 interface seal, eight AMP 794758-1 cavity wire seals, four AMP 171638-1 20-16AWG pins, four AMP 171639-1 20-16AWG sockets.
Full-size AMP sealed Universal Mate-n-Lok connectors will be used for the hydro fan. I haven't taken pictures of the 2-pole ones I have, but here's a picture of some of the 3-pole and 4-pole I use for automotive.
Hydro fan is a Spal 5.6" puller. 295 CFM in free air, a little less when I put a wire grill on it. Draws 2.5 amps of current. This will let me cool the hydro regardless of whether the tractor is moving and not at the mercy of engine RPM. $55 from
a1electric.com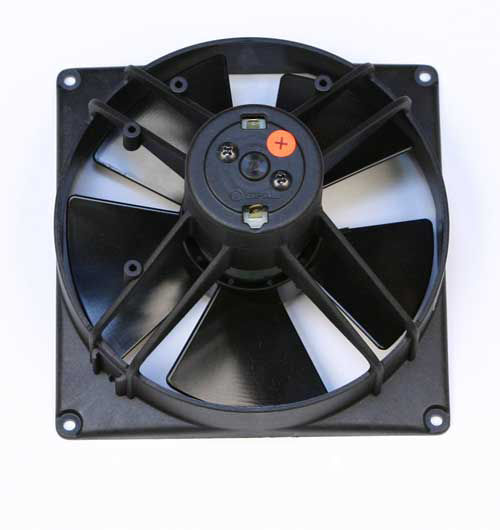 I'm putting a new set of fuses in for headlights, snowthrower lights (pair of 500 lumen LED), rear work light (1400 lumen LED) and hydro fan. I've got some of these Metri-Pack sealed 3-fuse ATM holders and single fuse ATM holders from
Eastern Beaver
: