Discussion Starter
·
#1
·
I can provide some very basic screenshots of the fairly easy process.

You need to remember that I use linux and even though the internet is all the same no matter which operating system you use, I cannot be certain about the location of your videos. I'll explain that in a moment when I get to that screenshot.

I hope this works out for anyone wanting to use youtube.
If you are not a member of youtube you will first need to sign up and register, sort of like you did when you came to MTF.
Once you are signed in you can create a "channel" Here is a picture of my channel (Indy452)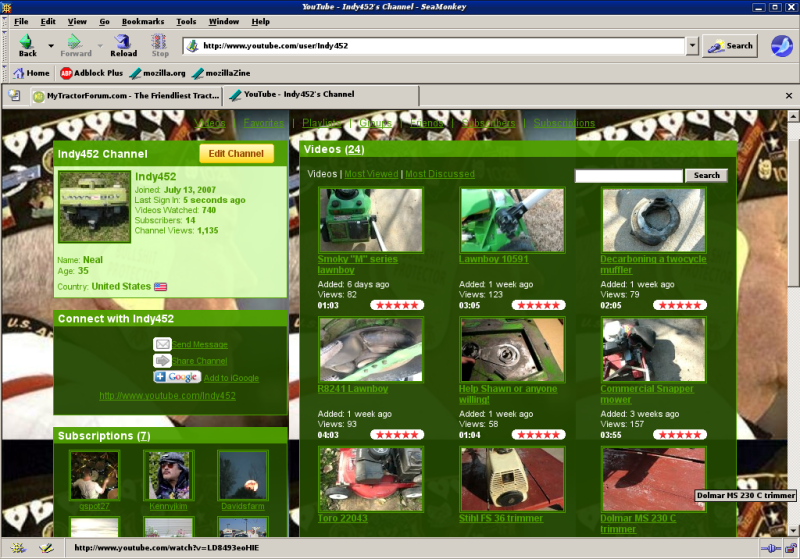 Here is what it looks like when you sign in.
Now. Lets get busy with your video upload. You will need to click the upload button (its yellow) This is what that screen will look like...
Now Youtube will want some info about your video. You can give the video its title, the way you want it labeled as like for say, educational, comedy, autos, whatever. You will see a drop down menu for that. Also you want to give your video a tag so people can find it by searching. For example if I make lots of Lawnboy mower videos my tag will be "Lawnboy mower"
Heres what those screens look like...
Next you get this screen, it will want you to select a video. Click "browse videos" This will direct you to where your videos that you have loaded to your computer from your camera are.


I suspect you will know where your videos are located. They will be in either pictures folder or videos folder in windows. Same with Linux and Mac I suppose.
Another thing to remember is Youtube videos can take an hour or two to upload depending on video size and quality. I make short videos with standard quality so the uploads won't take all night. Once you have mastered one you will not have any problems. Its pretty self explanitory and you should not feel scared of youtube. After all it has millions of users.

Good Luck and PM me if you need any more help.

Neal
PS, Sorry about the attachment at the bottom. I couldn't figure out how to remove it