Discussion Starter
·
#1
·
Hi Folks
Have a problem with my sons 1967 Ford 3000 tractor. The front axle pivot pin is froze in the housing. The pivot bushings in the axle is shot and the pin spacer sleeve may be worn from the excessive bushing play. The axle bushing is worn so badly that it has broken the bolts in the yokes of the radius rods trying to hold the swept back axle straight.
Long story but right now we are doing an engine overhaul and I have the entire front axle casting, axle and wheels off the tractor. The prior owner never put the pivot pin keeper plate back on so it must of been froze in there for some time.
I have tried heating it with a map gas torch to a measures 300 F totally thru both sides of the front support casting, soaked it in penetrating oil for a week and tonight used a 1" impact wrench that can develop 1,500 ft # of torque and nothing. It is froze in there. The spacer sleeve bushing that goes over the pivot pin may be froze on the pin as well as the pivot pin threads froze in the casting.
A few questions.
1. I'm assuming the pivot pin is right hand thread? Yes/No?
2. Any ideas on how to get the pin to break loose?
3. If I have to resort to cutting the spacer and pin out of the support casting to get the axle out and then sawing the pivot pin in 2 parts to chisel it way from the casting, is the pivot spacer hard or too hard to saw?
Here are some pic's so you know what vintage I'm talking about.
This is the pivot pin and axle still attached to the engine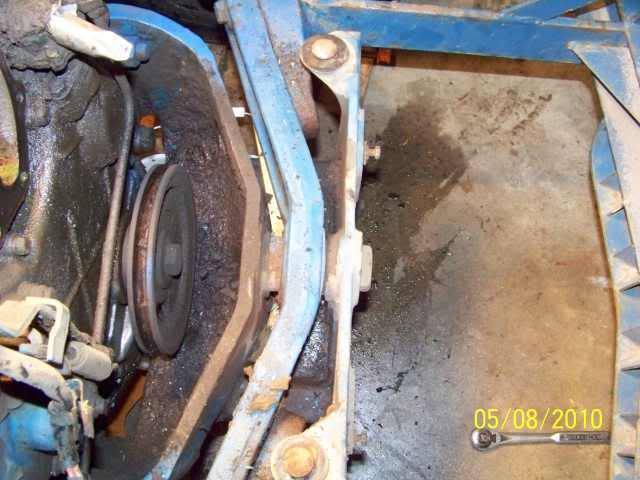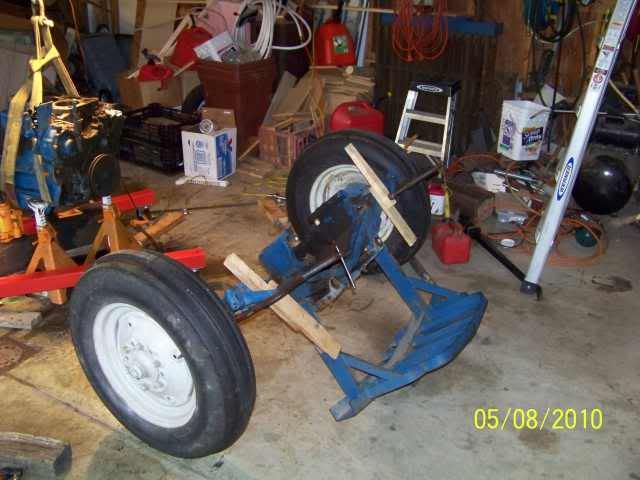 Thanks
John