OK, so I'll present a few ideas and see if anyone has any interest, comments, or suggestions. Originally I wanted to develop a hybrid conversion package for FWD automobiles, by attaching electric motors to the rear wheels, and thus providing AWD capability, as well as an alternate source of power if the gasoline engine failed. But cars are very difficult to work on and there are issues with street legality and practicality. My 1999 Saturn already gets 35 MPG average and up to 45 highway, so I'm probably not going to improve on that very much. So I just did some preliminary design concepts and left it at that.
A friend, who is an aerospace engineer, has a sideline where he is developing simple farming implements and a multipurpose power module which uses a 9.6 HP diesel engine which can burn 50% vegetable oil, and he also has a press which can extract the oil from crops such as corn or sunflowers. He's targeting small villages in Africa as a way of "empowering" the people to be more self-sufficient, and utimately this will be important for people in the US as well, because of "peak oil" and economic instability.
He has been looking at DC motors that can be used as generators as well as power sources based on battery storage and renewable energy sources such as solar and wind. But there are some problems with brushed DC motors as well as BLDCs, with respect to efficiency and cost. I want to investigate the practicality of using three phase induction motors for this purpose, and perhaps making an electric tractor would be a good proof-of-concept project. Here is his website page on sustainable technology products:
http://www.harvestchapelmission.org/view/sustainable
He has something called an "EmPower Train", which is something like a garden tractor with the ability to pull various implements and carts linked together as a "train", and there is one concept which uses a simple track which allows the train to run unattended or by remote control.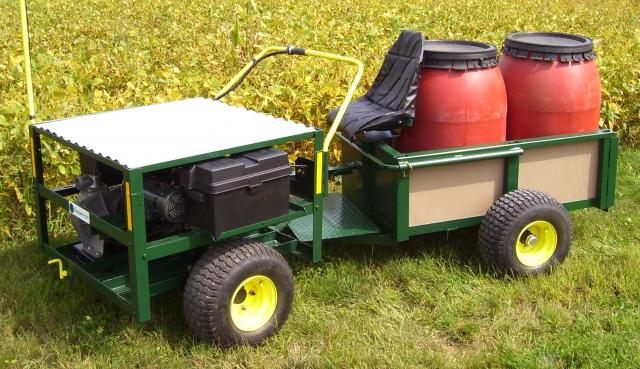 I had conceived something like this a while ago, when I wanted to build a "train" which could travel up the hill on my property and then load it with firewood, so that on the return trip it might regenerate much of the energy used, by employing dynamic braking, charging the batteries or ultracaps. I thought it would be "cool" to have a train, but practically, it would not be able to negotiate the steep grade (15-20%), and reducing the grade to rail specifications (<5%) would have required extensive switchbacks and longer rail lines. So, another project mothballed.
In my next post, I'll try to present my latest idea as it applies to small tractors, and discuss some technical details about energy storage, efficiency, and practical ways to make something new and useful.:fing32: