·
The Admin from... Nowhere!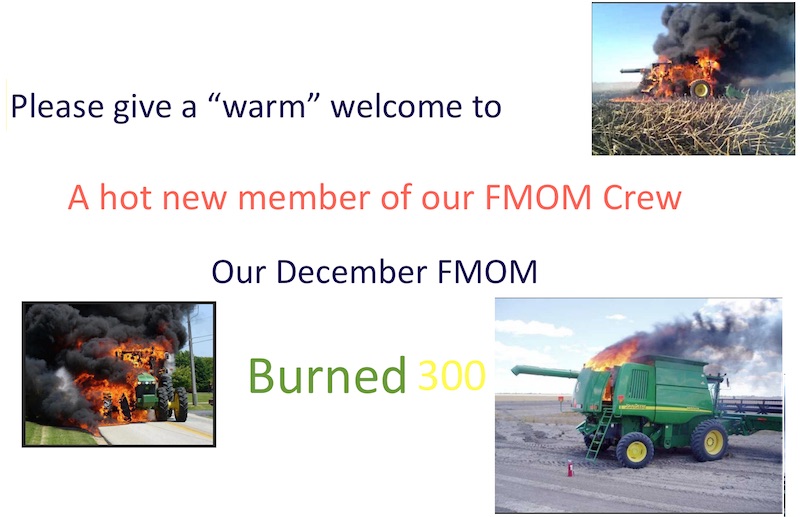 Name:
Darrin
Join date:
December 2012.
What city, and state, do you live in?
East side of Columbus Ohio, near Jersey.
Are you married?
Yes, for 30 years.
Do you have any children?
Two, a son in college and a daughter, she is a junior in High School.
What do you do to earn a living?
School Bus Mechanic.
How old are you?
52
How did you come to join MTF?
Looking for info on my then new X720.
Where did your screen name come from?
The burned out 300 is where my screen name came from, the previous owner caught it on fire, I paid $450 for this gem back in 1994 . This was before ebay, so all of my used parts came from local mower salvage yards, the hood and wire harness came from a 214, all the switches, battery, front and decals were new.
(My restored repainted burned300, the hood panels still warped from the gas fire, the only tractor I sold that I wish I had back.)
What are your favorite MTF forums and why?
"What did you do to your John Deere today" I like seeing what others are using their Deeres for.
What do you like most about MTF?
Covers all brands.
Please list your tractors and/or equipment:
X720SE, X595, X485
MTD 990 with Haban sickle bar,
(It would take me 6 hours to trim around pine trees with weed wacker, only takes 20 minutes with Sicklebar.)
Gannon Earthcavator, Brinly one bottom plow, EZ rake yard vacuum, grapple, ohio steel & Jackson brand yard trailers.
This picture is my ole fleet of 210's I had.
These are 3 of the four 420's I had.
What is your favorite tractor or piece of equipment and why?
X720SE, its the only Tractor I ever bought new.
(Pushing snow back in winter 2012/13)
Is there a tractor or piece of equipment you'd love to own someday?
X748 with loader.
Tell us some of the tasks you use your tractors and/or equipment for?
Cut grass, push snow, collect leaves, plow field at plow day, move fire wood.
Could you describe your property for us?
6.3 acres shaped like a "Y".
Top picture looking from road 1/4 mile away is my house. Bottom picture, looking from house back to road.
Is there something you'd love to build or restore someday?
72 chevy 4X4 pick up.
Most memorable tractor moment?
My neighbor hired a guy w/ full size bronco to push his snow & he couldn't push any, too much snow. I cleaned my place and his with my JD 420 just fine.
Earliest tractor memories?
5th grade and the doorbell rang, my parents had a Sears LT10 tractor delivered after I got home from school.
Do you have any other hobbies or interests that you'd like to share with us?
4x4 trucks.

What do the other people in your life think of your "tractor" hobby?
They know what to talk with me about and they always tell me if they see a Deere for sale.