·
The Admin from... Nowhere!
Our December 2014 Featured Member of the Month is a man of amazing skill and craftsmanship... Lets let some pictures speak volumes as I introduce...
Alberta 7.3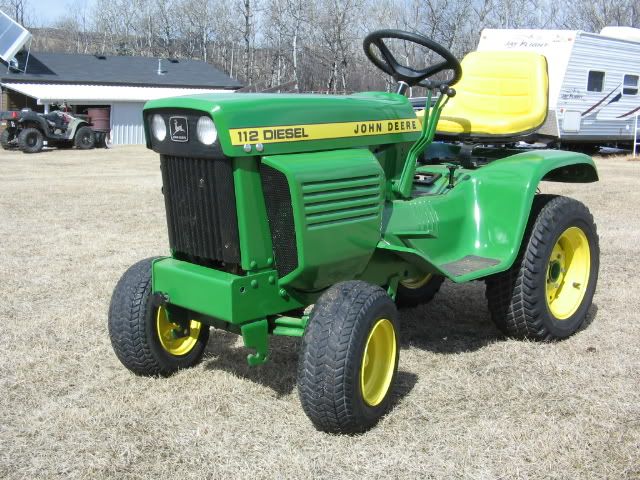 (
Check out his first build thread here!
)​
Name:
Bill Gombik
Join date:
December 2011
Member number:
68474
What city, and province, do you live in?
Calgary, Alberta
Are you married?
No, still single and completely unattached
Do you have any children?
No.
Do you have any grandchildren?
No, see above :sidelaugh
What do you do to earn a living?
Self-employed journeyman electrician
How old are you?
41
Military service?
No. I feel those that have served or are serving deserve the utmost respect though.
How did you come to join MTF?
I originally joined when I started to rebuild the John Deere 112. Google searches always took me here when I was trying to figure things out and needed information. I decided to join and post up a thread of the build, and never left.
What are your favorite forums and why?
Well, this one of course for my tractor addiction. I also frequent a couple Ford diesel forums since I have a small herd of powerstroke diesel trucks. (That is where I came up with the handle "Alberta 7.3" since I live in Alberta and my first diesel truck was a 7.3l Powerstroke)
What do you like most about MTF?
I like that this place is pretty much open to anything, you can put out an idea or project and get positive feedback and suggestions.
That being said, there seems to be a certain level of respect among the members. If somebody does not agree with your idea or input, they try to be constructive about it, not blatantly shooting it down or being derogatory, etc.
Please list your tractors and/or equipment:
'68 John Deere 112 which I repowered with a 10 HP diesel
'82 John Deere 317
'82 John Deere 317 which I am dropping a diesel in, as well as other goodies
...and of course a small arsenal of implements.
What is your favorite tractor or piece of equipment and why?
So far, my 317 seems to be my favorite toy. Every task I have thrown at it has been accomplished.
Is there a tractor or piece of equipment you'd love to own someday?
In the future I want to have either a skid-steer or SCUT.
Tell us some of the tasks you use your tractors and/or equipment for?
Mowing, snow plowing/blowing, some tilling for tree planting, and minor landscape grading. A chipper as well for cleaning up deadfall trees.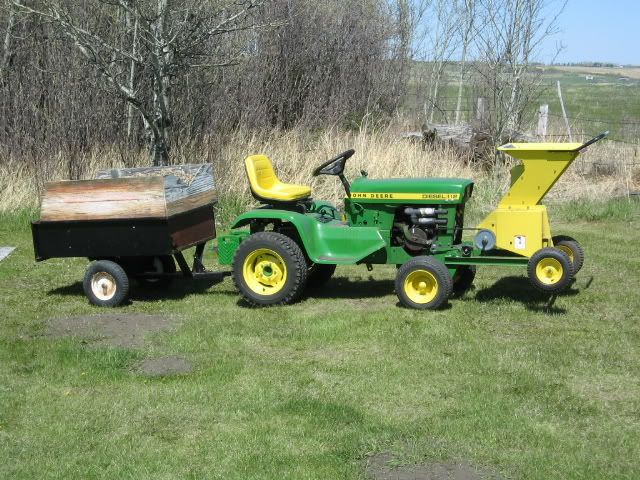 Could you describe your property for us?
My property... :biglaugh: is a duplex I rent in the city.
My tractors get used at a couple of my friends acreages. One is on a hillside with a mix of lawn and trees/bush. This is also where the shop is that I do all my work. The other is relatively bald prairie where we are planting trees to give it some life, as well as build a large shop.
Since last winter, I have also been tasked with snow removal for a ranch that has a 900' access driveway.
Is there something you'd love to build or restore someday?
I'd love to do a resto-mod build of a dentside (73-79) Ford truck. I don't know why but I always loved the styling of those older trucks.
Most memorable tractor moment?
Probably when I fired up the 112 and drove it out of the shop under it's own power. The feeling of getting something working again and useful is great.
Earliest tractor memories?
I remember (vaguely) that my mother had a great aunt somewhere near Esterhazy, SK that had an old farm house and about an acre yard we went to visit one summer when I was about 5 or 6. She had some sort of orange/red lawn/garden tractor (Ingersoll/Case?) and my father figured out how to get it running and cut the lawn. I was angry that he wouldn't let me drive it, talk about your seat time hog.
For a while we lived in Lethbridge, AB which is pretty much the center of the southern Alberta agriculture area. Many years we would go to the agriculture expo at the fair grounds, and I'd be out of control running from tractor to tractor that were on display.
Do you have any other hobbies or interests that you'd like to share with us?
I enjoy working on vehicles whether is is doing an oil change on my truck, or helping a friend tackle a major repair (read: friend watches Bill work)
I am part way through a project 90's Ford diesel truck. This has been on the back burner for a while due to finances. Go fast goodies are pricey.
I do a little bit of construction, like helping a friend build a shed, or wire a garage.
When there is nothing else to be done (which happens rarely) I do spend some time building 1/25 scale car/truck models.
What do the other people in your life think of your "tractor" hobby?
Well, there are a few different categories.
We have the "usual" people that couldn't care less about anything mechanical or tractor related.
Then we have another group that look at the repairs/modifications I do to my tractors, and what the tractor can accomplish, and seem surprised/shocked at the results.
Of course there are also those "others" that feel I should be in their servitude, using my tractors to do their work. I don't associate with these people much.