I bought my '83 446 back in '99 and have never decarbonized the heads.
The past few years it didn't see much duty as I was using the '86 448 mostly, and also my '76 444/448 repower I bought from a neighbor, so none of the tractors saw much duty as I used all three, but mostly the 448.
Well the 444/448's engine was traded for the Ferguson's engine and then got parted out.
The '86 448 I bought from a cousin 2 years ago and other than change out the fluids I haven't done any other maintenance on it - so I decided its time to go through these machines and do a full maintenance on them.
The 446 and 448 had all the fluids changed out, the 446 also had installed a newer tcv with the holding valve, and when I finish this the only thing it will need is a charging diagnosis as it won't hold a charge.
I stopped at the local dealer I use for misc. parts and he told me not to worry about decarbonizing the heads, with todays fuels it wasn't necessary, however, he did say if the engine burned some oil then it should be done.
Well I have no idea how many hrs are on the 446, the 448 has near a 1000hrs and these are mine and I would rather replace a head gasket than an engine so I ordered gaskets on line, besides I was really curious as to how bad it would be.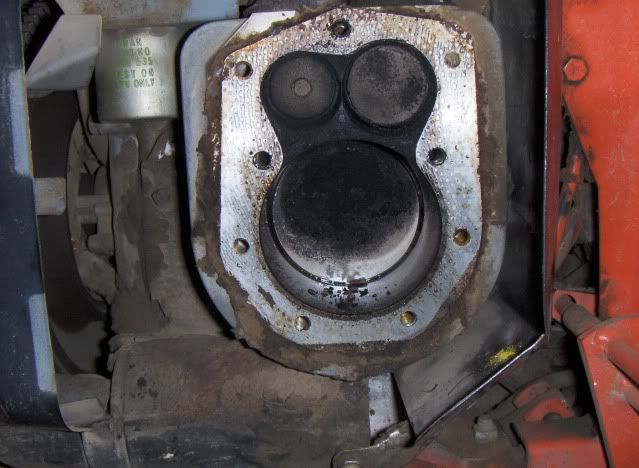 They weren't that bad at all, however I noticed a lot of dirt in the fins of the heads and both spark plugs were loose.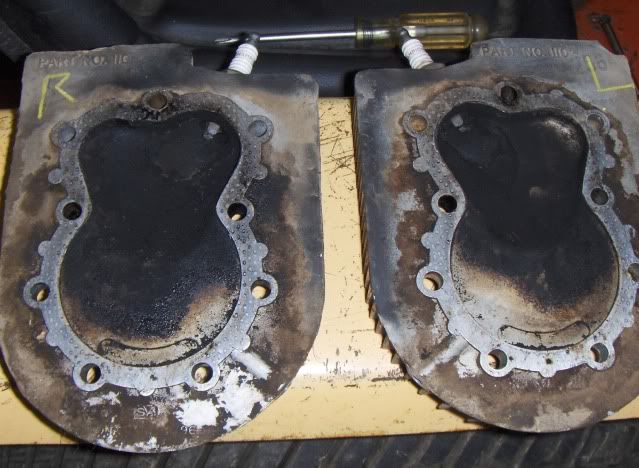 These next two pics show a yellow mark on the heat shields were I will be drilling a big (enough) hole in them to gain access to the bolt that holds the head shield in place - what a pita.