(*Note: This list was compiled in conjunction with member soundguy)
It seems like weekly the question comes up, "Can my 'N' run/use ______ implement?" You fill in the blank. We will try to address the most common implements used by the 'N' tractor community. In no way is it intended to address EVERY implement made that will attach to the 'N' series tractor.
For the purpose of this listing, we are assuming a Ford N in average condition, i.e. a 9N, 2N, or 8N in decent running condition… not rebuilt, but not so worn out it needs starting fluid and/or a pull start.
(P.S. the example photos are not intended to advertise any vendor or manufacturer of implements... merely to demonstrate the implement itself)
1.
BOOM POLE – aka crane, gin pole: A handy tool used for lifting that can be found at almost any ag/farm store at a very reasonable price. Usually have 2 lifting attachment points, one at the mid-point and the other at the end. Some care should be used as a heavy load on the end of the pole CAN cause the front end to get light or even rear up. Great tool for the guy or gal who works alone.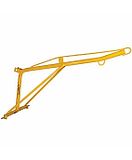 2.
BOX BLADE: The 'N' works best with a 5'. It covers the tires and with the teeth lowered for loosening the soil will not overwhelm the tractor. In extremely hard packed ground use of fewer rippers will help. Also loaded tires are a plus. It is used to either drag or push material for leveling, somewhat more forgiving than a grader blade to level an area.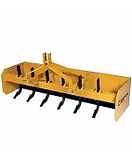 3.
BRUSH HOG; – aka rough cut mower: They can be ether 3 point or pull type in configuration in 4', 5', 6' widths for use with the 'N'. In selecting a cutter to fit the 'N' tractor the 5' width is recommended so that you "Cover" your tires. That means that the cutter cuts to the outside of the width of your tire track. The 'N' will handle a 6' provided the material to be cut is not to heavy or thick. Also remember when buying a bush hog they do come in lightweight and heavy duty versions. Look for a gear box rated at least equal to the HP of your tractor.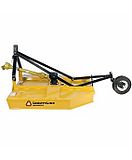 4.
DISC HARROW: They available in two styles, 3 point and pull type. The 'N' tractor can easily handle a 5' disc and up to a 6.5' disc in 3 point configuration depending on the weight of the particular unit being used. It is best to have one wide enough that it will cover your tire track. In my opinion the pull type units "cut" better than the 3 point style, more of a pain to move from site to site is the tradeoff. I have pulled a 7'; the disc was not set to an aggressive angle. An N can pull an 8' drag disc, if it is not set aggressively.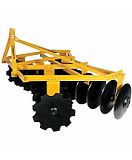 5. DRAG HARROW: An N can pull an 8' drag harrow... or 2 6' harrows (one behind the other)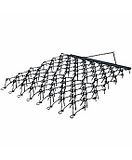 6.
FINISH MOWER: Basically two types, belly and 3 point hitch. Belly mounted mowers are fine if you do not intend to use the tractor for much other than mowing due to the difficulty of putting the mower on and removing it from the tractor. I believe that WOODS still makes belly mounted mowers for the 'N'. A 3 point mower 5' wide is ideal for the 'N' since it covers the tire track. A 6' is an option and the 'N' will handle it just fine provided you do not allow the grass to get too tall.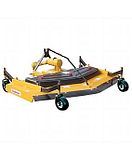 7.
GRADER BLADE; The selected blade should be wide enough to "cover" the tires. This would mean at least a 5' width, I prefer a 6' so that the tires are "covered" when the blade is used in an angled position. A 7' can also be used with light material. Can be used in either a forward or rear facing direction to drag or push material.