Discussion Starter
•
#21
•
I took a trip to the scrap yard yesterday with my my neighbour to pick up a dirtbike he found.
I was poking around and found a heavy duty 54" blade with trip springs.
Not sure what it was for, and it's missing the mount, but for $50 I couldn't say no!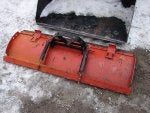 Now I need to figure out how I want to mount it.
Clip on to the bucket, stand alone mounts or to work with the forklift frame I have.
What I really want to have is a quick change adapter for all my attachments, but not sure how to make it yet.
I would like to go with a standard mini skidsteer QA in case I find some attachments with that system one day.