·
The Admin from... Nowhere!
To start off, a word from our esteemed FMOM!
Thank you moderators and members for keeping MTF relevant and vital! It would be pretty easy to let things slide. You guys do a great job keeping the thoughtfulness and encouragement front and center! I'm humbled to be part of this formidable group of enthusiasts.
Name:
Jay
Join date:
12/30/2012
Member number:
I have a member number? Kinda like "007"?

What city, and state, do you live in?
Rural Stanchfield, Minnesota-about 50 miles North of Minneapolis/St. Paul. Stanchfield has a church, bar, and Post Office (separate buildings-though likely share patrons). More importantly, I'm 22 miles from the nearest JD dealer.
Are you married?
I'll ask her. Grandma Sherry says "There WAS a wedding over 41 years ago. There's pictures to prove you were there-and you had a lot more hair.". Yep, just like MTF-if there ain't pictures, it didn't happen. She has the goods on me. But the pictures prove she had funky mid-70's glasses, too.
Apparently, this resulted in two children. But never mind them and skip right to the five grandchildren part. The two grown children are productive members of society (as all parents wish for), but their real duty now is as Uber drivers to get those grandkids here to the lake.
There are lots of life lessons for those 5 little minds to learn at the lake. Grandma and I love having little hands helping with flower potting, cookie baking (cookie testing is my favorite activity! And tasty organic ballast), fishing,
water sports,
discovering the world around us, building bird houses,
learning to ice skate,
and just being kids in a neighborhood that the adults are trustworthy and look out for all the kids. From 15 years old down to 2 (4 girls and a 2 year old boy), I should be able to find a couple of them willing to put down their phones long enough to start learning JD stuff. I recently restored a JD68 to use as "JD training wheels". Grandpa rule-"No texting and mowing!".
What do you do to earn a living?
I've been building history museum exhibits for 27 years and been involved with really cool projects through the years. A lot of my work has been making things like airplanes, helicopters, tanks, and cars tell a story in a museum. I have a great crew of volunteers (mostly veterans) that work along with me in the shop. I am blessed to have a woodworking, metal fabrication, and machine shop to create the exhibits. I also engineer and build large scale museum interactives. Prototyping to help designers figure out the exhibit experience is a large part of the job.
The volunteer crew and I refurbished a C47 fuselage to tell the story of D-Day.
We cut a Huey helicopter apart to make a "kit" to tell many veterans stories around the country.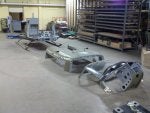 We built a Model T Ambulance from the original engineering drawings found in the archives of the Henry Ford Museum.
If you've seen the show Museum Men on the History Channel (H2), that is what I do-without the tattoos.
Here is 10 minutes of your life you'll never get back, but our local Twin Cities Public Television did a segment on the veterans and me outfitting a Huey helicopter for our "1968" exhibit.
How old are you?
61
Military service?
No. Thank all of you that served! I have a wonderful and talented volunteer crew of several Korean Vets and about a dozen Vietnam Vets-mostly helicopter pilots and crew chiefs. The WW2 Vet that was with our crew for a number of years passed recently. Sadly, most of the Greatest Generation is going fast.

How did you come to join MTF?
I inherited a John Deere 400 from work after powers-at-be decided to use a lawn service rather than have a maintenance guy mow.
Facing the prospect and costs of keeping a 25 year old lawn tractor operational or likely purchasing a new mower, the decision made sense. It needed some TLC, but was in pretty good shape with always being stored inside and having all service done by a local dealer-including putting in a short block just a few hours before the switch to a lawn service. As a new owner of a John Deere project, I wanted to learn what others were doing to these machines to restore them. There is so much knowledge and talent here!

What are your favorite MTF forums and why?
The John Deere Lawn Tractor forum is my bookmarked page. I usually click on "new posts" and that gets me to some posts around the different forums and I will click around.

What do you like most about MTF?
The experience of members freely and humorously shared. The tone. The sarcasm. Contributors really keep comments and help at a high level blended with good humor. And browsing here keeps my creative fires burning.
Please list your tractors and/or equipment:
JD400 (converted to foot pedal),
JD68, JS40 (mosquito fogger) walk behind. I built the 400 loader using the mini skid steer standard quick attach plate so I can order up more plates and build new attachments. The Toro Dingo was the inspiration for the design. So far there is a bucket, snowplow, snowblower (modified 50 and front PTO drive shaft driven), and hinged arm branch holder for chainsaw cutting. I also built a couple of Cat. 0 3PH attachments-my version of a Heavy Hitch holding 10 suitcase weights and a landplane.
A hydraulic dump 4 wheeled wagon rounds out the larger tractor related attachments.
Coming soon will be a forklift attachment after recently scoring a pair of Class 2 42" forks. They are heavy at 194 pounds for the pair and I hope the front axle holds up.
There is the venerable Honda Foreman 400 ATV with plow, Husqvarna XP372 chainsaw, log splitter, misc blowers and trimmers. My new favorite tool is the Milwaukee cordless line trimmer that retired the Stihl FS90 trimmer.

What is your favorite tractor or piece of equipment and why?
The 400. It's my first foray into garden tractors. I envy you guys with multiple tractors and large properties. I might be the joke of the neighborhood by having the largest garden tractor and smallest lawn until the neighbors have a dump truck load of dirt delivered and need me to move it.
Is there a tractor or piece of equipment you'd love to own someday?
I would love to have a 1 Series with a cab. The 400 really ought to sport a cab someday. All the time working on the 400, I'm looking at it through 1025R colored glasses.

Tell us some of the tasks you use your tractors and/or equipment for?
Basic lawn care of about a 1/4 acre better lawn and about 1/2 acre reclaimed cornfield. The lakeshore takes a fair amount of maintenance and rebuilding that engage the front loader.
The ground is always soft near the lake and anything heavier (skidloader) would sink out of sight. There are always landscape chores, firewood holding and cutting, snow removal. I've got some French drain projects coming up that are going to need a front hoe or shovel. Pushing/pulling/lifting docks and lifts benefit from hydraulic assist. I'm getting old enough to think up more and more ways to save my back.

Could you describe your property for us?
We have about an acre and 125' of lakeshore on a 3000 acre lake.
We can waterski and fish from the end of the dock or go for a long pontoon ride. The sun rises over the lake (or so my wife says-I usually sleep a bit later), and sets back over the hill behind the house.
We really enjoy the sunset from out on the boat with a cold beverage. It's even better if we've worn out the grandkids with the days activity and they enjoy the evenings with us. Smores over the firepit are always a hit. Grandpajay bringing out the guitar to encourage singing around the campfire-not so much of a hit.

Is there something you'd love to build or restore someday?
I really am getting to work on the stuff that I love to do right now. I have a reasonably equipped machine shop and enough (?) metal fabrication equipment to do stuff. I also have a small outbuilding for a woodshop that is capable of cabinetmaking, home remodeling support, or building birdhouses with grandkids. I'm not really a fire warden, but I do take comfort in having the wood shavings in a different building than welding sparks. Grandpa's rule-"Never sand wood on the metal sander or metal on the wood sander". Same rule I have at work.

Most memorable tractor moment?
About 30 years ago my uncle sold his farm. At the equipment auction I bought the Ford 4000. No trailer so I did the math-120 miles away and 18 mph. That's only 7 hours. I think it took 12. Older worn out tractors don't drive very straight.
Earliest tractor memories?
More like farm and equipment memories. My grandpa and uncle had a dairy farm and a good portion of my childhood summers were spent there. 30 guernsey cows to milk and grandpa grew more rocks than corn. Grandpa had a Ford 600 that was the first tractor I drove when 12 or 13 years old pulling a hay rack in from the field. On the farm, I learned some valuable life lessons like wind and spreading manure. Rounding up cows for milking on a minibike with no fenders taught me the meaning of grit. I get flashbacks (good ones) hearing the distinct clank of a handle dropping on a stainless milk pail when, as a grandpa myself now and the farm long gone, clean out the woodstove of ashes with a stainless steel pail and intentionally drop the handle. Great memories!
Do you have any other hobbies or interests that you'd like to share with us?
Growing up, our family hobby was restoring old airplanes. My dad (a shop teacher) had the flying bug and was mechanically gifted too. Aviation has always had a special place for me. I learned to fly in an Ercoupe. I haven't been current for years, but have a bunch of friends that stop by the cabin on skis and floats.
What do the other people in your life think of your "tractor" hobby?
If there is such a thing as a group eye-roll that would be what they think-until my son (high school baseball coach) calls and says "the JD parked behind the dugout needs some love so I can mow and drag the infield". Also, no danger here of grandma deciding she wants a JD experience. The middle granddaughters may think it will be cool to drive the 68. The 2 year old grandson is going to be a hoot teaching all things tractor.