Discussion Starter
•
#1
•
About September or so I went and picked these up.
Back story fella on facebook posted on the groups seeing if some local would be interested in them. They were his dads and he just had no interest or abilty to work on them.
Me Big Red and the 5.5 by 10ft trailer are at it again
What im calling a 67 430 trans and motor with a newer frame. With supposed trans issues. Will get to that here.
Lots of stuff
Decks parts and stuff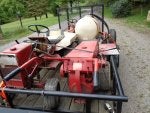 Commercial 12 drove on the trailer
Plus sprayer, square shoot snow blower, plow, and a kit form 71 432
The 430
Commercial 12
Other 432 trans
Haul vid. Unloading seeing the 430 issues. Going threw and putting things away