Discussion Starter
·
#1
·
I sold the the one in this thread
http://www.mytractorforum.com/12-john-deere-forum/701201-49-snow-blow-resto.html
awhile back and have been thinking about it more lately wishing I still had it to use on the 317, so I found another 49 to play with.
This one is a tall chute with minor scratches and light surface rust; so just some easy sanding, painting, and the mods you guys have proven to work wonders with these will be added to the list.
The auger spins on the bearings like they are new, it's not bent out of shape or out of balance. The sprockets have little to no wear on them and the gears aren't chewed up so I am off to a good start, money saving wise. I still have enough chain, cables, grease, and paint for no immediate out of pocket expense. It will get new bolts and lock nuts most of which I have on hand already so almost a year to date from the last one to do it all over again, wish me luck. :fing32:
First one.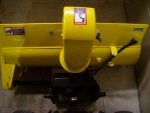 "New" one.