Discussion Starter
•
#1
•
Just thought I would post this to help others and get some feedback if there are better ways to do this. I had the infamous Onan surge. I'm in the middle of a restoration, so I decided to reseal the intake before painting the intake. I also have a carb kit to redo the carb. Anyway, this was intended to give some guidance on how to re-seal the intake manifold on the 318 Onan 20 HP. Mine is a B43G. As you may know, the original intake manifold is riveted.
1) Therefore it has to come off the motor to remove rivet since the center of the rivet cant be seen from the top of the manifold.
2) Center punch each rivet from the underside of the intake.
3) Drill each rivet w/ a 7/64" drill bit. Its a little smaller than needed for now.
4) After all rivets are drilled, gently pry the 2 halves of the intake apart. Dont pry too much in one place. Aluminum is weak and easily bent / warped. Gasket surfaces have a small raised edge all the way around the manifold. Use a small flat tip on the rivet extensions ONLY. DO NOT PRY ON THE GASKET AREA OF INTAKE. See pictures below. Once each and every rivet extension budges a little bit, use 2 small flat tips to go around and gently pry apart little by little. You dont want to damage the raised aluminum edge on the flat gasket area or you might have a worse leak when your finished. See below to note what the gasket surface looks like before you pry:
See below 2 pics for how to pry:
View attachment 1217337
View attachment 1217345
5) Once the intake is apart, gently pry out any remaining aluminum rivet material, since ur drilled hole will likely not be exactly in the center of the rivet.
6) After all rivet material is removed, this will allow you to find the original center of the hole better. Now drill it out again w/ 9/64" drill bit one at a time.
7) After each new hole is drilled, insert and tighten a #6 x 5/8" long machine screw to keep everything clamped as you drill the remaining holes (tightening a screw in each one as you go). This will keep holes aligned as you drill each one. If you cant find 5/8" long, use 3/4" long screw (Its only about 1/8" longer than needed).
8) Disassemble and clean gasket surfaces very good w/ tiny flat head in grooves. I also cleaned the inside for smoother flows.
9) I used fine sandpaper sanding parallel to gasket direction to smooth any burrs on gasket surfaces
10) There is NO gasket for the intake halves. Use Permatex Moto Seal 1 Ultimate Gasket Maker Grey.
11) Assemble intake halves using the #6 screws. I used a flat washer and lock washer on both sides of each screw. Flat washer will spread screw force a little better. Lock washer will prevent screws and nuts from unscrewing and creating another future air leak.
NOTE: if any drilled holes ended up too close to intake sidewall, you may have to grind the edge off of that flat washer. See picture below to show what I mean: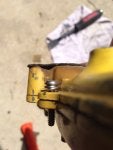 This is what the inserted screw looks like w/ 3/4" long screw:
12) Let it dry and Good Luck w/ the carb kit if needed!